What's New?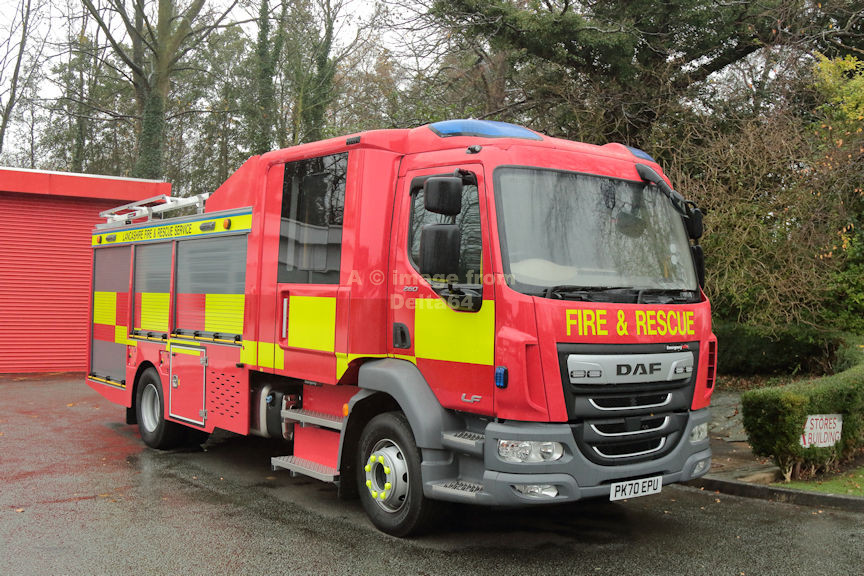 New DAF LF pumping appliance PK70EPU at Lancashire SHQ.
[See updatte 21.11.20. for link to more pictures.]
The photographs included in this website are subject to copyright, images may not be copied, printed or otherwise disseminated without express written permission of the owner. Under all circumstances, copyright remains with the original photographer or author. Remember that copyright is protected under international law.
Full details of new additions to the site will be posted on this page with links where appropriate.
28.04.21.
UPDATE: Firstly apologies for the lack of updates so far this year. Lockdown and various health issues, including 6 days in hospital in February, are largely to blame. My retina detached in January which required urgent surgery. Although I have full vision it remains distorted. However, I have been assured that an injection in my eye will resolve that issue and so I look forward to undergoing that minor operation in about 7 days time. Since the easing of travel restrictions, I have been out and about gatherign several photos which I hope will I shall be able to post once my eye heals, Wtach this space! In the meantime, keep visiting the website, there are thousands of pictures to view.
Finally, a reminder that despite the wonderful vaccines we now have, COVID has not gone away. As noted in my previous update, many people, inclduing fire-fighters, are still very nervous about mixing with others, and particularly those who may not yet have been vaccinated. Remember, we can all cacthn up when things settle down again. Respect the needs of others.
04.01.21.
I would like to wish all visitors a safe and peaceful year. Last year was particularly diffcult. There were fewer updates than usual, caused by the various pandemic restrictions and also by my own health problems. Nevertheless, I will continue to bring as many updates as possible in 2021, working alongside all the various restrictions. Please be awarethat I still have problems with my eyesight, which may lead to errors with photo captions. Fingers crossed that things improve this year. Finally, I have been asked again to remind everyone not to visit fire station premises unnecessarily during the pandemic. We all hope our firefightes remain safe on the fireground; it is equally important that they are not put under any undue risk whilst on station. If we all play our part, the chances are that the pandemic will be over sooner. KEEP SAFE!
29.12.20.
I have now finished updating fire station pictures in the Greater Manchester and Lancashire areas. Other areas are well underway but will take longer due to various restrictions in place.
Stations added today are:
BAMBER BRIDGE
CHADDERTON
FULWOOD
LEYLAND
PENWORTHAM
PHILIPS PARK
Following a 10 pump fire in Leigh last night, the following appliance pictures have also been updated:
FARNWORTH ~ PF08SNN
IRLAM ~ WELFARE UNIT
RAWTENSTALL ~ YG13MVJ
ROCHDALE ~ PO11AVM ~ PO60DWF
SACU ~ PE63TZX
SALFORD ~ PN08UWW
STRETFORD ~ PO60WCF
WHITEFIELD ~ PO68WWR
WIGAN ~ PF08SNY

23.12.20.
Another set of updated fire station pictures forms this update as follows:
AGECROFT
ALTRINCHAM
BLACKLEY
GREAT HARWOOD
HOLLINS
HYNDBURN
MOSSLEY
NANTWICH
OLDHAM
RAMSBOTTOM
ST. HELENS
STOCKPORT
WYTHENSHAWE
21.11.20.
Firstly, apologies to those who had difficulty accessing this site earlier in the week. It was down for essential maintenance. Unfortunately, I didn't have enough time to post what was going to happen.
This update features PM089 at Bolton Central, and the arrival of the first of seven new pumping appliances for Lancashire, pictures of which having been added to the bottom of the Lancashire Miscellaneous page,
08.11.20.
Another brief update not helped by lockdown and health issues. Appliance pictures have been updated on the Chadderton and Heywood page, and also an updated sstation picture at the latter.
23.09.20.
Apologies for the lack of updates recently. I currently have serious sight problems which makes updating difficult. Fortunately, I have been chauffered to many places and can bring this update of a number of fire stations as well as a variety of appliances. Please bear with me if mistakes appear in the captions. This again is due to the issues with my sight.
Further updates are likely to remain more infrequent due to the ongoing Covid-19 pandemic. Please think twice before visiting fire stations at this difficult time, and above all keep safe and well and keep our fantastic firefighters safe and well. We can all cacth up with our pictures when the situation improves.
BISPHAM ~ PK63FUJ
BOLTON CENTRAL ~ FIRE STATION
COLNE ~ PO55WDW ~ PO13CZV
DARWEN ~ PO62KAE
LANCASTER ~ PO13DZZ
LONGRIDGE ~ PO55WDT
LYTHAM ~ FIRE STATION
MALPAS ~ FIRE STATION
NORTHWICH ~ FIRE STATION ~ PO11FZP
ORMSKIRK ~ FIRE STATION
PENWORTHAM ~ PN17JFO
PRESTON ~ PN04VAX ~ PO18SVG
SACU ~ PO13FLL
ST. ANNES ~ FIRE STATION
SALFORD ~ PN08UWW ~ SJ69CKD
SOUTH SHORE ~ FIRE STATION
STOCKTON HEATH ~ FIRE STATION
WALLASEY ~ FIRE STATION
WARRINGTON ~ FIRE STATION
WESHAM ~ FIRE STATION
WINSFORD ~ FIRE STATION ~ DK57GCV ~ MX20ANV
11.08.20.
More from Cumbria. The Milnthorpe page has been completely updated. The Arnside and Staveley pages have also been updated to reflect the current allocations. Thanks to the person who wishes to remain anonymous for a picture of the 'Scorpion' which has been added to the Salford page.
22.07.20.
Special thanks to Graham Mitchell who has helped me to bring the Cumbria section right up to date again with some high-class pictures. Looking at my fleetlist, I am probably only about 8 pictures missing now. As with all pictures, please respect the owner's copyright.
20.07.20.
I have begun a major update of the Cumbria section of the website. Where possible, I have updated from exisiting photographs. There is, however, quite a way to go, but I hope this section will be much more accurate in the very near future. I now have all the details required.
18.07.20.
A number of appliance pictures have been updated as shown below, following a 10 pump fire in Oswaldtwistle on Thursday afternoon.
BAMBER BRIDGE ~ PN16BVP
BLACKBURN ~ PO13CZT
BURNLEY ~ PM035 ~ PN16BVK
DARWEN ~ PO62KAE ~ PN17JFU
HYNDBURN ~ PO61BAA ~ PK63FUE
NELSON ~ PN17JFX
PADIHAM ~ PO13CZU
PRESTON ~ PN16BVM
RAWTENSTALL ~ PK63FUH
10.07.20.
Sincere thanks to Malcolm Nuttall for a set of pictures from a major fire in Gargrave, North Yorkshire. 3 Lancashire pumps were involved, 2 at the scene and 1 on standby at Skipton. I have created Over the Border ~ 4 and I have also added an update to the Colne and Earby pages.
09.07.20.
Once again I am grateful to Peter Williams for sending a picture of the former Bootle County Borough, Miles-bodied, Emergency Tender.
05.07.20.
A number of appliance pictures have been updated as listed below:
ALTRINCHAM ~ DLG414F
ATHERTON ~ PO60KWW
BLACKBURN ~ PO13CZT
GREAT HARWOOD ~ PO61BBF
HYNDBURN ~ PO61BAA
RAWTENSTALL ~ PK63FUH
SALFORD ~ SJ69CKD
WIDNES ~ MX20ANR
04.07.20.
Sincere thanks to Peter Williams for another selection of pictures not previously included on the website - with apologies for the delay in posting. This was due to serious problems with my email files last year.
BANKHALL ~ RLV31T
FARNWORTH ~ D965RRJ
OFFERTON ~ YJA965L
SALE ~ BND310T
STALYBRIDGE ~ YBU911Y
STOCKPORT ~ GJA714N
10.06.20.
There was yet another serious fire in the North-West area last night involving 3 Industrial Units. I have created an new incident page showing both the incident and appliances attending. Some of the appliance pictures have also been used to update some of the station home pages as listed:
AGECROFT ~ PO60KWZ
BLACKLEY ~ PO11AVC
BOLTON CENTRAL ~ PM089 ~ PM187 ~ PF08OZC
BROUGHTON ~ PO60KWR
CHEADLE ~ PJ15OGM
CHORLEY ~ PN09PYV ~ PK63FUM
HINDLEY ~ PO60KWU
HOLLINS ~ PO60KWT
HORWICH ~ PO11AVK
IRLAM ~ PN07ERJ ~ PO11AUYx2
LEIGH ~ PO67CJU ~ PO18TVV
ROCHDALE ~ PO60DWF ~ PO11AVM ~ PO68WWP
SALFORD ~ PN08UWW
STRETFORD ~ PO68WLV
WIGAN ~ PF08SNY
04.06.20.
Following an extremely busy few days, I have added over 80 new and revised pictures. I have created a new page for incidents we attended at Link Paper, Darwen Moors and Longridge Fell and included pictures of appliances seen at each one. In addition, I have used many of the appliance pictures to update their respective home pages as listed below. In case anyone is worried about the current pandemic situation, the Salvation Army Catering Units have been at all these incidents, where we work under the direction of a Fire Service Welfare Officer, for both the safety of the crews and the safety of our own teams. Finally, as ever with such a large update, there is always the possibility of mistakes, particularly with some of the links. If you notice anything amiss, please contact me via the Welcome Page so that I can make amendments as soon as possible.
AGECROFT ~ PO60KWZ
APPLEBY ~ PO62GUH
BACUP ~ PF65LMVx2
BAMBER BRIDGE ~ PO61BAV
BELLE VALE ~ PM 013 ~ PM072
BLACKBURN ~ PO13CZT
BLACKPOOL ~ PF65LMU ~ PN16FPC
BOLTON CENTRAL ~ PM089 ~ PO68WCJ
BOLTON NORTH ~ T271 MBA ~ PJ15OGN
BROUGHTON ~ PO60KWR
BURNLEY ~ PM164 ~ PO18SVJ
CHORLEY ~ PK63FUM ~ PO17FZF
CLITHEROE ~ PN09PYT ~ PK63FUF
FARNWORTH ~ PK69FLB
FULWOOD ~ PO11NCU ~ PO18SVF
GREAT HARWOOD ~ PO61BBF
HASLINGDEN ~ FIRE STATION
HORNBY ~ PL06OVW
HYNDBURN ~ PO61BAA
KENDAL ~ PM039 ~ PM185
LANCASTER ~ FIRE STATION ~ PO16UXW
LANCS USAR ~ PM103
LONGRIDGE ~ PO55WDT
MANCHESTER CENTRAL ~ PO68WLW
MORECAMBE ~ PO58RVX ~ PO62KZD
PENWORTHAM ~ PN17JFO
PRESTON ~ PN09KNO ~ PN16BVM ~ PO18SVG
RAMSBOTTOM ~ PO11AVF
RAWTENSTALL ~ Q202RFE ~ PO61BBE ~ YG13MVJ
ST.ANNES ~ PO18SVE
SALFORD ~ PN08UWW
SILVERDALE ~ PO13CZX
STRETFORD ~ PO68WCF
WIGAN ~ PN08SNY ~ PK69FKX
26.05.20.
My sincere thanks to Andy Daley who has sent me more pictures from the 20 pump fire in Earlestown last Wednesday. A full list of updated appliance pictures follows:
BAMBER BRIDGE ~ PN16BVP
BOLTON CENTRAL ~ PF08OZC
BOLTON NORTH ~ PJ15OGN
CHORLEY ~ PK63FUM
FARNWORTH ~ PF08SNN
HYDE ~ MV54AYT ~ PK69FKV
KIRKDALE ~ DK60DVN
LANCS USAR ~ PO61HPU
LEIGH ~ PO67CJU
PRESTON ~ PN04VAX ~ PN16BVM
STOCKTON HEATH ~ DK08AHX
WARRINGTON ~ MX67JUA
22.05.20.
Updated or additional appliance pictures have been added to the Belle Vale, Kensington, Speke/Garston and Toxteth pages.
21.05.20.
A major incident at a Recylcing Plant in Earlestown yesterday brought appliances from all over Merseyside and beyond. In this partial update, I have included a new Incident Page, plus appliance pictures have been updated on the Eccleston, SACU and Southport pages, and fire station pictures on the Newton-le-Willows and St.Helens pages.
24.04.20.
Sincere thanks to Simon Rowley who has very kindly provided a couple of interesting pictures of former GMC Dennis L617DDB. They have been added to the Stalybridge Library page.
07.04.20.
I am most grateful to Phil Nuttall for a collection of pictures, some of which go back to 1970/1. The appear on the Bolton Central, Eccles and Heywood Library pages. I have also added a picture of the 'Green Godess' believed to have been based at Eccles.
02.04.20.
I created a new page for Cheshire's Safety Central facility, visited a while ago.
27.03.20.
Due to the current Coronavirus outbreak, this will be the last update of the current scene for the foreseeable future. I was turned out to a fire in Cheshire earlier this week when I was able to update the picture of the ALP at Lymm. I am due to undergo minor surgery very shortly which means I won't even be able to respond to fire calls. I trust everyone is following the Government advice to STAY AT HOME at present. For my own part, I still have a number of historical pictures to add to this website, so I hope to be able to get on with this. Finally, thanks as ever to all emergency service personnel who are working hard to keep us all safe at this very difficult time. WE SALUTE YOU AND THANK YOU.
16.03.20.
Yesterday saw a large barn fire at the entrance to Cutacre Country Park near Bolton. A new incident page has been created. Appliance pictures have also been updated on the Atherton and Bolton Central pages.
12.03.20.
The updates of new appliances continues with the pump at Sale and the Wild Fire Unit at Irlam.
11.03.20.
Sincere thanks to Andy Daley who has kindly provided pictures of another 4 new Scanias in Merseyside. These appear on the Aintree, Birkenhead, Bootle/Netherton and Eccleston pages. I have also added the new appliance recently allocated to Wythenshawe.
10.03.20.
The 'Scorpion' has arrived in GMC and a new page has been created. I have also updated the picture of the Turntable Ladder at Manchester Central.
03.03.20.
Yesterday I was in Blackpool where a couple of warehouses were involved in fire. I have created a new Incident Page and appliance pictures have been updated as listed below.
BAMBER BRIDGE ~ PO61BAV
BLACKPOOL ~ PF65LMU ~ PN16FPC ~ PO18SVK
CLITHEROE ~ PN09PYT
COLNE ~ PO13CZV
FLEETWOOD ~ PN17JFY
FULWOOD ~ PO11NCU ~ PO18SVF
HYNDBURN ~ PK63FUE ~ PN16FPA
LEYLAND ~ PN16BVL
MORECAMBE ~ YD18KGL
PENWORTHAM ~ PN17JFO
PREESALL ~ PL06OVV
PRESTON ~ PN16BVM ~ PO18SVG
RAWTENSTALL ~ PO61BBE
ST ANNES ~ PO18SVE
SKELMERSDALE ~ PL19GHV
WESHAM ~ PO13FVV
15.02.20.
Thanks to the generosity of Ivan Barefield I have been able to create a new page in the Over the Border section.
12.02.20.
Apologies that the update of 23.01.20. failed due to technical difficulties. All now rectified with this update, which is a smilar PARTIAL update of the Lancashire section. Further updates to follow in the next few weeks. An additional picture has been added to the Crosby page.
23.01.20.
I have completed a PARTIAL update of the GMFRS section, reflecting the recent transfers of vehicles. The update will be concluded in the next few weeks with the addition of the remaining 69 registered appliances.