What's New?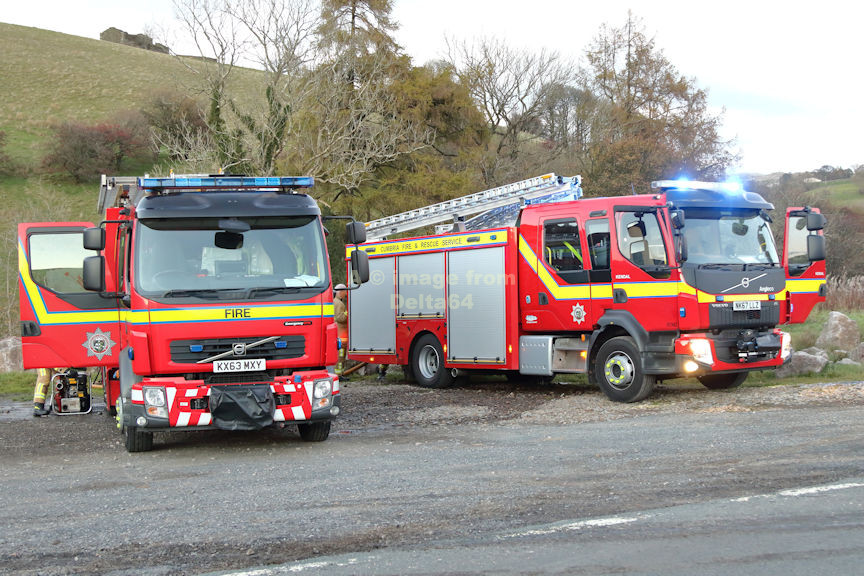 Cumbria pumps from Penrith and Kendal, both working out of Kendal, seen in the Western Dales, 27 October 2018.
The photographs included in this website are subject to copyright, images may not be copied, printed or otherwise disseminated without express written permission of the owner. Under all circumstances, copyright remains with the original photographer or author. Remember that copyright is protected under international law.
Full details of new additions to the site will be posted on this page with links where appropriate.
09.12.18.
I am very grateful to Danny Jones who has kindly pointed out an omission on the website. GMC ALP N375YNC was not shown or listed in any index. I apologise for this and have added it to the Whitehill Library page as according to my records it spent most of its working life there. These appliances were moving into reserve at the time I was developing this website, and so moved around a lot. I have left N377YNC on the same page. Apologies for the lack of updates in the last month.This is due to another period of illness, but as I am now recovering, I hope to catch up again soon.
12.11.18.
I am most grateful to Mark Eley for pictures of 3 new GMFRS appliances taken at the stattions to which they should be allocated. These can be found on the Bolton Central, Manchester Central and Stretford pages. I am also indebted to Peter Williams who has kindly sent another historic picture which has been added to both the Ashton-under-Lyne and Stalybridge Library pages.
10.11.18.
In this update I have included two more '67' registered appliances with Merseyside currently at Liverpool City and Wallasey.
09.11.18.
A number of pictures of mainly new vehicles has been added with one or two older ones for good measure. In Lancashire the 'new' SACU has been added, plus the missing '17' registered appliance based at Ormskirk. A picture of Lancashire's 'rainbow' appliance has been included on the Nelson Library page. Over in Merseyside I have added one of the new Scania pumps based at Southport, along with the CPL there. A number of '68' registered appliances are now on stations around GMC and should be entering service imminently. Meanwhile the Manchester Miscellaneous page includes record shots of some of the next batch of new pumps plus both the 32m and 42m turntable ladders. The picture of Salford Fire Station has also been updated.
03.11.18.
The Fleetwood page has been updated with the addition of the '17' registered appliance.
31.10.18.
An appliance picture has been updated on each of the Kendal, Penrith and Wigan pages.
21.10.18.
This update begins with a picture of two Mercedes of the former Liverpool Salvage Corps, and a colour picture of the former Cheshire Foam Carrier at Altrincham. Many thanks to Peter Williams for those pictures.
Moving to the current time, this afternoon saw an 8 pump fire at a Primary School in Breightmet, near Bolton. From that incident, the following appliance pictures have been updated including the BA Unit at Littleborough which has not been featured previously:
BOLTON CENTRAL ~ MH04FJC
BOLTON NORTH ~ PF08SNV
BROUGHTON ~ PF08SNX
CHEADLE ~ PJ15OGM
FARNWORTH ~ PF08SNN
HINDLEY ~ PO60KWU [at an incident in Leigh]
HORWICH ~ PN05EHC
LITTLEBOROUGH ~ YJ64JBU ~ PO11AVV
RAMSBOTTOM ~ PO11AVF
WHITEFIELD ~ PN08UXA
29.09.18.
There has been a complete revision of the Lancaster page, including an interim picture of the new fire station. Up the road in Morecambe, a new ALP will shortly be entering service, and I have included a picture of that. Finally, an updated picture of the RRU has been added to the St. Annes page.
09.09.18.
The Nelson page has been updated with the most recent appliance added.
27.08.18.
As ever, there was a good selection of appliances on display at the Annual Open Day at Irlam Police, Fire & Ambulance Station. Updated pictures appear on the Irlam and Stretford pages and the Rochdale C.B. Library page.
26.08.18.
The first of 3 new Catering Units has gone on the run. Based in GMC I have added a picture to the Chadderton page and others to the SACU page. Following an incident in Wigan last night, I have also updated appliance pictures on the Atherton, Hindley, Leigh and Skelmersdale pages.
12.08.18.
An additional 'over the border' picture has been added to the Alsager page. Station pictures on the Macclesfield, Poynton, Bollington and Offerton pages have been updated.
09.08.18.
Another 'old and new' update. The oldest of the SACUs, J269TTX has been donated to the Emergency Service Museum in Sheffield. I have now created a SACU Library Page as the former GMC vehicle N665WVR has also been withdrawn. 3 new SACUs will be going on the run imminently and pictures will follow in due course. The first new Turntable Ladder for GMFRS has arrived, along with 2 new Volvo pumps. Pictures of all 3 new appliances have been added to a new Miscellaneous page.
24.07.18.
Before the main update, it is with sadness that I have just learned of the death of Neville Jones, the last surviving whotletime fireman from the original group dedication of this site, to those who served at Newton-le-Willows in 1967. R.I.P.
I have now created a series of 15 new pages under the general heading of Mutual Aid. These pages particular cover the period between late June and early July when mutual aid was received in the North West from Fire & Rescue Services across the country. Additionally the following pages have also been updated.
ALSAGER ~ DA52YZH
BACUP ~ PF65LMV
BIRCHWOOD ~ DA52YZJ
BLACKBURN ~ PO13CZT
BLACKPOOL ~ PF65LMU
BOLTON-LE-SANDS ~ PO56VGV
BROUGHTON ~ PF08SNX
BURNLEY ~ IRU011 ~ PO16BVK
CARNFORTH ~ PO62KFU
CHEADLE ~ PO11AVJ
CHORLEY ~ PN09PYV ~ PK63FUM
CLITHEROE ~ PK63FUF
DARWEN ~ PO11KKB
ECCLES ~ PN57APO
ELLESMERE PORT ~ PO12HVB
FULWOOD ~ PO18SVF
GRANGE OVER SANDS ~ PX57ETU
HEYWOOD ~ MH04FHZ
HOLLINS ~ PN08UXK
HORWICH ~ PN05EHC
LANCASTER ~ PO16UXW
LANCS USAR ~ FIRE STATION
MOSS SIDE ~ FIRE STATION
PADIHAM PO56VGR
POYNTON ~ DA02MZU
PRESTON ~ PN16BVM
RAWTENSTALL ~ PK63FUH
SALFORD ~ PF08SNY
SANDBACH ~ MX65BCF x3
STALYBRIDGE ~ FIRE STATION ~ PO11AVN
WHITEHILL ~ MX03RVA ~ PO11AVK
WYTHENSHAWE ~ PO60KWT
18.07.18.
Although the moorland fires are not yet fully extinguished, hopefully the worst is now over and I have had a chance to go through all the pictures I have taken over the past few weeks. I have prepared just over 150 to go on the website, most of which deal with the exceptional conditions that have taken place here in the NorthWest. It will probably take another few days before I can do the upload, but in the meantime it's not too early to express sincerest thanks to all the fire-fighters from near and far who worked in blistering heat and on difficult terrain to bring these incidents to a succesful conclusion. We salute you!
29.06.18.
Just a quick update. As you will all be aware, there are now a number of serious moorland fires in the Greater Manchester/Lancashire areas. First and foremost our thoughts are with all our firefighters working in such arduous conditions and in extreme heat. STAY SAFE. I am busy gathering as many pictures as I can. It is impossible to cover everything, but when, eventually everything calms down, I hope to have quite a selection of pictures to post.
25.06.18.
It may be to do with the recent hot weather, but there seems to have been an increase in serious incidents over the past few days. On Saturday as I was driving into Bolton I noticed a column of smoke which turned out to be a four pump fire less than 2 miles away. I have created a new incident page. On leaving that incident we noticed the new TRUs from Leigh coming behind us on the blues - pictures added, and then it was off to Ashton-under-Lyne to see their TRUs. As we left the house in the evening, we saw another large plume of smoke in the distance which turned out to be a pallet yard in Irlam, for which another incident page has been created. On Sunday, the SACU was called to Darwen and a 6 pump fire involving several tons of waste. Finally, and outstanding incident from earlier this month involving a derelict school in the Vauxhall area of Liverpool.
In some cases, I have used appliance pictures included on incident pages to update the station pages. Full list below.
AINTREE ~ DK59BPE
BAMBER BRIDGE ~ PO61BAV x2 ~ PN16BVP
BOLTON CENTRAL ~ MH04FJC
BOLTON NORTH ~ PF08SNV
CROXTETH ~ DK57FKV
DARWEN ~ PN17JFU
ECCLES ~ PN57APO
HYDE ~ YJ64JBE
KENSINGTON ~ DK05HBC
MANCHESTER CENTRAL ~ PO60KWZ
MOSS SIDE ~ PF08OZA
PRESTON ~ PN16BVM
ROCHDALE ~ PO60DWF
TOXTETH ~ DK11BWW
WARRINGTON ~ MX67JUA
02.06.18.
A selection of pictures of one of Greater Manchester's new Technical Rescue Units has been added to the Leigh page.
28.05.18.
Following a recent trip into Cumbria, I have been able to update fire station pictures on the Egremont, Maryport and Whitehaven pages. New '67' registered appliances have been added to the Whitehaven and Warrington pages. Following on from the previous update, Peter Williams has kindly sent a picture of the Malpas F38 at the incident in North Wales.
17.05.18.
It's always good to be able to add pictures from days gone by of appliances not previously featured. I am grateful to Peter Williams for a picture of the former Cheshire Land Rovcr which has been added to the Malpas Library Page.
07.05.18.
A large moorland fire in the Goyt Valley was visible for many miles against an otherwise cloudless sky last evening. Although just over the border from the area normally covered by this site, I have included it in the Incident Library as 2 appliances from Cheshire F&RS were in attendance. The appliance pictures on the Macclesfield page have been updated.
30.04.18.
Ten days ago there was a major fire on the moors near Dovestones Reservoir, east of Oldham. I managed to photograph many of the appliances that attended and the following pages have been updated.
ASHTON UNDER LYNE ~ PF08OZC
BLACKLEY ~ PN08UWZ
BOLTON NORTH ~ T271MBA
BURY ~ PO60KWY
CHADDERTON ~ PO11AVM
HEYWOOD ~ MH04FHZ ~ PN08UXJ
HOLLINS ~ PN08UXK
LANCASHIRE AIR UNIT ~ PO17FZF
LITTLEBOROUGH ~ PO11AVV
MOSSLEY ~ PN08UWX
OLDHAM ~ PO11AVG
PHILIPS PARK ~ PO60KWR
ROCHDALE ~ PO60DWF ~ PO11AVC
STALYBRIDGE ~ MX05FHN
I attended the annual Transport Festival in Sandbach, where a Scania has recently replaced the Mercedes Atego, whilst in the Merseyside section I have created a new page for the Prescot Community Fire & Police Station. Finally, the Carlisle East page has also been updated to include one of the new Volvo pumps.
25.03.18.
It is with great sadness that I learned this morning of the death of Arthur Collier who did so much in the early days of this website, to provide historical pictures, and who went on to become a very good friend to me and to my family.
On leaving school in 1960, Arthur went to work at what was then the Lancashire County Council workshops at Worsley. At that time, all types of county vehicles were serviced and repaired there. In 1974 it became the Greater Manchester Fire Service workshops until the move to the current premises in Leigh. Arthur's speciality was aerial appliances, and he was an expert in this field. He remained at workshops for the whole of his working life until his retirement. He was unmarried. Our condolences go to his sister, Evelyn and brother, John. May he rest in peace.
31.01.18.
Following a mill fire in Brindle earlier today, a number of appliance pictures have been updated, including 3 appliances not previously featured.
BLACKPOOL ~ PF65LMU ~ PN16FPC
CHORLEY ~ PK63FUM
DARWEN ~ PO62KAE ~ PN17JFU
LEYLAND ~ PN16BVL
PENWORTHAM ~ PN17JFO
SACU ~ N665WVR
In addition I have added an updated picture of Carnforth Fire Station.
14.01.18.
I am trying currently to stay on top of recent material. Acccordingly I have updated the Fire Station picture on the Brampton page and have added an additional picture to the Newton-le-Willows page. An appliance picture has been updated on each of the Cheadle, Ormskirk and the Rochdale pages. Finally, a selection of pictures from last night's warehouse fire in Dukinfield.
09.01.18.
I hope everyone had a good Christmas and that it is not too late to pass on good wishes for a Happy New year. With interviews taking place next Monday for a new incumbent, I hope it won't be too long before normal service can be resumed both at church and on the website. In the meantime, a mini-update, as I try to catch up from 2017.
The Horwich, Lymm, Skelmersdale and Wigan pages have been updated, and an incident page with appliances attending a Recycling Centre in Bolton has also been added.
14.10.17.
What's happened to the website? I have been asked that question so many times. In a word 'nothing' - unfortunately. As noted previously we have an interregnum which is likely to go on longer than we first anticiptated. At times I am working full-time again in parish ministry. One day last week work started at 0830 and finished at 2330! I had a break in August but then had over seven and half thousand pictures to sort through. I shall be having another photographic holiday in the not too distant future. At present, I just cannot find the time to sit down and update the website. It's nothing I can do in 10 minutes or so. I have many pictures to add, and began working on an update some weeks ago, but it was never completed.
I can assure all friends and followers that normal service will be resumed but it may be Easter at least before I can hope to return to regular updates. Hopefully, there will be some updates between now and then. In the meantime, with almost 12,000 pictures on the site, I hope many of you will still enjoy browsing.
06.08.17.
A mixed bag of a partial update beginning with Cheshire's new [and not so new] fire bikes, with thanks to Barrie Green. They have been added to the Miscellaneous page. Many thanks also to Andy Daley who has provided some more updates for Cheshire with new pumps appearing at Ellesmere Port and Widnes and over in Lancashire the new ALP at Hyndburn. From my own collection I have updated pictures on the Manchester Central, Bolton Central and Colne pages, and I have also taken the opportunity to 'juggle' some of the Cheshire appliances to reflect the current allocation wherever possible. Finally, for the sake of accuracy I have created a Library page for Hyndburn, and transferred the appropriate pictures from the Accrington Library page.
07.07.17.
The appliance picture on the Hindley page has been updated. Apologies for the ongoing lack of updates recently. My church work is currently taking priority.
06.06.17.
As promised, here is the special update from Egremont where a plaque was dedicated to the memory of every firefighter who has served at the station.
02.06.17.
Apologies for the lack of updates recently, but this is due to pressure of work during our interregnum. In this update I have added revised pictures of the fire stations in Littleborough and St. Helens, and also a picture of the new fire station in Wigan as it nears completion. A special update from Egremont to follow very soon.
29.04.17.
The picture of Bury Fire Station has been updated along with PM146 on the Lancashire USAR page.
27.04.17.
A Major Incident was declared at a fire at the Christie Hospital in Withington yesterday. An incident page has been created with pictures of the fire and many of the appliances that attended. Appliance pictures have also been updated on the relevant pages as listed below:
ATHERTON ~ MV54AYW ~ PO60KWW
BLACKLEY ~ PN57AOY ~ PN08UWZ
BOLTON CENTRAL ~ PN05UVJ
BOLTON NORTH ~ PJ15OGN
CHEADLE ~ PO11AVJ
ECCLES ~ PN05EHE ~ PN57APO
FARNWORTH ~ PN57AOU
HEYWOOD ~ MH04FHZ
HINDLEY ~ PO60KWU
HOLLINS ~ PN08UXK
IRLAM ~ PN07ERJ
LEIGH ~ MV54AYU ~ PN05EHD
MANCHESTER CENTRAL ~ PO60KWZ
MOSSLEY ~ PN08UWX
MOSS SIDE ~ PF08OZA
OFFERTON ~ PN05EHJ
OLDHAM ~ MU51LAE ~ PN57AOZ ~ PO11AVG
ROCHDALE ~ PO60DWF ~ PO11AVC
SACU ~ N665WVR
STALYBRIDGE ~ PO11AVN
STOCKPORT ~ PO11AVD
STRETFORD ~ PN08UWV
WHITEHILL ~ PO11AVK
WYTHENSHAWE ~ MH04FJA
24.04.17.
I have updated the Sandbach page and also included a new page for all the appliances that attended the Transport Festival and Station Open Day. The Penketh page has also been updated and includes the first of the '17' registered appliances on the site.
13.04.17.
Appliance pictures have been updated on the Ashton under Lyne, Bury and Rochdale pages. The station picture on the Haslingdenpage has also been updated.
04.04.17.
Despite the message below, I am still hoping to provide regular updates for the website. The Windermere and Staveley pages have been updated in the Cumbria section, whilst in Lancashire I have updated the picture of Garstang Fire Station and added a post-fire service picture of PJ52FMP to the Chorley Library page.
Last Thursday saw the 50th anniversary of the opening of Bolton North Fire Station and I have created a new page to mark the occasion.
30.03.17.
I can now confirm that regrettably I am taking approximately a year off from responding with the Salvation Army Catering Units. My parish priest retires in about 4 weeks time. and I will be helping with the interregnum. I feel now that I cannot do both things, and that the needs of the parish must come first. I also help out at another church and the vicar there is also retiring in the summer. I shall keep in close contact with all my S.A. colleagues, and wish them well in their important ministry. Thanks to all those who have assisted me since I took charge of the units just before Christmas. Since Christmas we have turned out approximately 25 times plus 2 other calls we received but were stood down before turn out.
26.03.17.
This afternoon there was a serious fire on the Lancashire/Cumbria border involving a domestic property, for which I have created a new incident page. As the main attendance came from Cumbria, I have been able to update appliance pictures on the Grange-over-Sands, Kendal, Arnside and Milnthorpe pages. Lancashire appliance pictures have also been updated on the Fulwood,Lancaster and Morecambe pages. A routine update of the first appliance from Leigh has also been included.
16.03.17.
A few 'record' shots have been included of the large fire at Alexandra Dock in Bootle last weekend. Following a major fire in Longridge overnight, one appliance picture on each of the Bamber Bridge, Blackburn, Clitheroe, Garstang, Fulwood, and Preston pages have been updated. An updated picture of Longridge Fire Station concludes this update.
09.03.17.
I have updated the SACU page to reflect the recent allocation changes.
25.02.17.
An 8 pump mill fire in Bolton yesterday has led to another selection of GMC appliances being updated plus a couple of shots of the mill itself. Two Lancashire appliance pictures have been routinely updated. The full list is as shown below.
AGECROFT ~ PN05EHH
ATHERTON ~ MV54AYW ~ PO60KWW
BOLTON NORTH ~ T271MBA
FARNWORTH ~ PN57AOU ~ PF08SNN ~ PN09JUK
HYDE ~ MV54AYT ~ PO11AVL
LEIGH ~ MV04AWX ~ PO60KWS
LEYLAND ~ PN16BVL
ORMSKIRK ~ PO13CZW
WIGAN ~ PN57AOV
20.02.17.
Following another busy week for incidents in the North-West, Sunday began with a 10 pump fire in an industrial complex in East Manchester. I attended on Sunday afternoon on relief duties with SACU 'C' and was able to photograph a number of appliances as listed below.
ASHTON UNDER LYNE ~ PF08OZC
ATHERTON ~ MV54AYW ~ PO60KWW
CHEADLE ~ PJ15OGM
ECCLES ~ PN57APO
GORTON ~ MH04FJE
HYDE ~ PO11AVL
IRLAM ~ PN07ERJ
LANCS MISCELLANEOUS ~ PO16UXW
OFFERTON ~ PN05EHJ
PHILIPS PARK ~ PO60KWR
SACU ~ MM51OZP
STOCKPORT ~ PO11AVD
STRETFORD ~ V474EBA
WITHINGTON ~ PO60KWX
WHITEHILL ~ MX03RVA
14.02.17.
A sad update for me personally with the Church of the Ascension in Lower Broughton destroyed in a large fire late on Sunday night.
03.02.17.
Additional or updated photographs from an eight pump fire in Warrington overnight have been added to theAlsager, Penketh, Stockton Heath and Warrington pages, which also implement the latest Policy Change.
22.01.17.
As promised at the start of the year, I am now able to bring a comprehensive collection of photographs and specification for the Lancashire FRS Water Tower/'Stinger', plus links to a video. I am most grateful to the Fire Service for the kind invitation to see the appliance in action at STC back in mid-December.
19.01.17.
The pictures of the two pumps at Bolton Central have been updated.
15.01.17.
It's been a week of change in Cheshire, with 2 new ALPs going on the run at Stockton Heath and Chester. In addition, a further 2 new Fire Stations have become operational at Penketh and Powey Lane.
10.01.17.
The first major fire of the New Year took place at Siromer, Taylors Lane, Pilling on Epiphany. 8 pumps plus numerous special appliances and support pumps attended. I am very grateful to Michael Dawson who kindly sent me a picture of the fire in the early stages. All the appliances that I photographed have been included on the Incident Page and in some cases I have used the same picture to update the relevant Station Page.
09.01.17.
It is with great sadness that I learned this afternoon fo the sudden death of Bob France, a friend and supporter of this website. He is most fondly remembered for his association with the former Blackburn C.B. Dennis F15, and the Blackurn Fire History website. On a personal note I shall always remember Bob as a true gentleman who was always more than willing to help in any way he could. Sincere condolences to Pat and all Bob 's family, friends and colleagues. MAY HE REST IN PEACE.
01.01.17.
HAPPY NEW YEAR. Peace and happiness to all visitors, and thanks to the fire-fighters of the North-West who have worked so hard to keep us safe during the year past.
It is with regret that during the last year I had to shut the site down twice due to people not only taking pictures from this site without permission, but also in some cases claiming the pictures as their own. I also had to suffer an amount of abuse from one or two individuals who disagreed with me on the copyright issue. As a last resort I felt compelled to watermark each picture, something I had hoped to avoid. As we begin a New Year could I please request once again that everyone visiting this site shows respect for the copyright of the many individuals who have so kindly provided photographs that show so much history as well as the current position in the North West Fire & Rescue Services, many of whom have been so supportive and generous in helping to keep the site as up to date as possible.
On a more positive note, the 'Stinger' appliance is now with Lancashire F&RS. Last month I was invited to see the appliance in action, and took around 50 pictures. These are currently embargoed at the request of the Fire Service but hopefully will appear around the middle of January.
16.12.16.
Unfortuntaley I was out of the area when I learned about yesterday's incident at Maple Mill in Oldham. However I just wish to clarify that this is NOT the mill that was on fire in April 2009 which is featured on the opening page of this website. There were two adjacent mills both named Maple Mill - 1 & 2. From memory, I think it was number 2 mill that was destroyed in 2009 and number 1 mill yesterday. Doubtless someone will correct me if I have the numbers the wrong way round.
09.12.16.
I am very grateful to Malcolm Nuttall who has kindly supplied a couple more pictures of appliances at the Altham Incident, including a new appliance from Skelmersdale which has also been added to the station home page, plus an updated picture for the Great Harwood page.
08.12.16.
Wednesday of this week saw the second major fire of the week in the north west, with over 400 scrap alight in Altham, Lancs. 22 pumping appliances and numerous specials from across Lancashire were required followed by a number of relief crews. I have created a new page for the incident which has pictures of the fire and a number of the appliances that were there. Some of the appliance pictures have also been used to update the relevant station page.
05.12.16.
Sincere thanks to Andy Daley for an absolutely superb set of pictures from the 12 pump incident at Remondis in Prescot yesterday. Appliance pictures have also been updated on the Huyton and Widnes pages.
02.12.16.
The appliance picture on the Horwich page has been updated.
18.11.16.
A routine update of pictures including Darwen Fire Station, plus the following appliance pictures:
ASHTON UNDER LYNE ~ MV54AYX ~ PN05EHK ~ PO58LFR
ATHERTON OPEN DAY 2016
BOLTON CENTRAL ~ MH04FJC
BOLTON LE SANDS ~ PO56VGV
CARNFORTH ~ PJ52FMV
FARNWORTH ~ PN57AOU
GARSTANG ~ PO62KHJ
LANCASTER ~ PJ65YLC
SILVERDALE ~ PF04UXN
12.11.16.
Thanks to Simon Ryan I am able to completely update the St. Helens County Borough Library page with appliances not previously included and some colour pictures to replace some of the original black and white pictures.
10.11.16.
I am most grateful to John Dixon who has kindly provided pictures of two incidents that occurred in 1984. The first involved a Hot Air Balloon which crashed on Easter Sunday that year and the other of the major fire at Lancaster Market in the October.
08.11.16.
This morning I was given the privilege in sharing in a Memorial Service and Wreath Laying Ceremony at Southport Cemetery for former Southport County Borough fireman, Maurice Evans, who died in a tragic accident on this day 60 years ago. I have created a special page for the event, where further details of the accident can be found.
Staying in Merseyside, I am most grateful to Andy Daley for pictures of the latest appliances at Huyton, Bromborough and Upton.
02.11.16.
Merseyside has just received 2 new Scania Prime Movers. A picture of one has been added to the Merseyside Miscellaneous Page with sincere thanks to Simon Ryan.
31.10.16.
Appliance picutres have been updated on the Blackpool and Colne pages.
22.10.16.
It's good to be able to add an additional station to the website. The new Penketh Fire Station in Cheshire is now included. I have also updated the fire station picture on the Leigh page.
15.10.16.
An updated appliance picture has been added to the Carnforth page.
14.10.16.
Apologies for another lull in updates as I seem to be moving from one bout of ill health to another at present! The new Lancashire LFs continue to enter service and I have included two '16' regs based at Preston and Bamber Bridge respectively.
28.07.16.
I am very grateful to Aidan Anderson who has very kindly supplied a number of interesting pictures for the archive sections as listed below:
AGECROFT ~ PNB480W
ASHTON-UNDER-LYNE ~ LNF92V
ATHERTON ~ G417RJA
BOLTON CENTRAL ~ G414RJA ~ G415RJA
BOLTON NORTH ~ PBA861R x4 ~ E461WND x2
BROUGHTON ~ H374FBA
BURY ~ TNF159X ~ D764NNB ~ D765NNB
CHESHIRE MISCELLANEOUS ~ BOAT
CHESTER ~ LINE UP ~ SDM859V ~ WFM465W ~ E717SON ~ F369KTU x2 ~ K620KMB
FARNWORTH ~ C749DNF ~ C750DNF ~ K206VVU
GMC MISCELLANEOUS ~ D965RRJ ~ D966RRJ
GORTON ~ A695MNC
HEYWOOD ~ FVR55Y ~ L612DDB
HINDLEY ~ G416RJA
HYDE ~ TBA260R
IRLAM ~ K211VVU
HORWICH ~ C748DNF
RAMSBOTTOM ~ G103RBA
ROCHDALE ~ NNC19W
SALE ~ G413RJA
STALYBRIDGE ~ B961RBA
STOCKPORT ~ TNF157X
25.07.16.
The latest new appliance on the run in Lancashire is based at Bacup.
15.07.16.
Within the last hour I have been discharged from the hospital and given permission to start driving again, which was most welcome news. Yesterday saw a number of National Resilience Exercises some of which took place here in the north-west. On the original plan, I should have been based at Dovestones with a SACU, but had to withdraw because of my inability to drive. However, it did give me a chance to go to the Strategic Holding Area and then on to Hollingworth Lake, taking a number of pictures at each location. Although I saw many vehicles from around England and Wales, there were many more I did not see, so those I have included show just a sample of what and who was there. I have created two pages for Exercise Triton 2.
Using some of the same pictures I have also updated the Ashton under Lyne, Congleton, Heywood and Rochdale pages. Following reallocation of the Manchester SACUs, I have updated the SACU page.
THIS WEEKEND ALSO SEES THE FIRST ANNIVERSARY OF THE DISASTROUS EXPLOSION AT BOSLEY, 17 JULY 2015. To the bereaved - you are still in our thoughts and prayers. To the departed - Rest in Peace.
12.07.16.
Thanks to my 'chauffeur' I was able to make a brief attendance at the major fire in Salford on Sunday night, and offer some assistance to the SACU crew, and to take a few pictures.
08.07.16.
I am still awaiting the all-clear to start driving again, but I can now use my camera. I have updated an appliance picture on the Chester and the South Shore pages.
25.06.16.
The good news is that I am out of plaster much sooner than first expected. The bad news is that I still can't drive for at least another 3 weeks. I did, though, manage to get to the 10 pump fire in Leyland this week. Matthew made a short video showing many of the appliances that were in attendance as well as a couple shots of the incident. Apologies that the image quality on YouTube is really inferior to the original. Today I am going to try and use my own camera with one of the smaller lenses.