NEWTON-LE-WILLOWS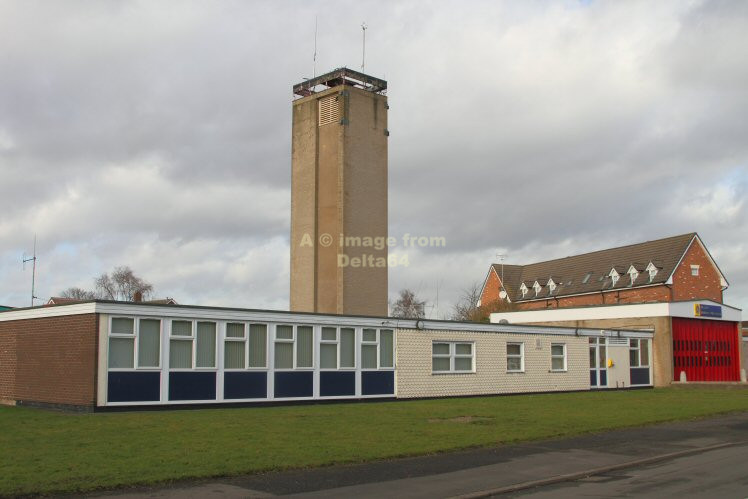 3 February 2011.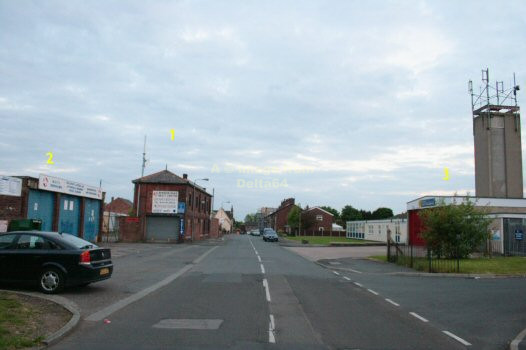 Possibly a unique set up, as enquiries have failed to reveal any other location where 3 fire station buildings still exist together.
The above picture was taken 18 May 2008.
Dating back to 1939, this very attractive Leyland Pump, ETD871, carries Burlingham bodywork more usual on buses and coaches.
[Copyright picture ~ Ribble Enthusiasts Club and reproduced with permission.]

D64/C64 NEWTON-LE-WILLOWS
Before re-organisation in 1974, Station E2 was part of Lancashire County Fire Brigade, station D64. From 1959 - 1969 two Commer HYs were on the run - registered 347 KTF & 350 KTF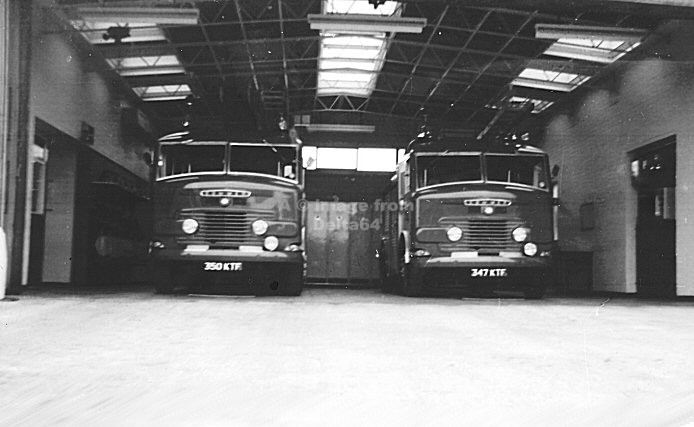 D64 and D641 photographed around 1963.
[Re-scanned from negative ~ 26.11.08.]
Both appliances regularly 'swapped' duties from water tender escape to water tender. Both are illustrated below as water tender escape.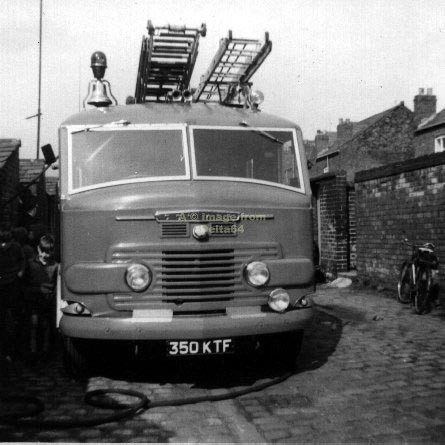 350 KTF carrying the escape at a Chip Pan Fire in Haydock, 17 May 1967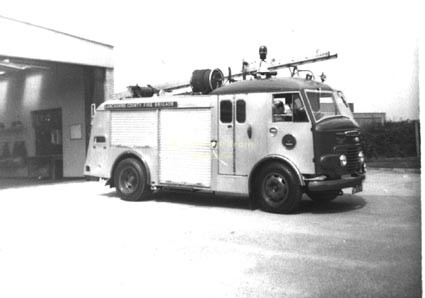 347 KTF as water tender also in 1967
(The driver is the late John Jones.)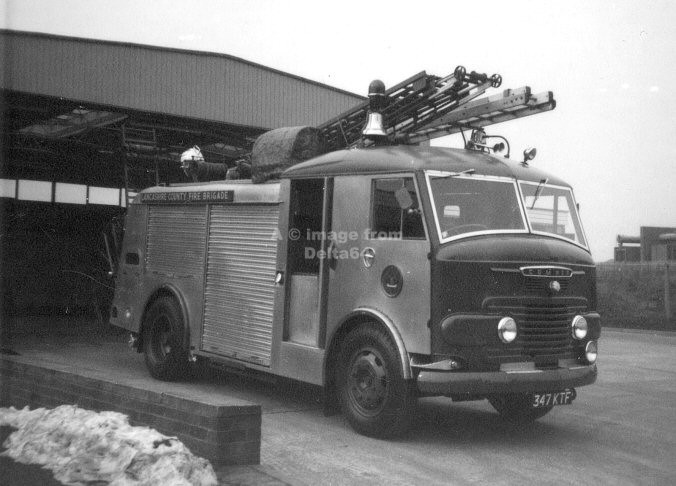 347KTF on the run as Water Tender Escape, 16 February 1968
Note the 'winter' cover over the hosereel on top of the appliance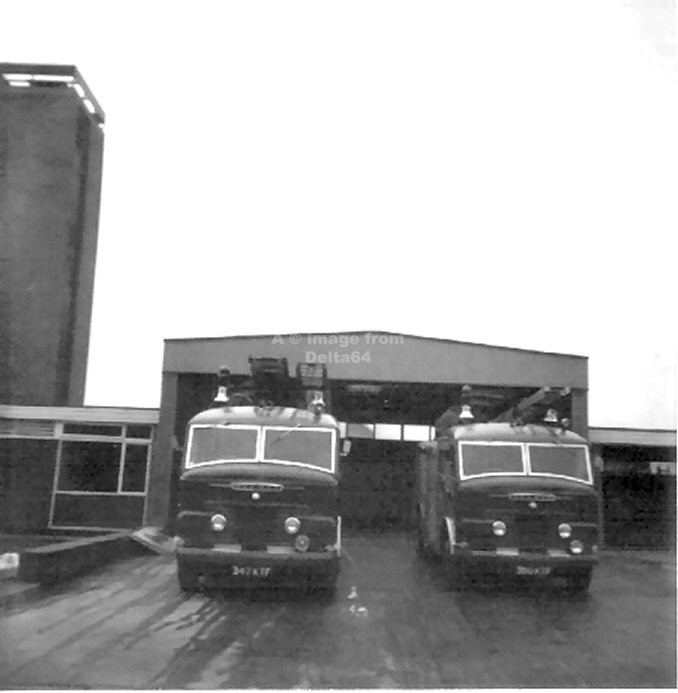 In a reversal of the picture at the top of this page,
both appliances were seen on the station forecourt, 16 February 1968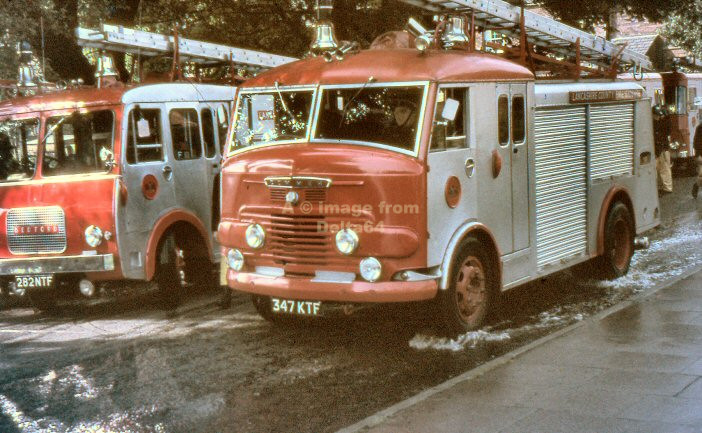 Commer Water Tender 347KTF passing a Bedford J5 from Nelson at a 30 pump fire at Park Mill, Royton, 8 August 1970.
By this date the appliance was part of the reserve fleet.
[Copyright picture ~ Satis UK and reproduced with permisison.]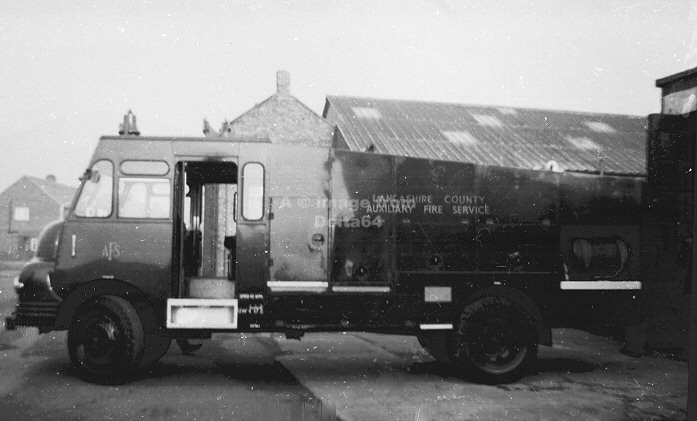 Green Goddess NYV 553 ran for the AFS at D64. It was seen c.1963.
Note the legend on the side "Lancashire County Auxiliary Fire Service".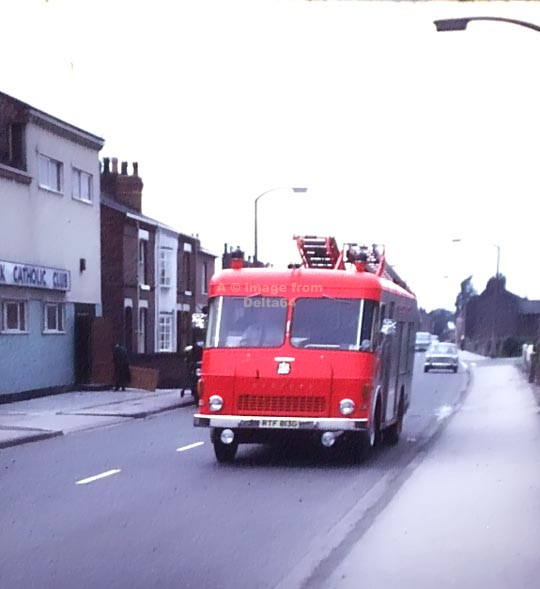 Following the demise of the Commers in 1969, D64 received two Bedford KH appliances.
RTF813G (seen above) and RTF814G. Both achieved fame for different reasons.
RTF814G started life by going to Germany, whilst RTF813G ended its days
just about 1/4 mile from where the above picture was taken, when it crashed into the gable end
of a terraced property. So severe was the impact that the house had to be demolished.
By that time (1979) both appliances were running as spares in Merseyside.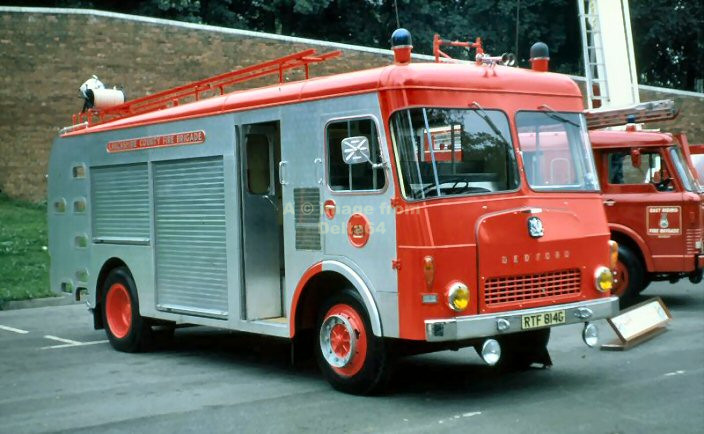 Still with continental headlights Bedford RTF814G was seen at the 1969 Fire Exhibition in Harrogate.
[Copyright picture ~ Ian Moore and reproduced with permission.]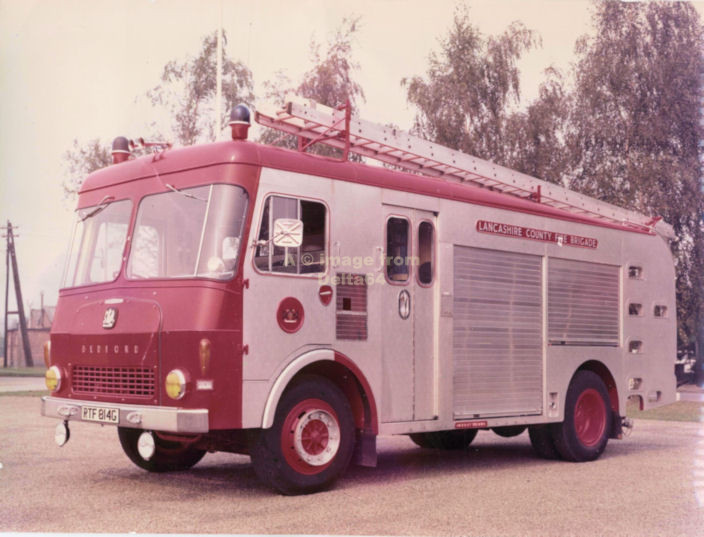 This picture shows Bedford RTF814G whilst in Germany from 4 - 9 September 1969.
[Anonymous donation from Germany.]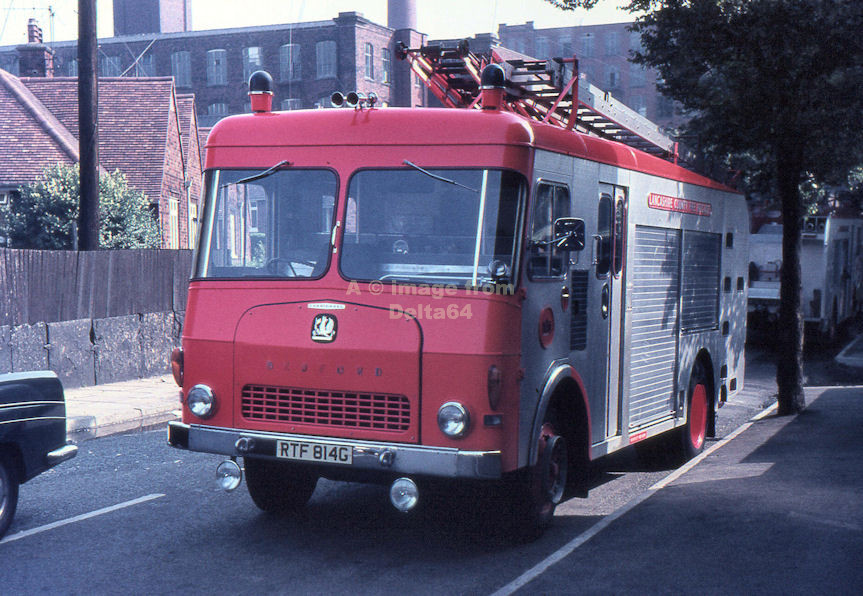 Bedford KH RTF814G in attendance at a 'Make Pumps 30', Park Mill, Royton, 8 August 1970.
[Copyright picture ~ Satis UK and reproduced with permisison.]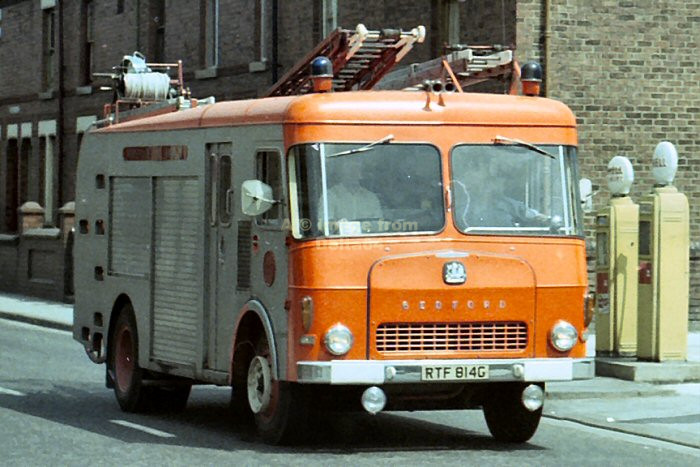 Seen within yards of the picture of RTF813G above, but on the other side of the road, RTF814G was in use with Merseyside in 1975.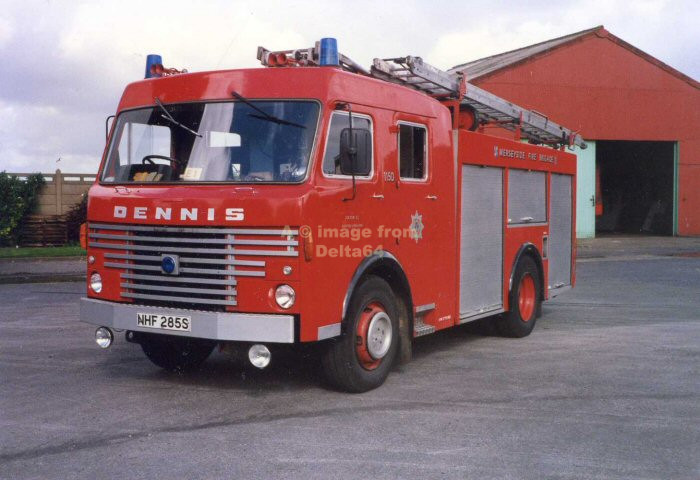 Dennis R NHF285S was the replacement for the Bedfords and was seen in the yard at St. Helens.
[Copyright picture ~ A. Kent and reproduced with permission.]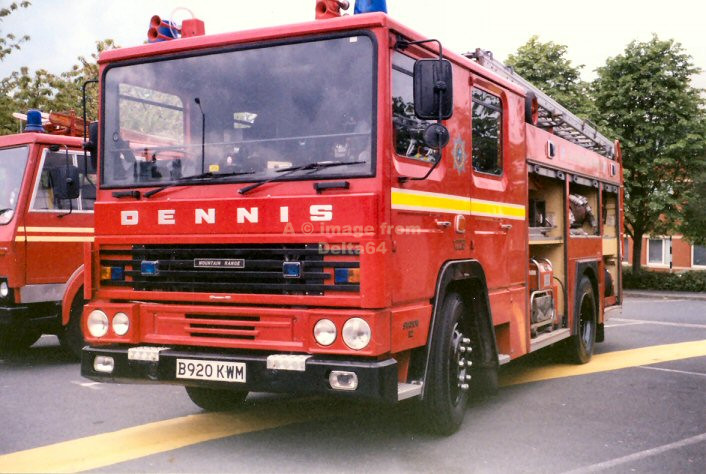 Dennis RS133 B920KWM was seen at a Leyland Museum Show event in 2001.
[Copyright picture ~ K. Howarth and reproduced with permission.]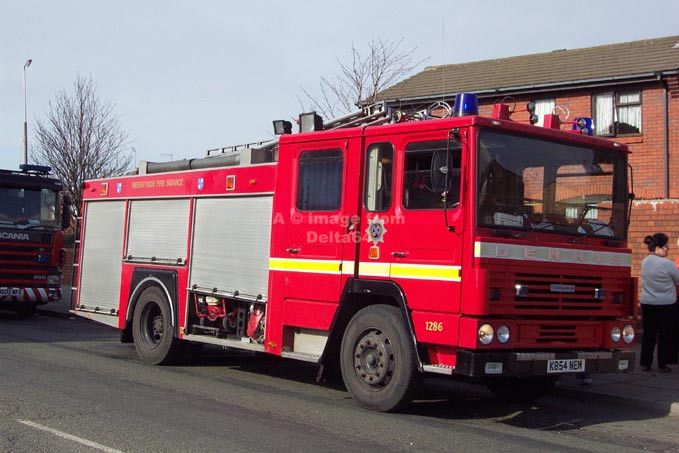 Dennis SS K854NEM was seen at an incident in Kirkdale shortly after it came off front line service, 5 March 2005.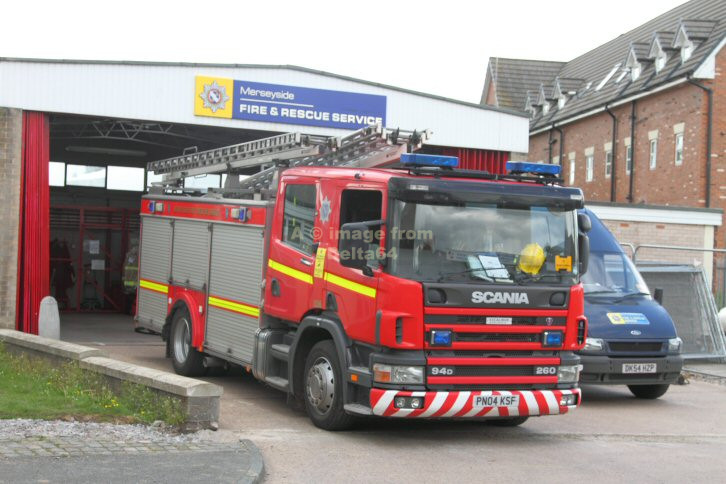 Scania PN04KSF was photographed outside the old fire station, shortly before it was demolished, 10 May 2011.