SALVATION ARMY
CATERING UNITS
Following helpful feedback [no pun intended], I have decided to group all the Salvation Army Catering Units together on one page. The present five vehicles can all work anywhere in the North West Area that the Salvation Army currently covers and are not restricted to any particular Fire & Rescue Service. It will also assist with future changes.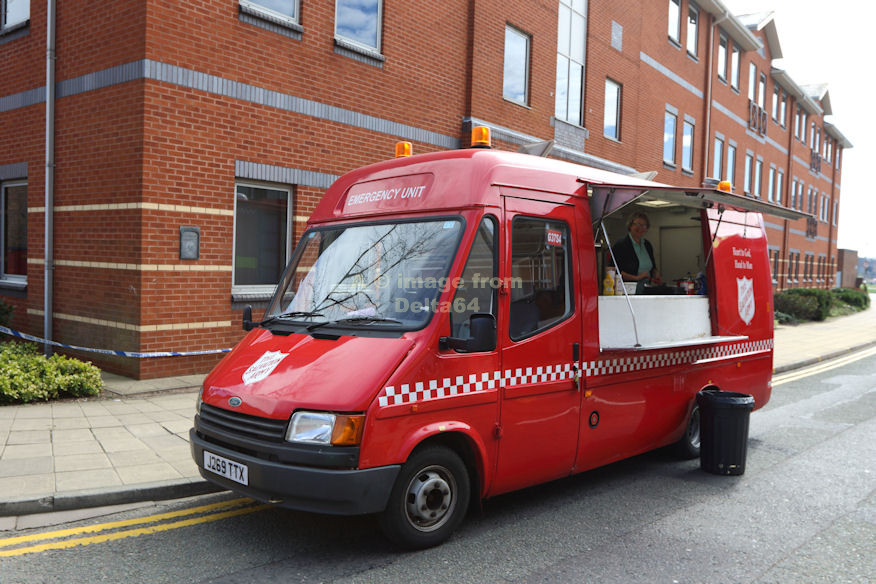 Catering Unit 'A' J269TTX was seen on relief duties at a fire in Warrington, 14 April 2015.
This vehicle is normally based at Gorton Fire Station and carries lettering
for both Greater Manchester & Cheshire Fire & Rescue Services.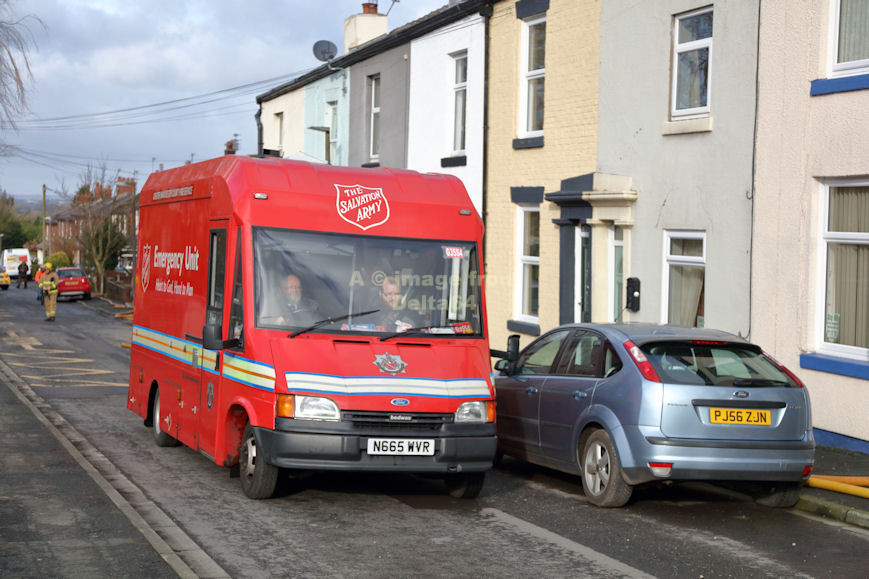 Bedwas bodied Catering Unit 'B' N665WVR was seen arriving at a major fire in Brindle, 31 January2018.
This vehicle is normally based at Chadderton Fire Station.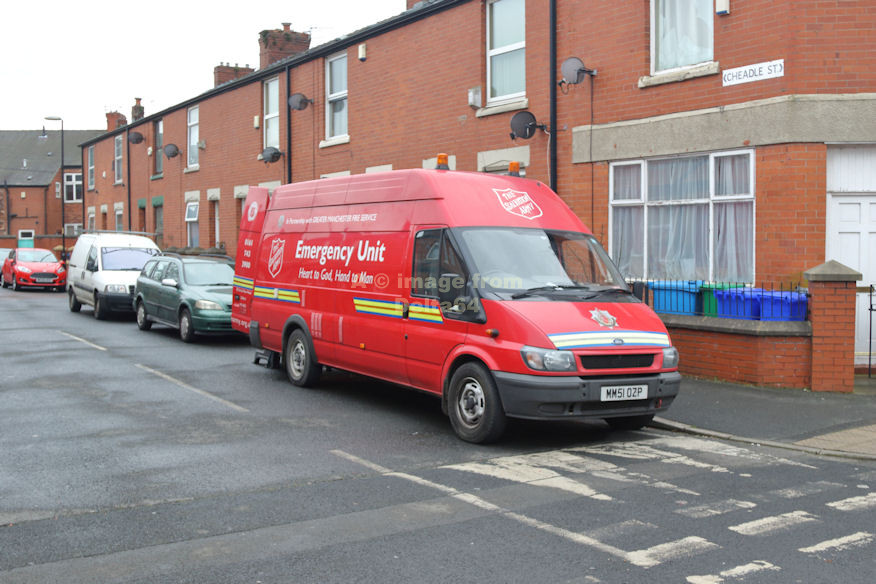 Catering Unit 'C' MM51OZP was seen in Openshaw, 19 February 2017.
This vehicle is normally based at Salford Fire Station.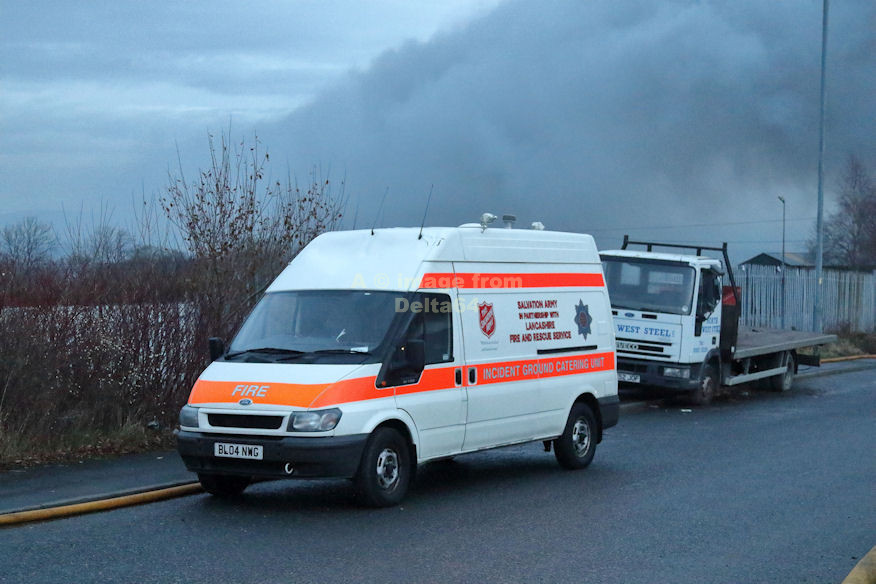 Ford Transit Catering Unit 'L' BL04NWG was seen at a major fire in Altham, 7 December 2016.
This vehicle is based at Lancashire Fire Service Headquarters.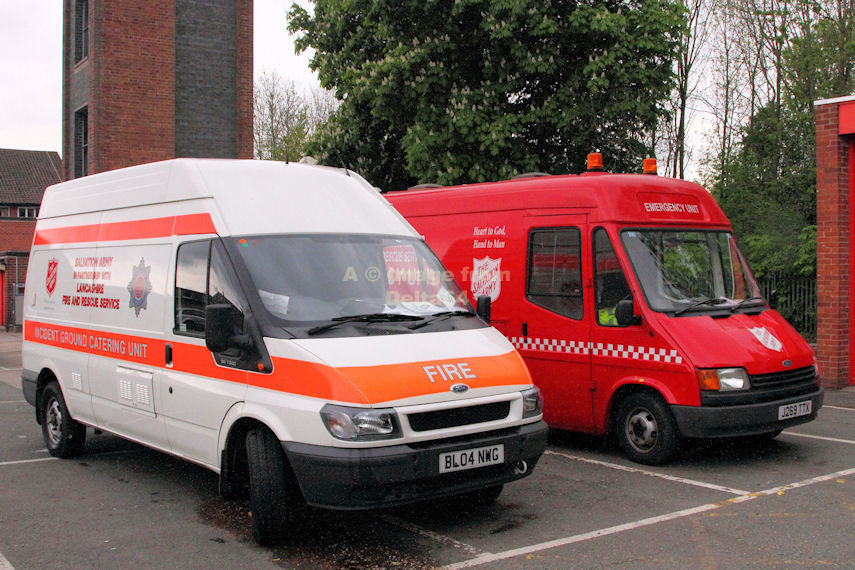 SACU 'L' & 'A' at Lancashire Headquarters, 1 May 2014.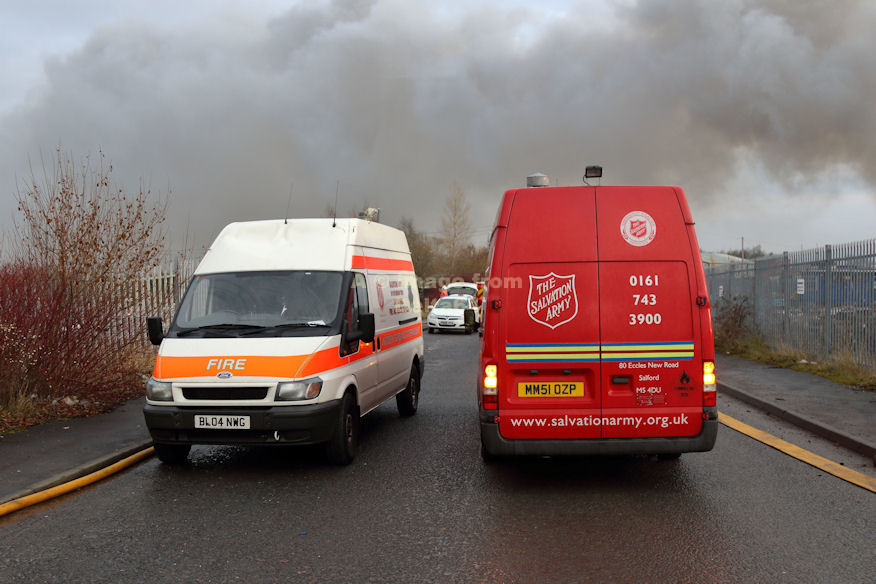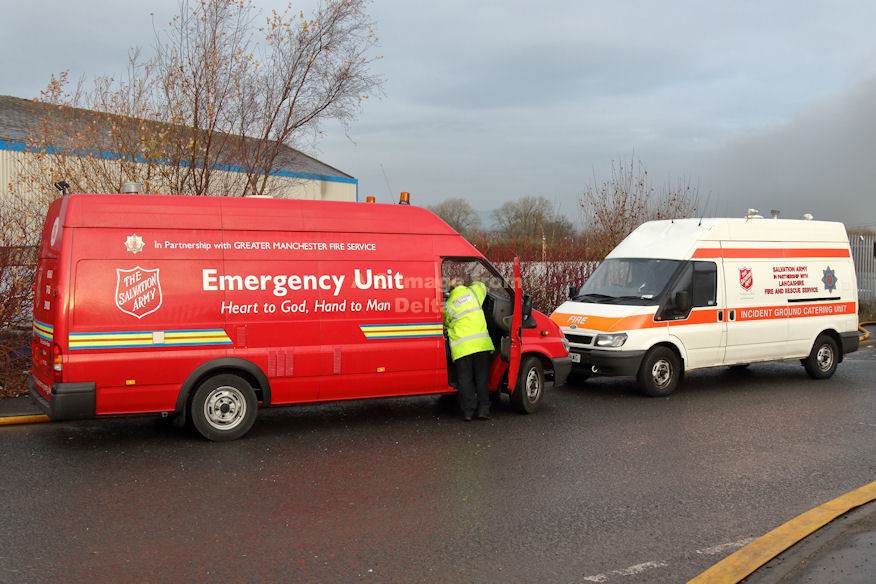 SACUs 'C' and 'L' at an incident in Altham, 7 December 2016.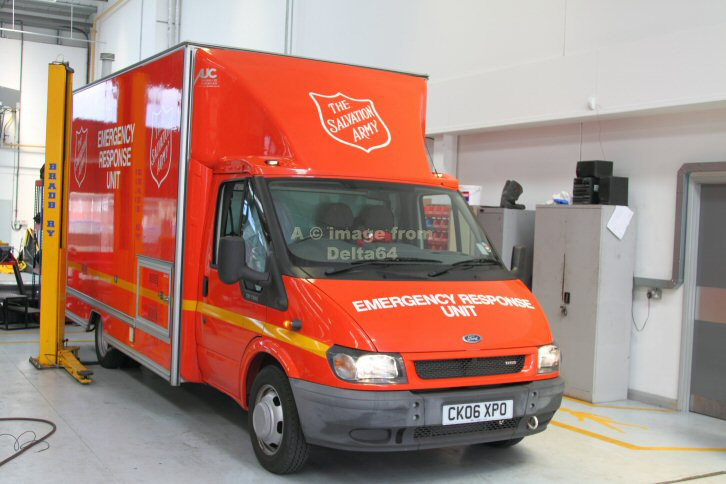 The SACU for Merseyside CK06XPO was seen at the Engineering Centre, 10 May 2011.
It is normally based at Kirkdale Fire Station.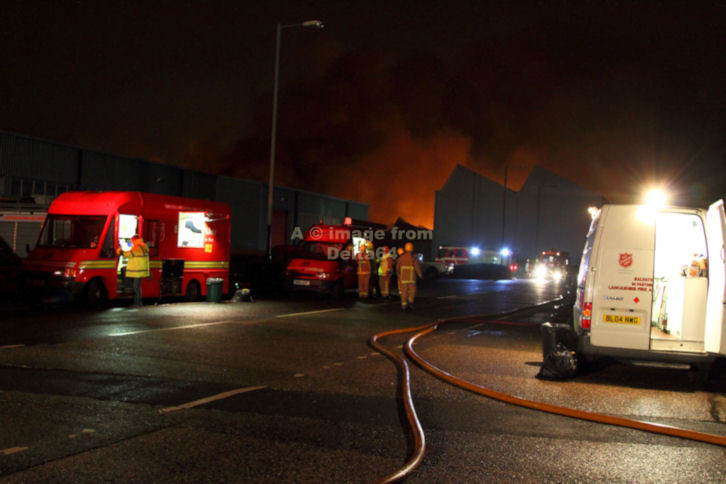 Two SACUs 'B' on the left and 'L' on the right were needed at the 20 pump incident in Leyland, 21 December 2011.
Behind the 'B' unit is the 'C' unit which had arrived to relieve the other 2 units.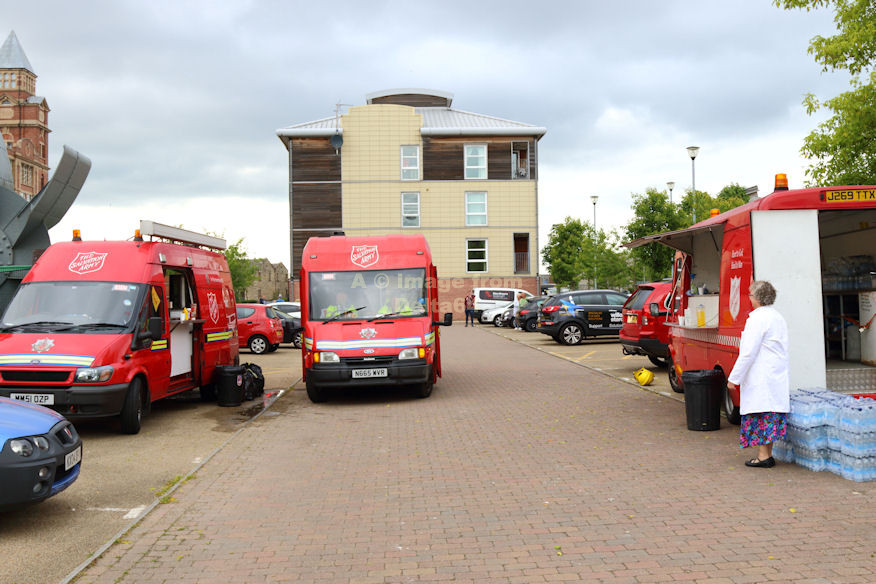 The 3 GMC based SACUs at Wharfside, Wigan,14 June 2015.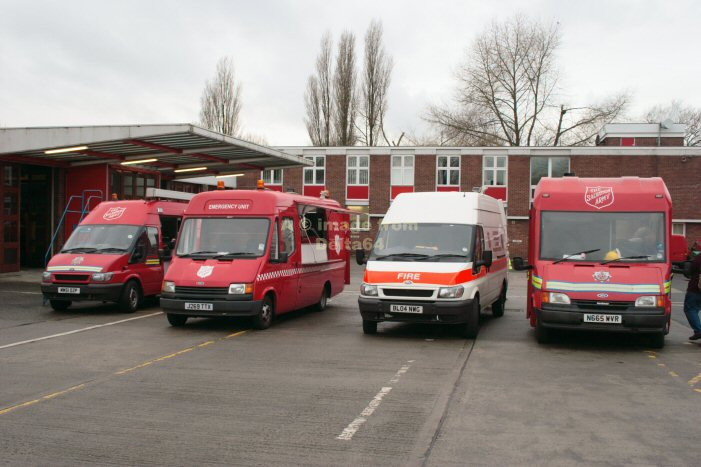 I believe that this was the very first time all four units had been brought together.
They were seen in the yard at Whitehill Fire Station, 24 January 2009.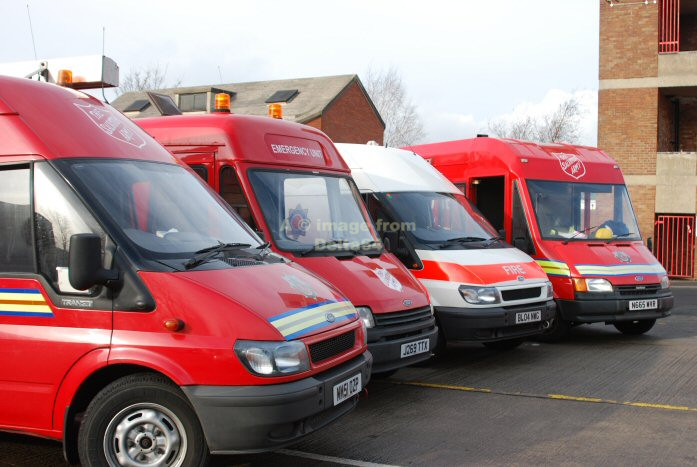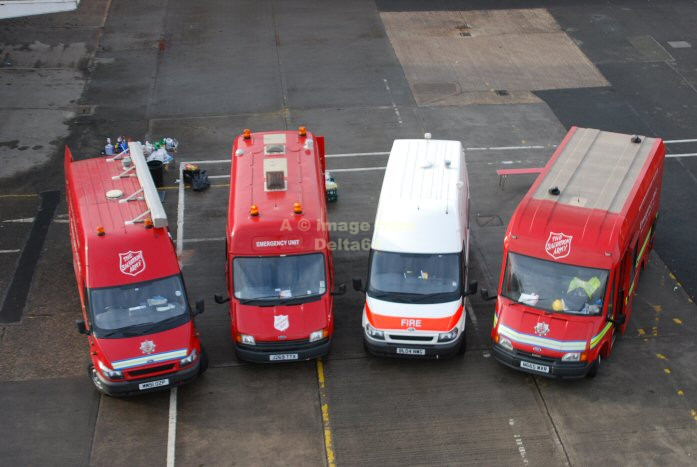 Thanks to the duty crew for the latter picture which they kindly took from the Hydraulic Platform
[Both pictures copyright ~ Major N. Tansley and reproduiced with permission.]