...to 'Delta 64' the web-site where you will find a photograph of EVERY LOCAL AUTHORITY FIRE STATION in the 5 brigade areas of North West of England, plus a large number of appliance photographs, some incident shots, archive material plus a number of ancilliary vehicles.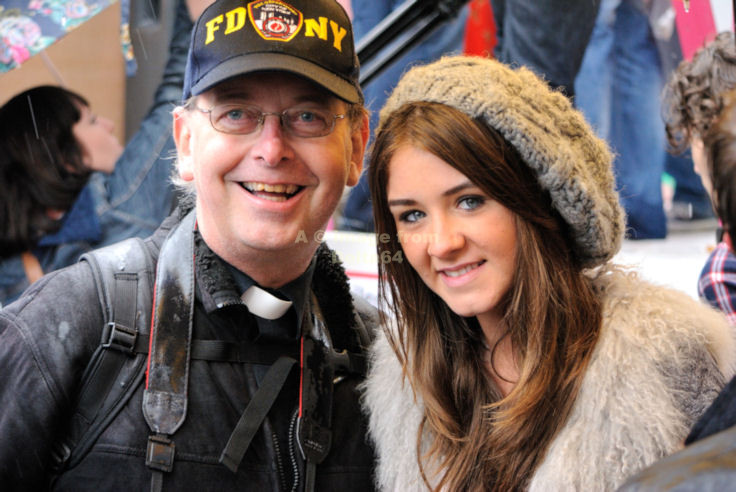 I am a retired priest in the Church of England. [Here I am with the beautiful ex-Corrie Star ~ Brooke Vincent (Sophie Webster)] I was for a time a Fire Brigade Chaplain with Cornwall County Fire Brigade - callsign 'Golf-Sierra'. I am an ardent supporter of the Firefighters Charity, having been vice-chairman in Cornwall.
My interest in the Fire Brigade began way back in the late 1950's when for a birthday treat I was taken along to our local fire station - the then Lancashire County Station - Delta 64. My interest was further kindled by Station Officer Bert Paine who moved to Newton-le-Willows on March 20th 1967 and served there until he retired 30th April 1974. He continued to live there until his death in early 2007.
This site is dedicated to Bert and to all those fire-fighters based at D64 who encouraged me over the years.
Those remembered are :
Wholetime:
Station Officer Bert Paine (deceased)
Sub Officer Jack Sadgrove (deceased)
Sub Officer Ken Martin (deceased)
Leading Fireman Frank Hemmings (deceased)
Fireman John Jones (deceased)
Fireman James Brown (deceased)
Fireman Ken Robb (deceased)
Fireman John Duncan (deceased)
Fireman Neville Jones (deceased)
Retained:
Sub Officer Tom Jolley (deceased)
Leading Fireman Tom Franklin (deceased)
Fireman Steven Shaw (deceased)
Fireman Brian Smith
Fireman Paul Hoinville
Fireman Gordon Tuck (deceased)
Fireman Derek Jones
Fireman Jack Kelly (deceased)
Fireman Colin Lockwood
Fireman John Mullins
Fr. Norman Price
January 2001
[Revised October 2006]
I would welcome any amendments to allocations or status details or any other constructive comments on the email address above. Thank you.
COPYRIGHT
Now just follow the links below.




FOLLOW ME ON TWITTER FOR MORE UPDATES



WHAT'S NEW? [Last updated ~ 27 NOVEMBER 2023]

CLIFFORD C. ASHTON ~ A TRIBUTE

9/11 ~ 10TH ANNIVERSARY MEMORIAL

POLICY UPDATE ~ JUNE 2015 ~_PLEASE READ

PRIDE PARADE, MANCHESTER, 2012


SUPPORTING UKRAINE ~ MARCH 2022

TVAC FIRE [FORMER APPLIANCE BUILDERS IN LANCASHIRE]