BERT PAINE
20 MARCH 1924 ~ 10 JANUARY 2007
A TRIBUTE
The Psalmist wrote "The years of our life are threescore and ten, or even by reason of strength fourscore," but just how we do we define fourscore years, or as in Bert's case, almost fourscore years and three?
Perhaps it can be more clearly understood in Fire Brigade terms. Shortly before Bert was born in Bolton, Lancashire, a new Leyland Pump Escape had gone on the run just down the road in Atherton.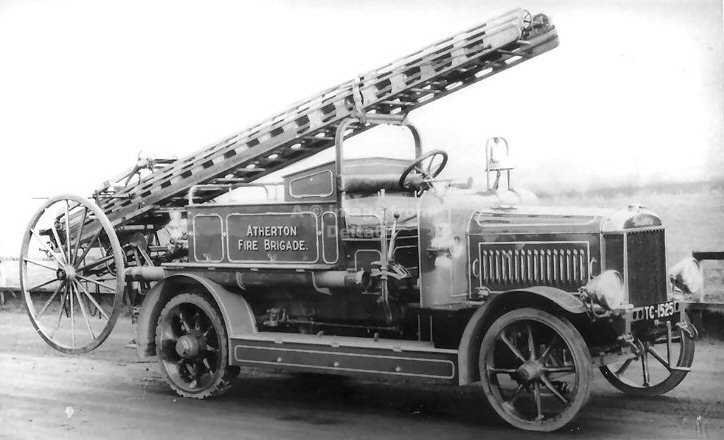 Note amongst other things the solid tyres! Within a week of his death, the latest Daf LF was delivered to Lancashire Fire and Rescue Service at its Fulwood Headquarters.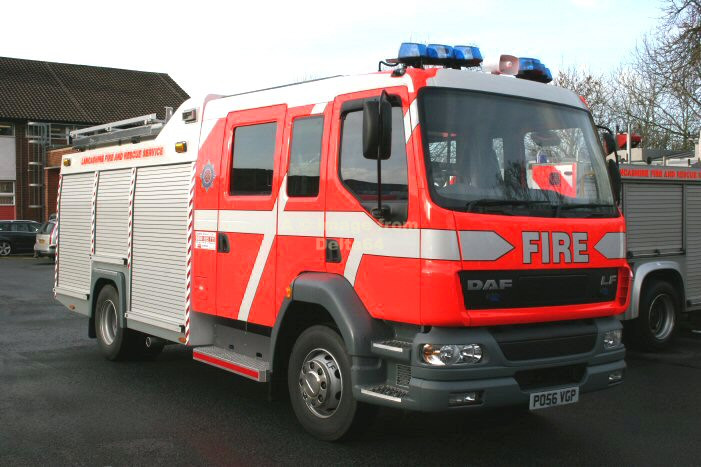 A quick glance at the two pictures above, clearly indicates the enormous advances that have taken place over the last 80+ years, not only in the fire brigade, but in the whole of Western Society. Indeed, I would dare to say that in terms of technological development, all those who lived through much of the twentieth century, lived through one of the most exciting periods of our entire history.
At the age of 18, Bert volunteered for the armed forces rather than waiting to be called for service. On leaving the army in 1947 he joined the Fire Brigade, and after initial training in Manchester he was posted to Leigh Fire Station where he served for 10 years. When he was promoted to Leading Fireman, he moved to Radcliffe [since replaced by Whitefield] but was very soon promoted again to Sub Officer which took him to Farnworth.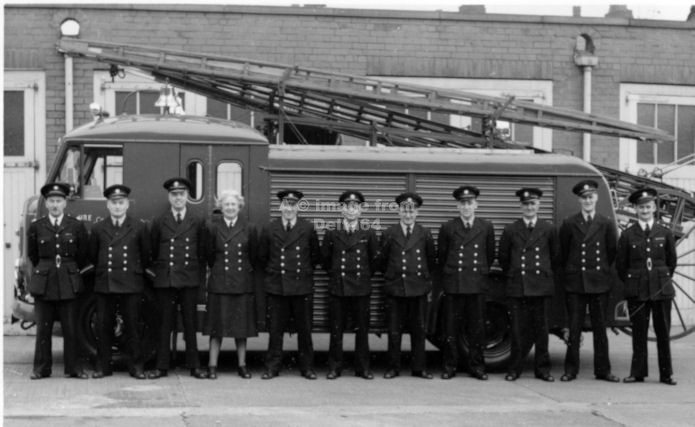 Line up at Farnworth, 3 April 1959.
Sub Officer Bert Paine is 2nd on the left.
As Station Officer he moved to Agecroft and then on March 20th 1967, his 43rd birthday, to Newton-le-Willows, where he remained until his retirement at the end of May 1974. Apart from the final two months, which following local government reorganisation saw Newton going into the newly formed Merseyside Fire Brigade, all Bert's service had been with Lancashire County Fire Brigade.
I met Bert shortly after his move to Newton. I was just 15 and neither of us could have imagined at that time that we would still be in touch some 40 years later, when it would be my privilege to help prepare him for his death and to lead his funeral rites. As I look back over the last 40 years, there is one word that is foremost in my mind when I think about Bert ~ inspirational.
+ + + + +
When I first began work on this web site in 2000, I had no idea how it might develop, but I knew it had to have two basic ingredients. Firstly, somewhere in the URL there had to be DELTA64 ~ the station code for Newton-le-Willows prior to 1974, and secondly, if he would permit it, a dedication to Bert Paine. I went to see Bert and he readily agreed and very kindly sent me the names of all the other firemen who were serving there on his arrival in 1967.
My earliest special memories of Bert go back to the days when I played the organ at a church opposite the fire station. Because there were no buses on a Sunday morning, I often had to walk the 2 miles to church. On more than one occasion, if Bert had attended an incident in Haydock, he would pick me up along the way, and give me a lift. Of course, it wasn't just the lift that was important, it was the ride in the Fire Brigade car. I can remember thinking how great it must be to have radio in the car. Yes it happened for me in 1999, when as a Chaplain to Cornwall Fire Brigade, I finally lived the dream of having my own main-scheme radio, albeit for too short a time.
Bert was well aware of my interest in the fire brigade and inspired and encouraged me in a variety of ways. I became aware of Agecroft Fire Station, which for me in 1968 was one of the most interesting in the area. It housed two standard Bedford TK pumps, but additionally there was a Control Unit, the new and first Hydraulic Platform for Lancashire County and also it housed the Fire Control for D & E divisions, covering from Newton in the south west to Littleborough in the north east of its operating area. "Just go to the station and mention my name" Bert told me. And so on a sunny Thursday afternoon in August 1968, I did precisely that, and spent a very happy few hours there in the company of the ladies in fire control and Fireman Peter Gregory. Many memories of that afternoon are still very clear in my mind. Since then, I have learned that respect is something you earn, not something that you command. It was very evident that Bert had earned the respect of a lot of people in the relatively short time that he was based at Agecroft.
I recall, too, how well he wore the uniform. It probably went back to his days in the army, but he always walked very upright across the drill yard from his home to the station, and his uniform was always neat and tidy and he wore the hat similarly. I may be classed as old-fashioned, but I think the discipline of the uniform is something which is a sad loss to the fire service today.
I can remember visiting Bert back in 1994, by which time he had been retired for 20 years, and his words "I've had 20 years pension from the fire brigade and I'm looking forward to another 20 years." Those very words inspired me when I reached 50 to say "I have completed 50 years, I look forward to completing another 50, and at least beginning a further 50."
I know from what has been told me, that I was not the only person to be inspired by Bert Paine.
However, in closing, let me say that as he inspired me in his life, so, too, he inspired me in his death. When diagnosed with terminal cancer towards the end of 2006, he made the conscious decision not to try and fight what would have been a hopeless cause. Instead he faced death with fortitude and with openness. When I visited him in a Nursing Home between Christmas and New Year, there was no trying to disguise the fact that he was dying. Indeed he told me that he was surprised that he was still alive and then asked me "if I could say a few words at his funeral." Yet it didn't stop there. Forty-eight hours before Bert died, I was asked if I could go to see him as it was known that the end was imminent. No longer able to sit up in his chair, he lay in bed, a very sick and very weak man. Again he spoke quite openly about death, and then went on to make us all laugh with his amusing comments. At the end of my visit, I commended him into God's keeping, his final words to me being "thank you." I hope that when my time comes to die, I can face my own death as positively and as courageously.
The end came very peacefully on Wednesday 10th January 2007 at 9.00pm.
I hope the name of Bert Paine will live on in this web site for many years to come. He really was a true inspiration to me, and I pray that he may now rest in peace. To Dorothy and John, I would like to say thank you. Thank you for letting me share some of his life and thank you for letting me share in his death and for allowing me to conduct his funeral service. I hope you will find comfort at this time, not least in the knowledge that Bert was such an inspirational character not only to me, but I know, to so many other lives that he touched. God bless.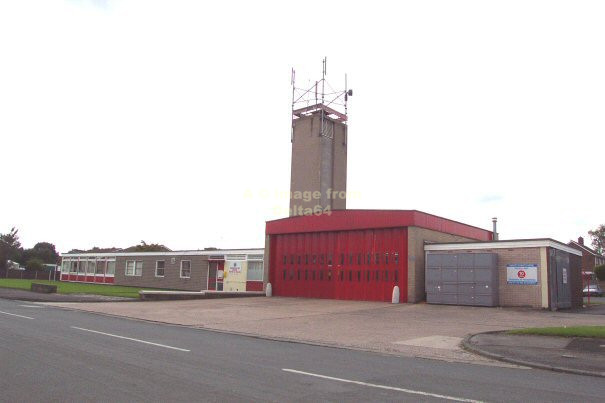 Newton-le-Willows Fire Station in 2004.