It was back in 1996 that TVAC in Leyland, Lancashire, started building fire appliances for Lancashire Fire & Rescue Service, the prototype being R101NBV seen here outside Penwortham Fire Station in 2002.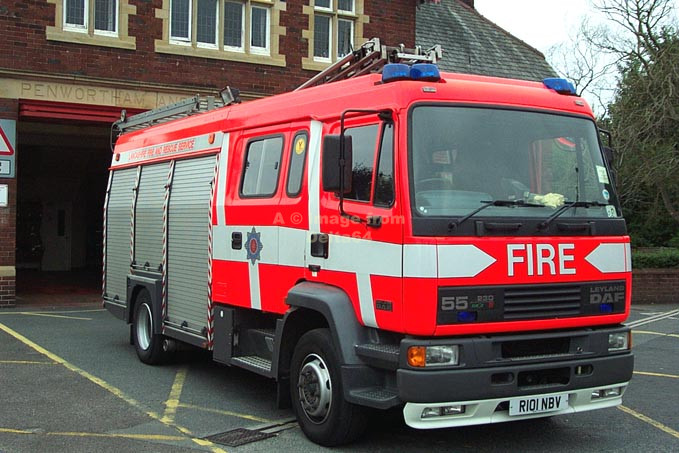 TVAC is a chassis engineering specialist company. The Lancashire Brigade had approached Netherlands-based Plastisol, for some time producers of injected resin bodies for airfield crash tenders, to ascertain if they could produce a local authority-type pumping appliance.
The body and water tank are produced as one integral unit offering a siginificant weight saving and also an increase in locker space. The Leyland-DAF 55-230Ti chassis and steel cab were used, downrated from 14 tonnes to 12 tonnes, with the resin crew cab and fire-fighting body effectively glued on behind.
From 1998 until the time of writing (February 2003) a further 33 appliances have entered service with Lancashire on the same chassis. In addition there were two further appliances built specifically for use as Driver Training Vehicles. The design has changed little from the prototype. By the time the current order is complete, there will be almost 50 such appliances in the fleet. Now another Prototype - the DAF LF - has been developed and put 'on the run' at Fulwood Fire Station. It is anticipated that further LFs will be built for Lancashire and beyond.
More recently other brigades have started to use TVAC and these include a variety of different and often unique appliances for Buckinghamshire Fire & Rescue Service and a large batch of Mercedes Ategos for London Fire Brigade. Leicestershire, Merseyside, Cheshire and some of the Scottish Brigades are also buying TVAC appliances.
The company was sold to Assetco at the end of 2007.
Thanks to ROGER MARDON for his assistance with the company history.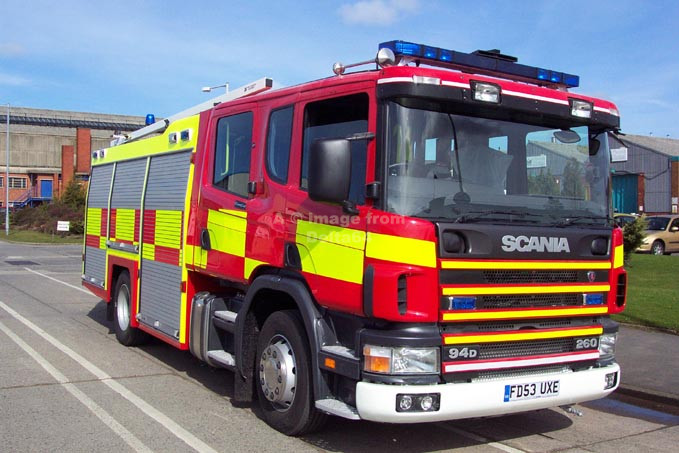 Scania FD53 UXE was about to head south to join the Leicester fleet.
PLEASE NOTE ~ IT HAS NOT ALWAYS BEEN POSSIBLE TO IDENTIFY
EACH INDIVIDUAL APPLIANCE SHOWN ON THE PAGES BELOW..