BUCKINGHAMSHIRE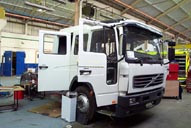 Volvo FLH awaiting body
This will carry a unique design of body
different from that shown below
Volvo FLH KU52HLO with its unique body, seen from 4 different angles
LATEST PICTURES FOR BUCKINGHAMSHIRE
Volvo FLH OE03WXP seen 14 July 2003
LANCASHIRE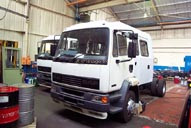 A pair of Leyland-DAF 55's await bodies
After fitting the body, the appliances are then taken to the
Lancashire County Council workshops for painting.
Almost there. The appliance on the left is striped but still unregistered,
whilst PJ52FMF (middle) and PJ52FMG (right) are almost complete.
And so to the future?........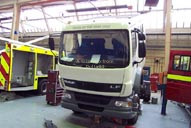 Here is a preview of the DAF-LF prototype
which will be supplied to Lancashire.
'TRUCK OF THE YEAR 2002'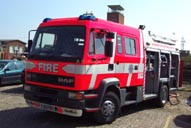 The latest batch of new appliances
for Lancashire continues apace,
having reached PJ52FMO by 17 April 2003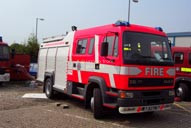 PJ52FMU is the penultimate of a batch of 19
for Lancashire and seen 30 May 2003
On the left another picture of PJ52FMU with two shots of the last of the batch PJ52FMV, 14 July 2003
LATEST PICTURES FOR LANCASHIRE
Here are my first pictures of the Prototype DAF LF for Lacnashire ~ 20 August 2003
LEICESTERSHIRE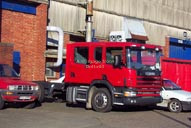 One of at least 4 Scanias soon to be built
for Leicestershire Fire & Rescue.

This is the second of five Scanias being built for Leicestershire
and seen 14 July 2003
LATEST PICTURES FOR LEICESTERSHIRE
Two of the Leicestershire Scanias were identified as
FG03KOV(left) and FG03KOW(right) in early September 2003
LONDON
London Fire Brigade Mercedes Atego
Reading clockswise from top left DPL1118-1121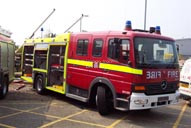 Now almost 1/3rd of the way through the order
DPL1129 is valeted ready for delivery, 30 May 2003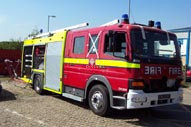 Arranged numerically from top left to bottom right are Ategos DPL1130/1/3-7
all seen in various stages of build, 14 July 2003
LATEST PICTURES FOR LONDON
Again in various stages of build are Ategos DPL1141-46 in early September 2003