MUTUAL AID
JUNE/JULY 2018
Those, who like me, can remember the long hot summer of 1976, will be aware that possibly for the first time in 42 years, many Fire & Rescue Services across the country have been stretched to their limits during an unusually prolonged dry and very hot period of weather, which at the time of writing [24th July] is still going on, though some areas have had occasional showers, but very little substantial rainfall.
During the weekend of Saturday/Sunday 23/24 June 2018 a large moorland fire began on the Moors in Saddleworth to the East of Manchester. I understand that there was aanother large fire on the Derbyshire side of Saddleworth Moors, which ultimately merged with the one on the Greater Manchester side. By Monday/Tuesday 25/26 June two more fires began on the West Pennine Moors at Winter Hill, north of Bolton, one in the Lancashire area and one in the Greater Manchester area. Soon these fires merged into one large incident, and both the incident at Saddleworth and the incident on Winter Hill, were ultimately declared as major incidents. Mutual Aid was given by surrounding Fire & Rescue Services, but by the beginning of July, it became necessary to brings crews from beyond the North-West to assist, including 6 crews that attended from London Fire Brigade. Additionally, of course, the normal routine of fire calls continued, including some other significant incidents.
I have done my best to capture as many 'visiting' appliances as possible, but stress that what follows is a far from complete record. For safety reasons, many roads in both areas had to be closed, and so most of the pictures have been taken away from the firegrounds. For example, I know appliances attended from North Yorkshire, Lincolnshire & Warwickshire FRSs which I have not been able to include. There are possibly others as yet unknown. On some pages, I have also included vehicles from other agencies who offered vital assistance.
The next problem I have had to work on, is the best way to post the pictures, and I have decided on the diary method. Pictures were taken on an almost daily basis between 25 June and 12 July. I have produced one page for each of the days I was able to go out photographing, so some pages will have more pictures than others. There will be some repitition of appliance pictures, as some out of County appliances were in the area for several days. As ever, some of the regional appliance pictures have also been used to update the respective Home Pages.
With such a large update, there may well be some broken links. Please email me via the link on the Welcome Page if you encounter any problems.
Finally, a huge thank you to the many friends and FRS personnel who have helped me to obtain so many pictures. Your assistance is so gratefully received.



MONDAY 25 JULY 2018
Although there were huge swathes of smoke drifting westwards from Saddleworth, [this eventually reached the Isle of Man] I was unable to access any appliances in the Saddleworth area.
However, as I drove home along the M60 in East Manchester, there was a huge plume of smoke rising from the Rivington side of Winter Hill. By the time I arrived, the main access road had already been closed, but I was still able to use to road to Belmont, where I came across the first appliances. Sadly, depsite choking smoke, some people were still walking on to the moors towards the fire.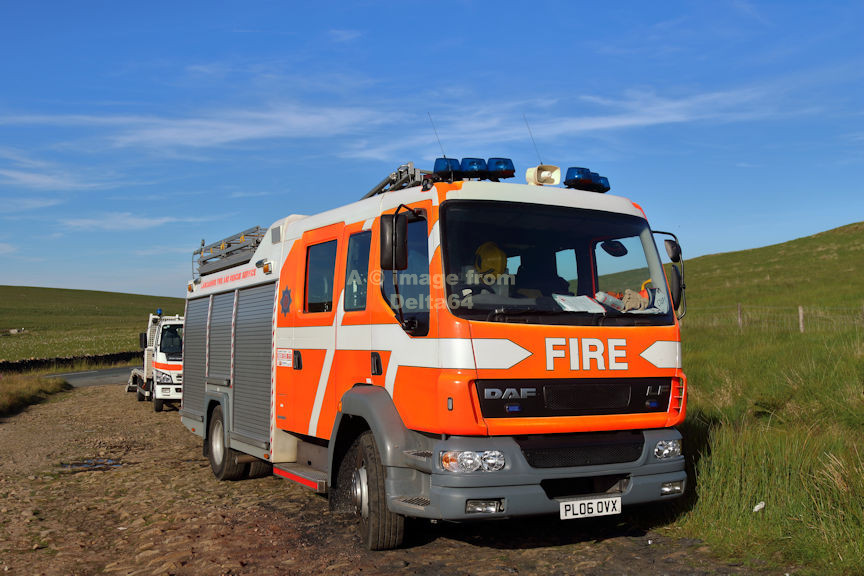 PL06OVX was a reserve appliance from Rawtenstall.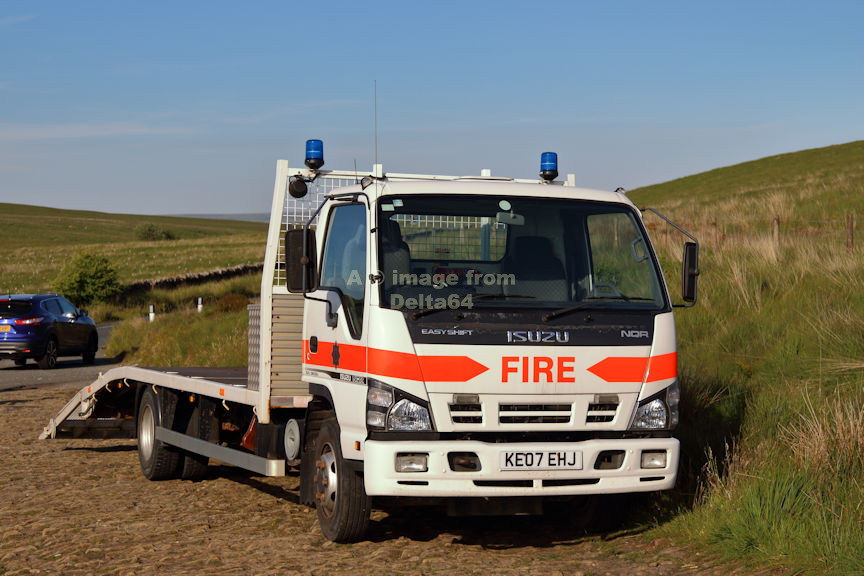 KE07EHJ also from Rawtenstall, transported the Soft-trak vehicle.