A2 ELLESMERE PORT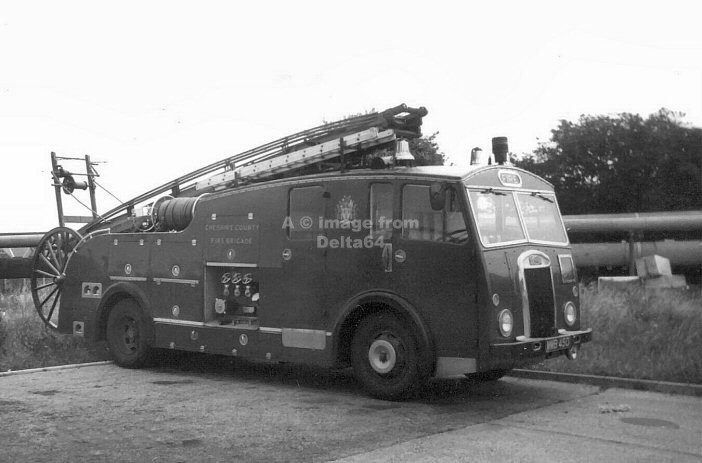 Dennis F7 Pump Escape MMB450 was in the reserve fleet when photographed.
[Picture courtesy MF&RS and reproduced with permission.]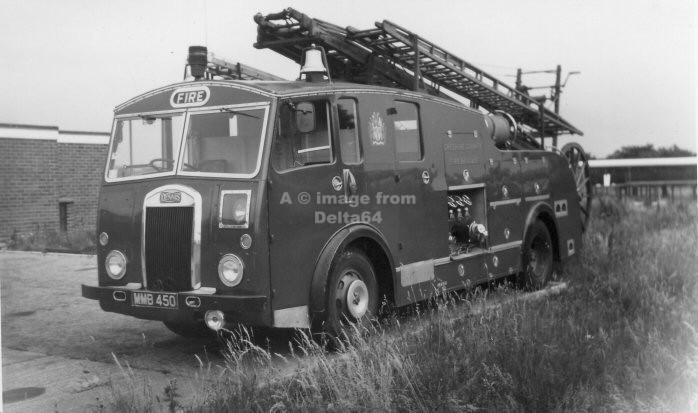 Another shot of F7 MMB450 possibly taken on the same occasion as that above.
[Copyright picture ~ R. Simpson and reproduced with permission.]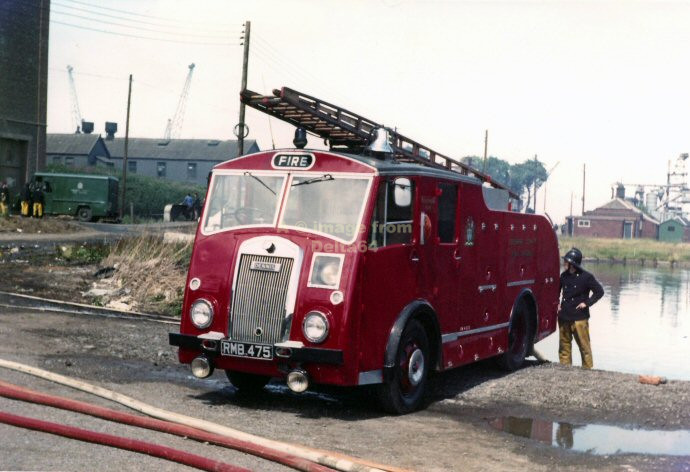 Dennis F8 RMB475 was seen at a 30 pump incident at the former Frosts Flour Mill in 1970.
An earlier picture of this appliance can be found on the Wilmslow page.
[Copyright picture ~ R. Simpson and reproduced with permission.]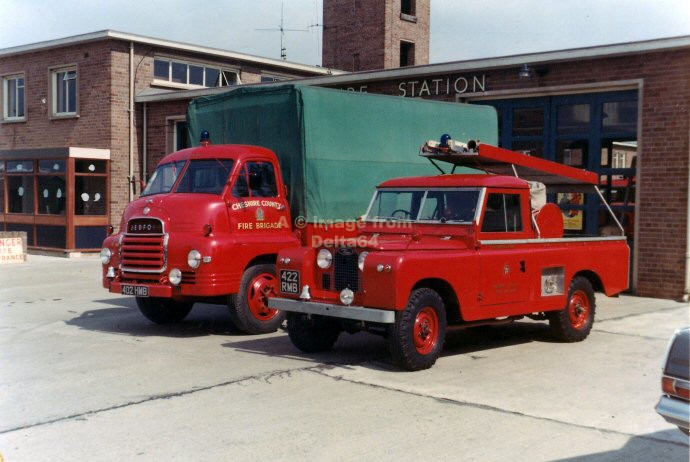 Bedford Foam Tender 402HMB and Land Rover L4T 422RMB both on the station forecourt.
[Copyright picture ~ R. Simpson and reproduced with permission.]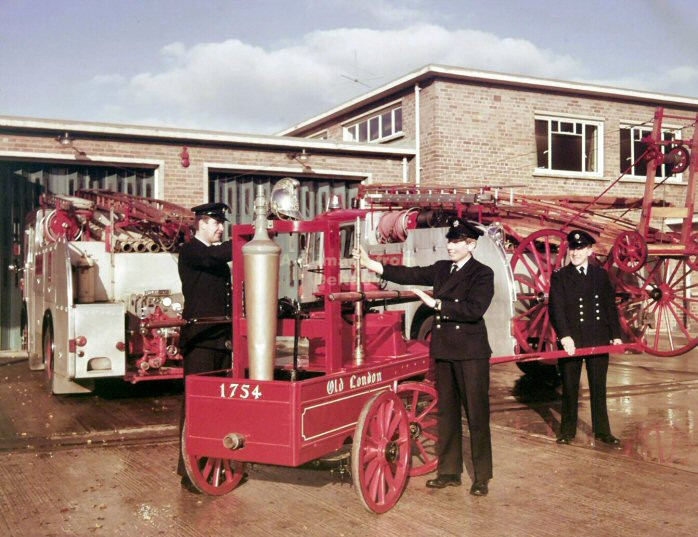 This picture taken in the yard at Ellesmere Port dates back to 1967.
[Copyright Ellesmere Port Pioneer and reproduced with permission.]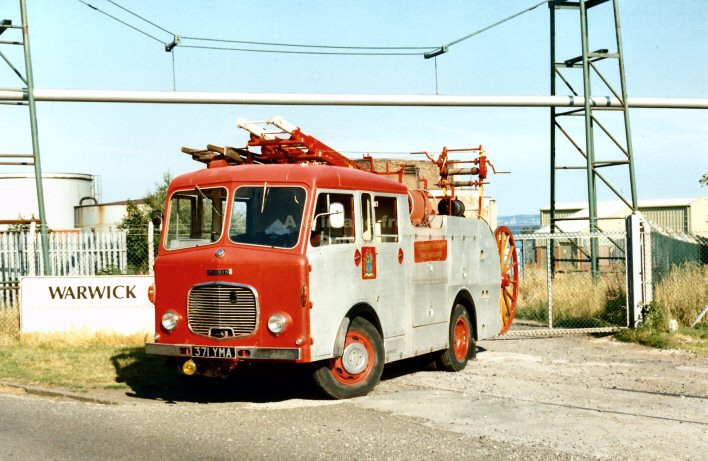 Dennis F24 Pump Escape 371YMA
[Copyright picture ~ Chris Tunstall and reproduced with permission]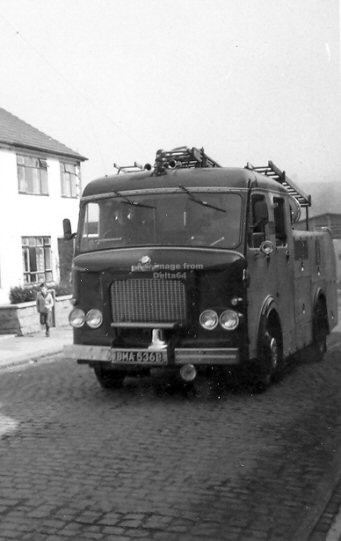 Dennis F38 BMA536B was seen at the New Brighton Tower Fire, 5 April 1969.
[Copyright picture ~ K. Howarth and reproduced with permission.]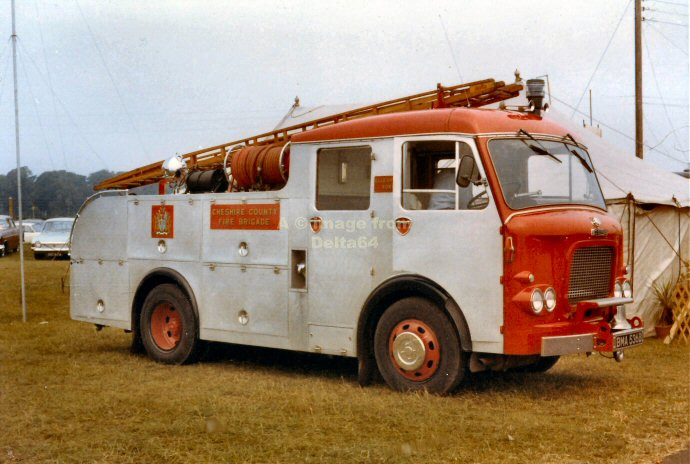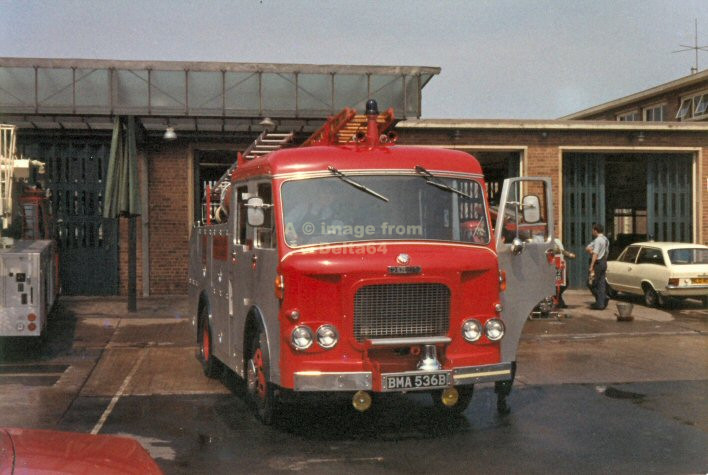 A couple opf very welcome colour pictures of F38 BMA536B
[Copyright pictures ~ R. Simpson and reproduced with permission.]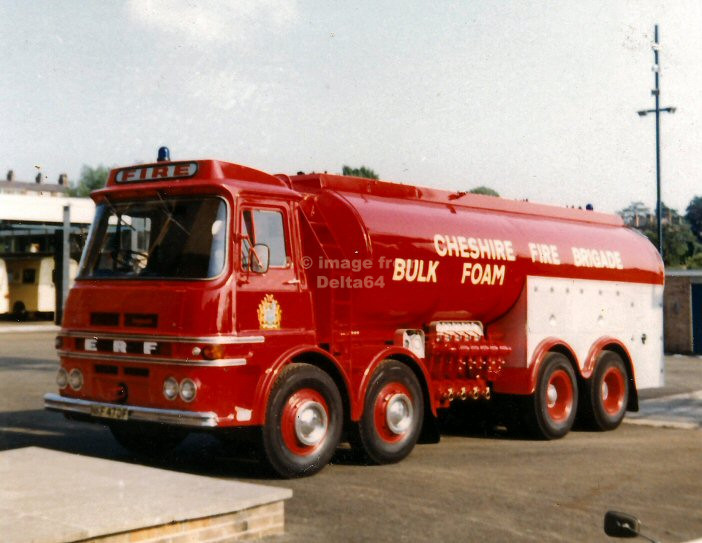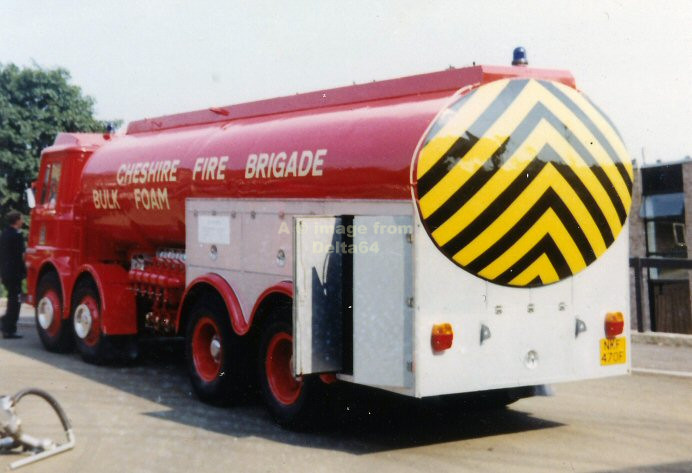 ERF Foam Tanker NKF470F was a converted Fuel Tanker.
[Copyright pictures ~ R. Simpson and reproduced with permission.]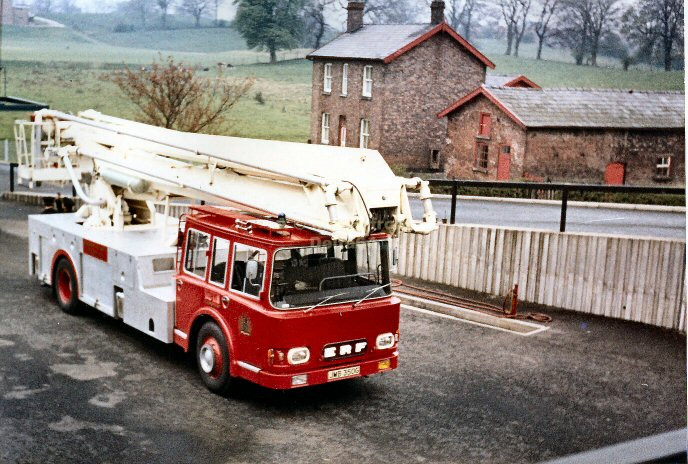 ERF Hydraulic Platform ~ JMB350G
[Copyright picture ~ R. Simpson and reproduced with permission.]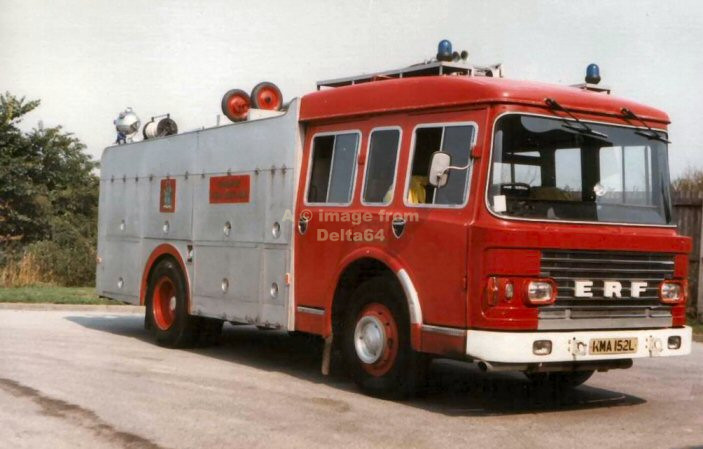 KMA152L illustrates that ERFs were used for both pumping and special appliances.
[Copyright photograph Neil Green ~ courtesy Simon Rowley, FireFotos Archive.]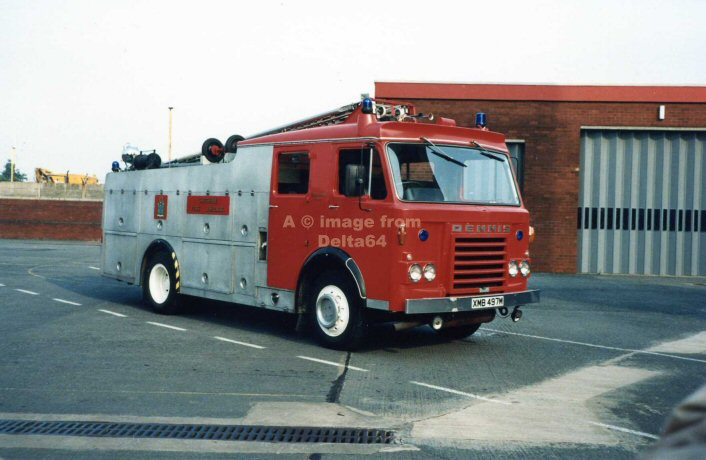 Dennis F49 Water Ladder XMB497M was one of the last appliances delivered before 1 April 1974.
[Copyright picture ~ A. Kent and reproduced with permission.]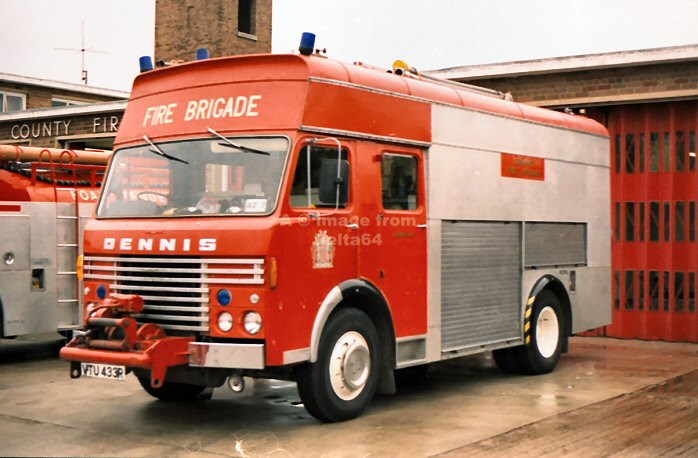 Dennis F131 VTU433R was originally based at Widnes where it was used as an Emergency Tender.
It subseuqently moved here as a Chemical Incident Unit.
[Copyright picture ~ Chris Tunstall and reproduced with permission]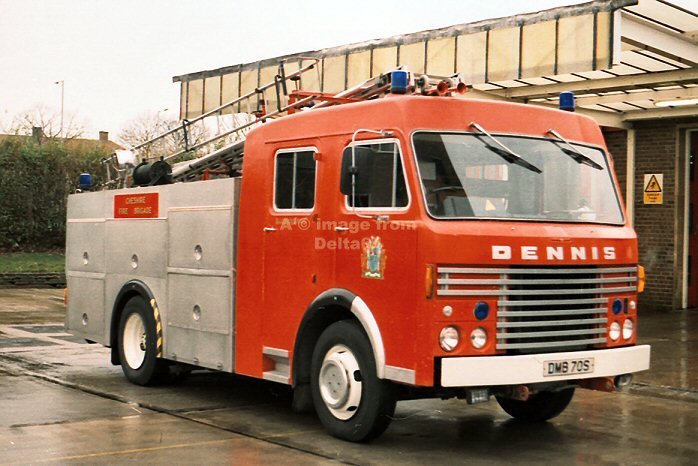 Dennis R61 DMB70S was seen in a very wet station yard.
[Copyright picture ~ Chris Tunstall and reproduced with permission]
Not quite an HPV in the usual sense, Dennis DMB70S was seen in 'later life'.
[Copyright picture ~ W. Jopson and reproduced with permission.]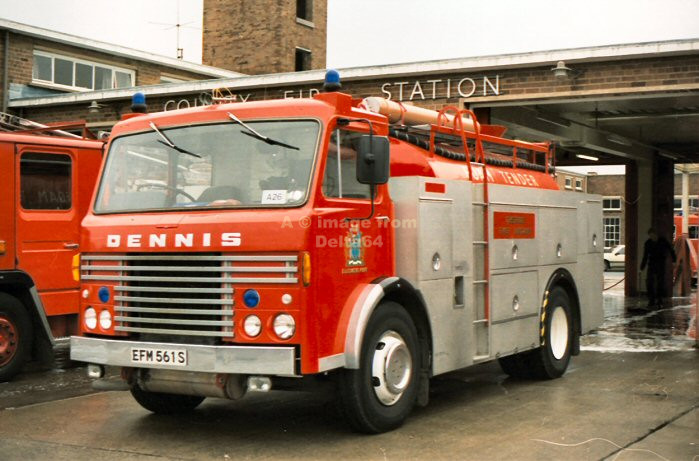 Dennis Delta2 Foam Tender EFM561S was photographed after transfer from Warrington to Ellesmere Port.
[Copyright picture ~ Chris Tunstall and reproduced with permission]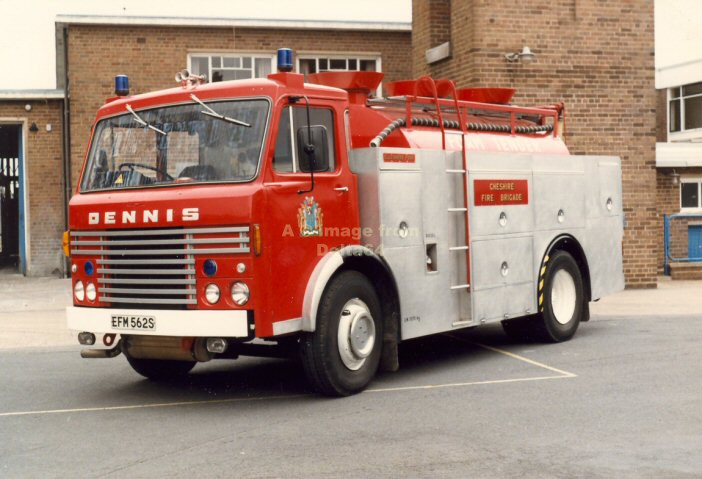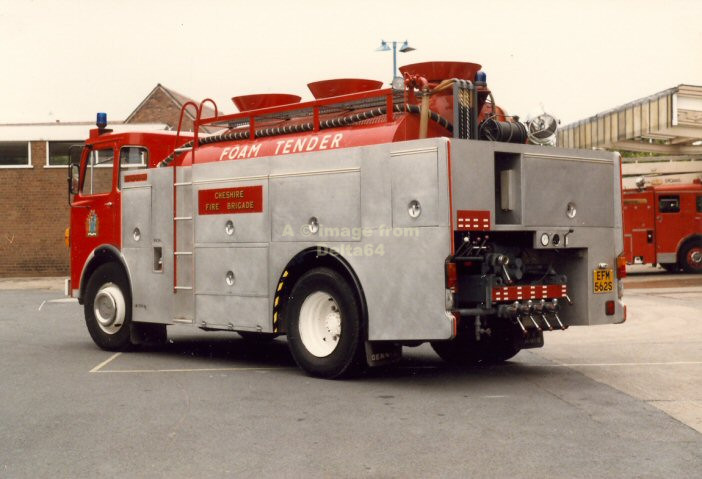 Dennis Delta2 Foam Tender EFM562S moved to Frodsham after the reallocation of EFM561S, but was seen here, 13 July 1986.
[Copyright pictures ~ K. Howarth and reproduced with permission.]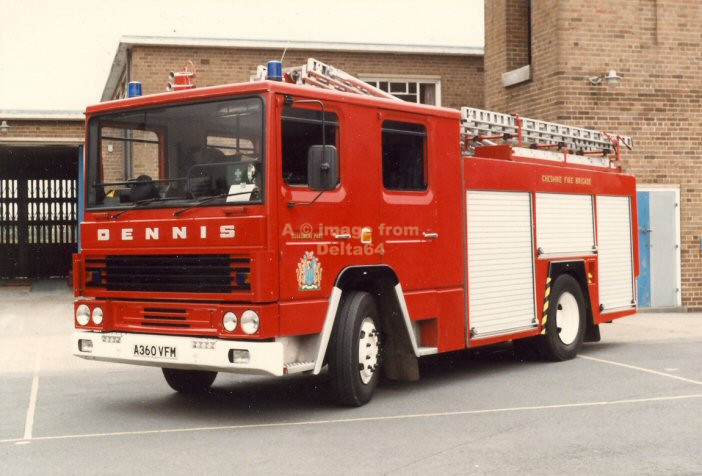 Dennis RS133 A360VFM was seen at the rear of the station, 13 July 1986.
[Copyright picture ~ K. Howarth and reproduced with permission.]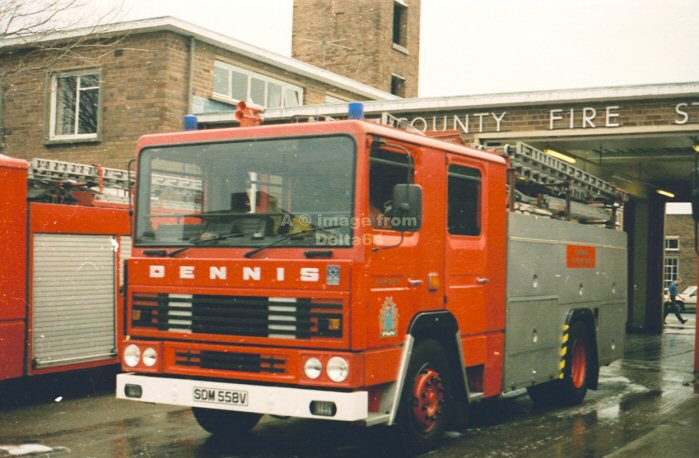 Dennis RS133 SDM558V was also photographed on a very wet day.
[Copyright picture ~ Chris Tunstall and reproduced with permission]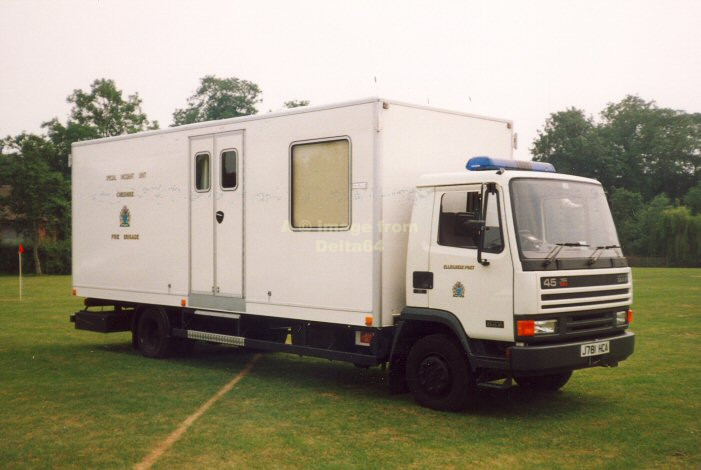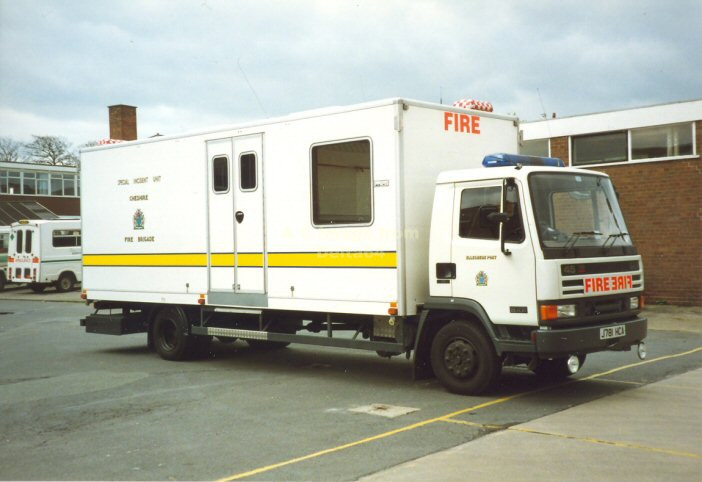 Two pictures of J781HCA when used as a Special Incident Unit.
[Copyright photograph ~ W. Jopson and reproduced with permission.]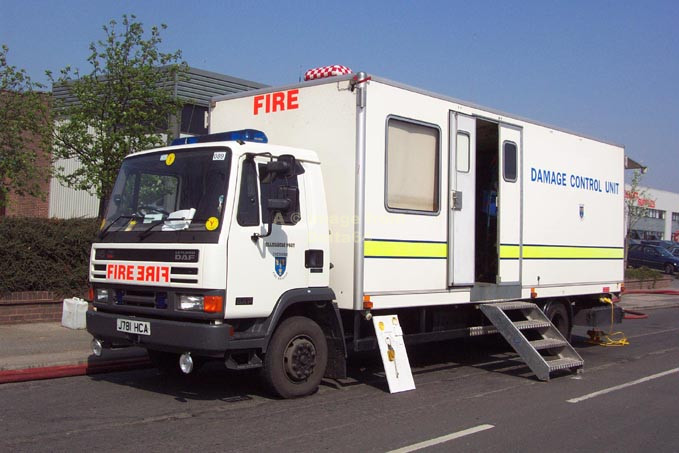 J781HCA was subsequently designated Damage Control Unit J781HCA and was seen at Bumpers Lane, Chester, 17 April 2003.
[In 2010 it was converted into a B.A. Unit by Plastisol.]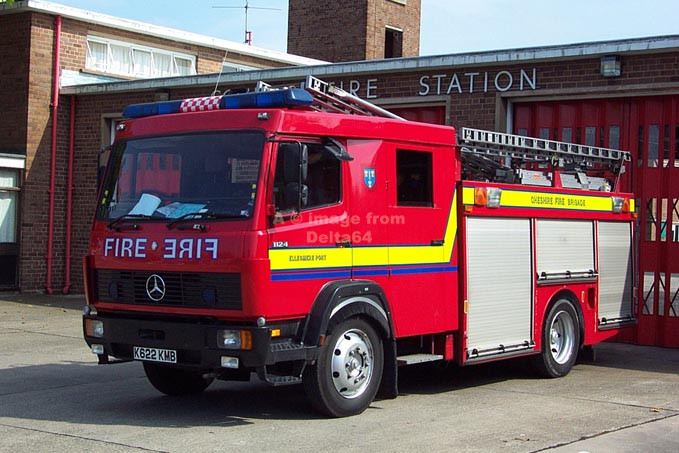 One of two such appliances allocated here, K622KMB was seen on the station forecourt, 27 August 2002.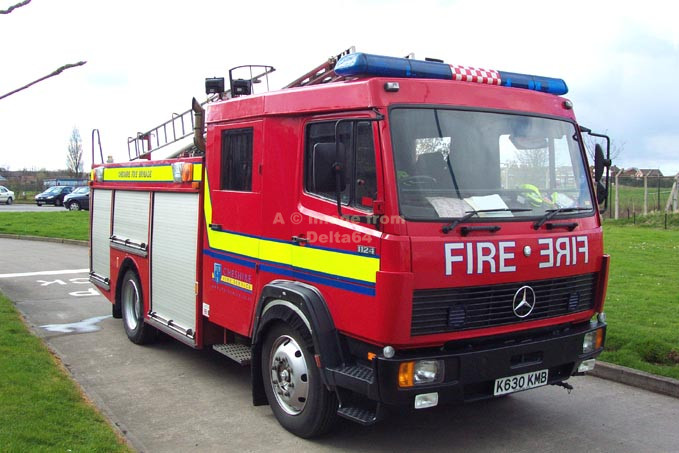 Mercedes1124 K630KMB was seen at the Brigade Training School soon after coming out of front line service, 23 March 2004.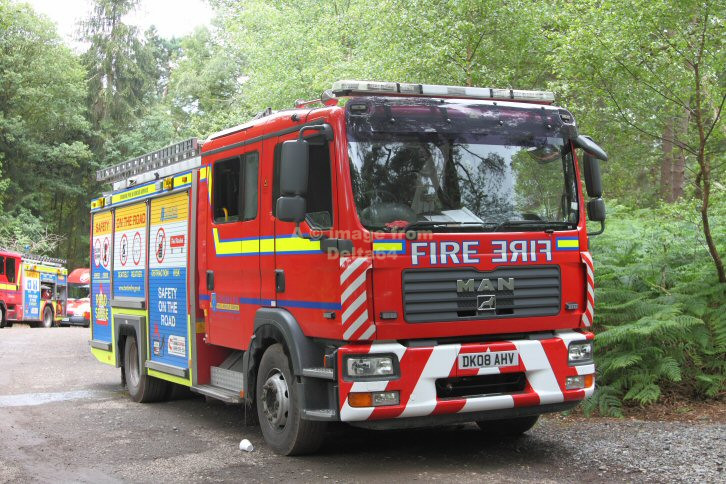 MAN DK08AHV was seen at Peckforton Castle, 19 June 2011.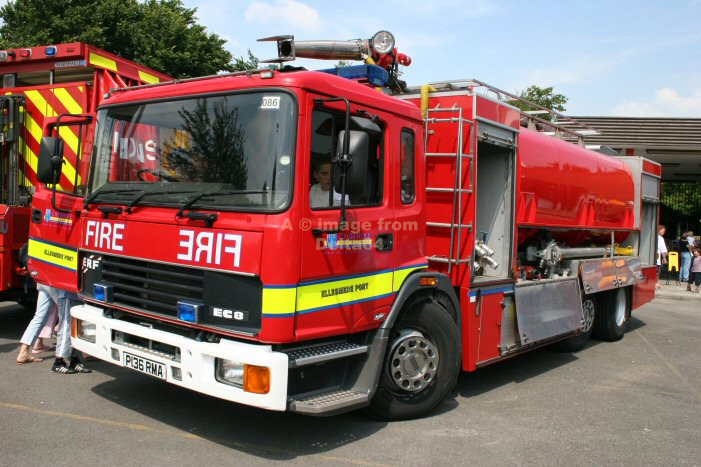 Foam Tanker P136RMA was seen at the Frodsham Fire Station Open Day, 9 July 2005.,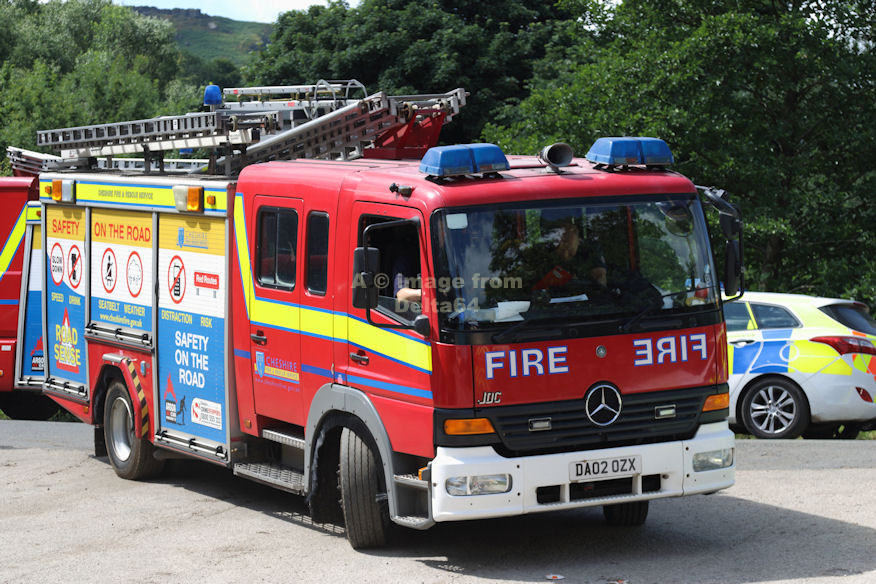 Mercedes Atego DA02OZX was seen at a 15 pump fire in Bosley, 18 July 2015.