A17 ULVERSTON
The geography of Lancashire prior to 1974 meant that the boundary crossed Morecambe Bay. The effect was that Lancashire was basically two counties, the northern part covering the South Lake District and round to Barrow-in-Furness being only accessible by road after first driving through part of Westmorland. From 1974, this part of Lancashire ceased to exist as did the former counties of Cumberland and Westmorland, all of them being absorbed into the new County of Cumbria.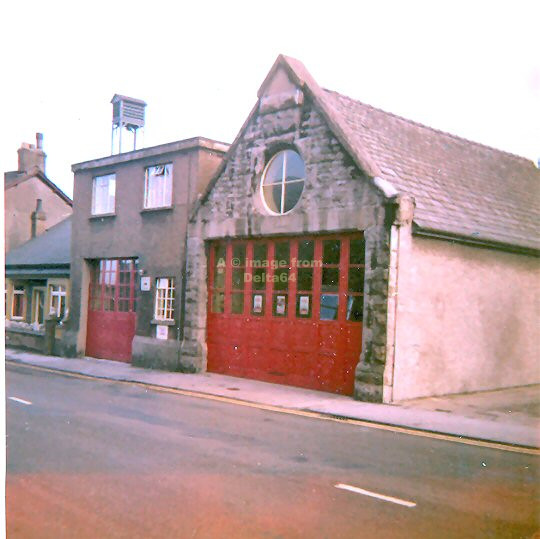 This was Ulverston Fire Station in Lancashire County days, c1971.
The building stills stands adjacent to the present station
and is currently used by the St. John's Ambulance Brigade.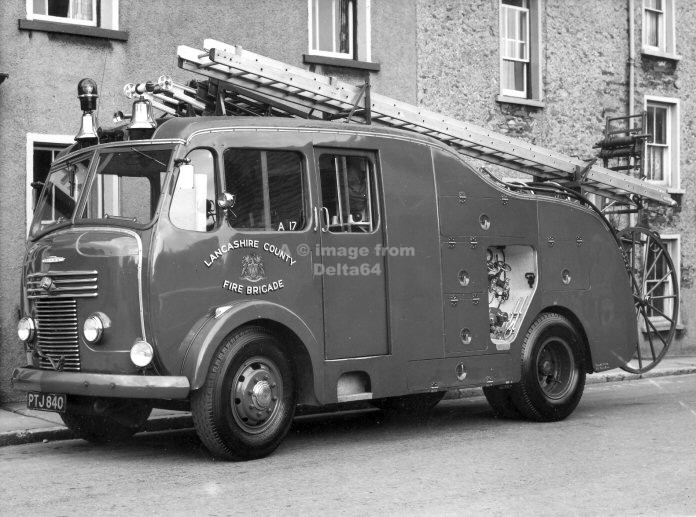 Commer 45A pump escape, PTJ840, with bodywork by Cuerden of Blackburn was photographed in1965.
This appliance was based at Farnworth when new 26.11.1953.
It moved to Ulverston 13.04.1957 and remained there until 16.11.1965.
It moved to Washington Hall and became part of the Training School fleet on 01.03.1966, and was sold 11.12.1967.
[Copyright photograph ~ the late Mike Brockbank and reproduced with permission.]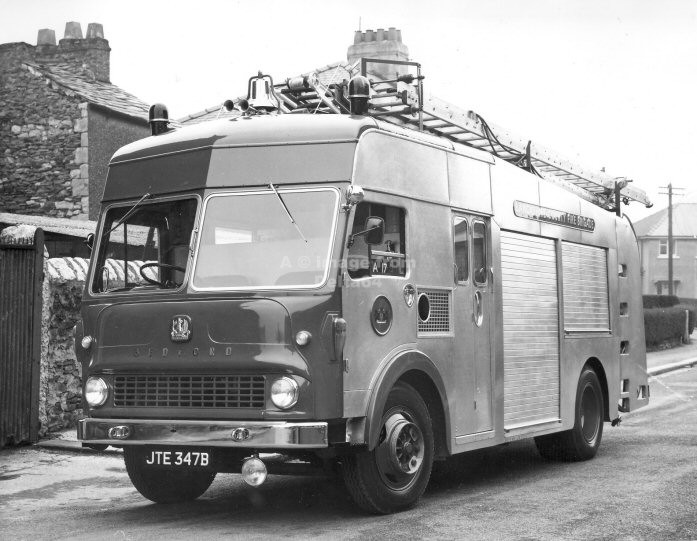 Bedford KEL JTE347B, with sister appliance JTE345B was allocated to A17 Ulverston.
[Copyright photograph ~ the late Mike Brockbank and reproduced with permission.]
Although it is not clear which appliance this is, it was still felt to be a welcome inclusion.
[Copyright picture ~ Kevan Bracegirdle and reproduced with permission.]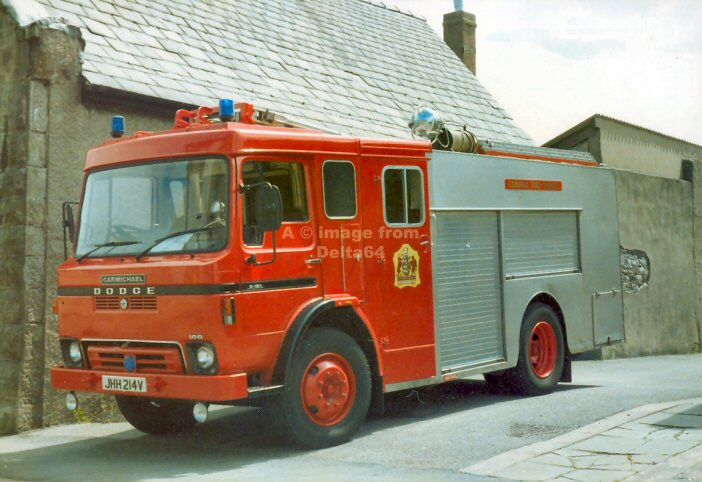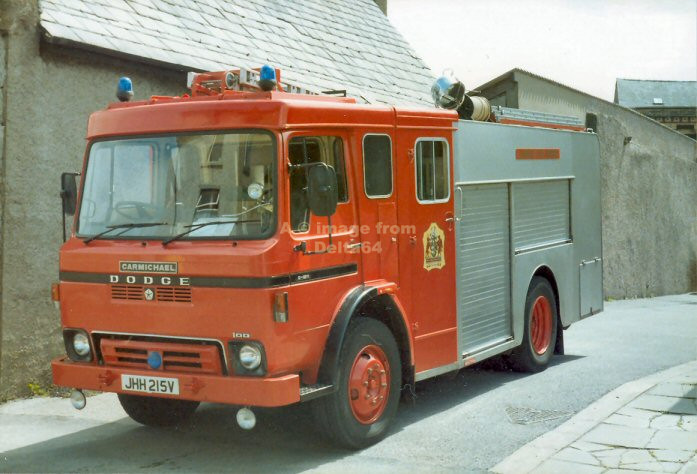 Carmichael bodied Dodges JHH214V & JHH215V moved from Whitehaven in 1983 and were seen here, 1 July 1984.
[Copyright picture ~ K. Howarth and reproduced with permission.]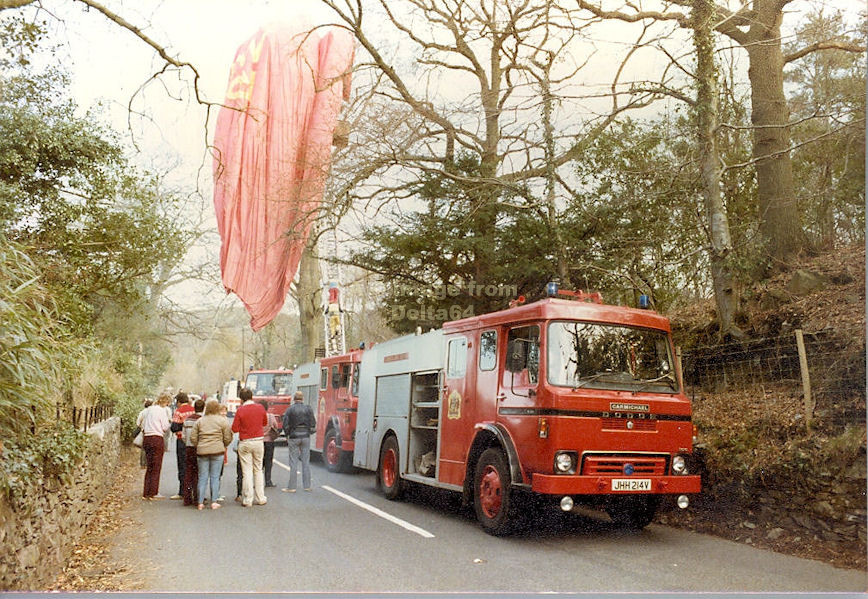 Another picture of JHH214V seen when a Hot-Air Balloon crashed at Haverthwaite on Easter Sunday 1984.
Follow the link above for more pictures
[Copyright picture ~ J. Dixon and reproduced with permission.]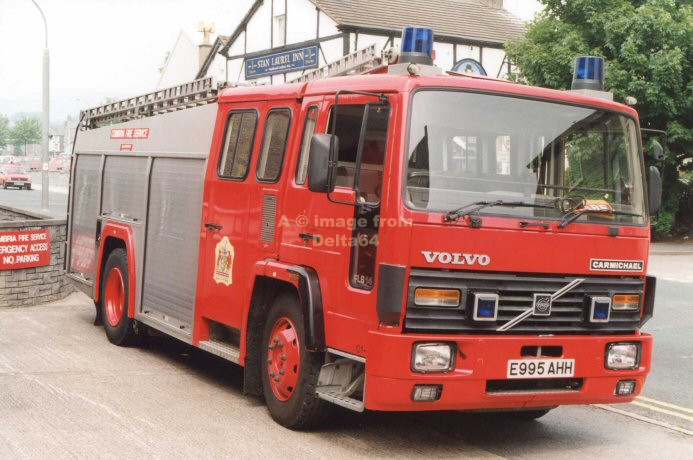 Volvo E995AHH moved here from Carlisle.
[Copyright picture ~ A. Kent and reproduced with permission.]
ULVERSTON HOME PAGE