GIDLOW MILLS
WIGAN
20 OCTOBER 1969

A TRIBUTE TO THE LATE
SUB-OFFICER GEORGE CHADWICK
[1930 - 2001]
D65 ~ HINDLEY
Possibly one of the greatest dreads of any fire-fighter is to turn out to a shout in October and not return home until the following May. That is exactly what happened to Sub-Officer George Chadwick when he was seriously injured in the fire at John England's, Gidlow Mills, Wigan in 1969. By the following day, it had been established that his injuries included cracked shoulders, a fractured spine, five fractured ribs, a punctured lung and the left foot and leg severely crushed. His leg was amputated below the knee 3 days later. Thanks to George's selflessness, his colleagues received comparatively minor injuries.
I have been most privileged to meet with the George's family in the autumn of 2007. Sadly, George himself passed away in 2001, having spent the final 32 years of his life in a wheelchair.
The pictures below tell the story of that fateful afternoon, and I hope they will serve as a reminder of the constant dangers that face all our fire-fighters, and be seen as a fitting memorial to a man who always showed extreme courage. His family have very generously supplied all the photographs.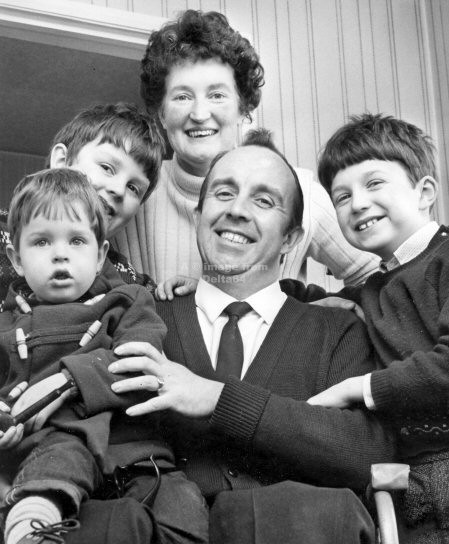 The Chadwick family soon after George's discharge from hospital.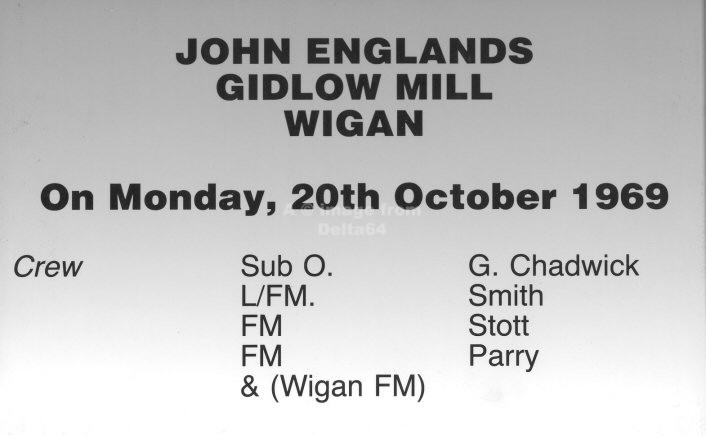 The Hindley Crew on 20 October 1969.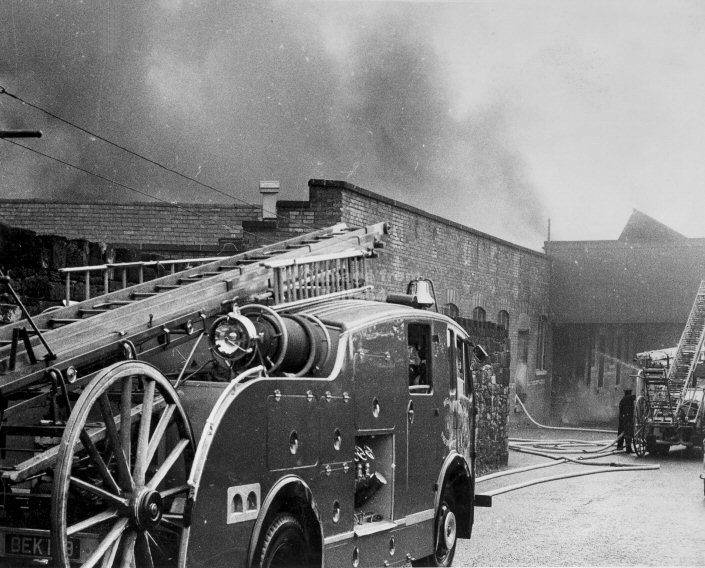 Wigan F12 Pump Escape BEK199 soon after the incident began, with Hindley's WTE in front.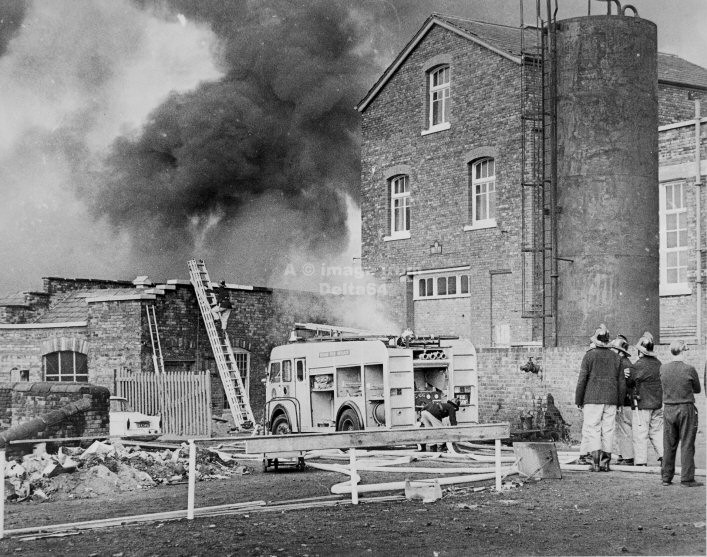 Elsewhere on the fireground Wigan's new Bedford Water Ladder EEK250F was hard at work.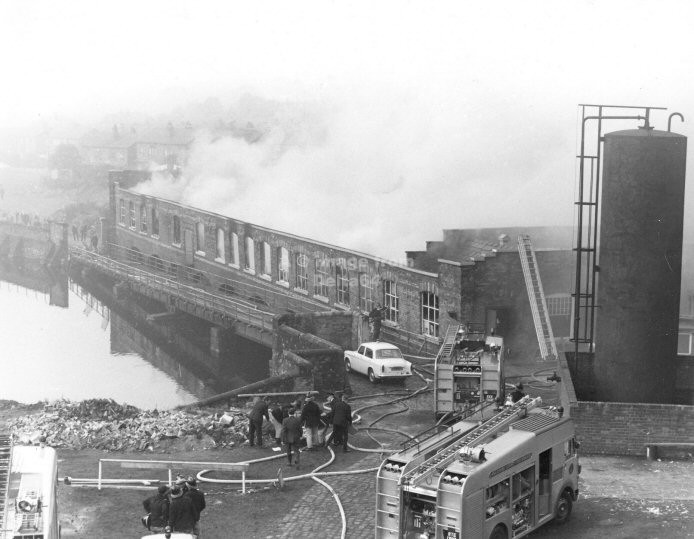 Further appliances soon arrived including Skelmersdale Bedford Water Tender RTE139C on the right.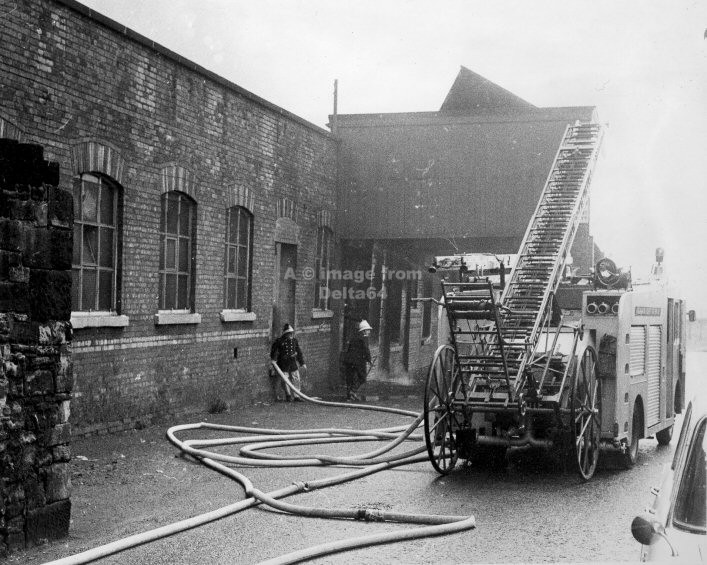 It was the subsequent collapse of the wall in this picture that was to injure Sub-Officer Chadwick and his colleagues.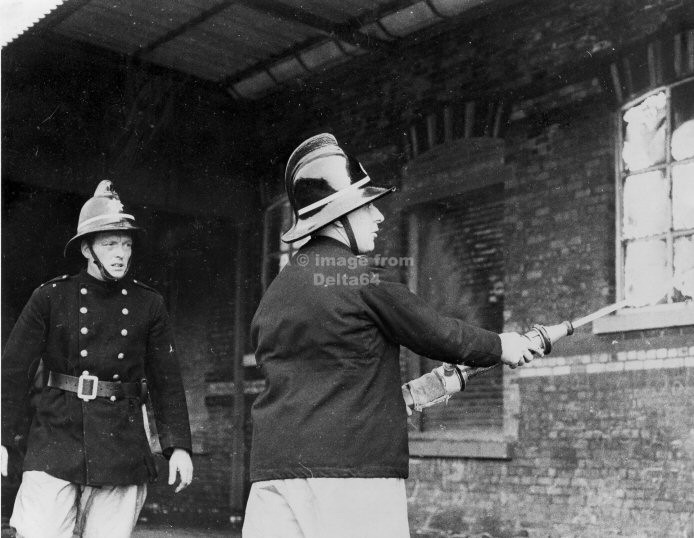 Leading Firemen from Wigan and Lancashire County tackling the blaze.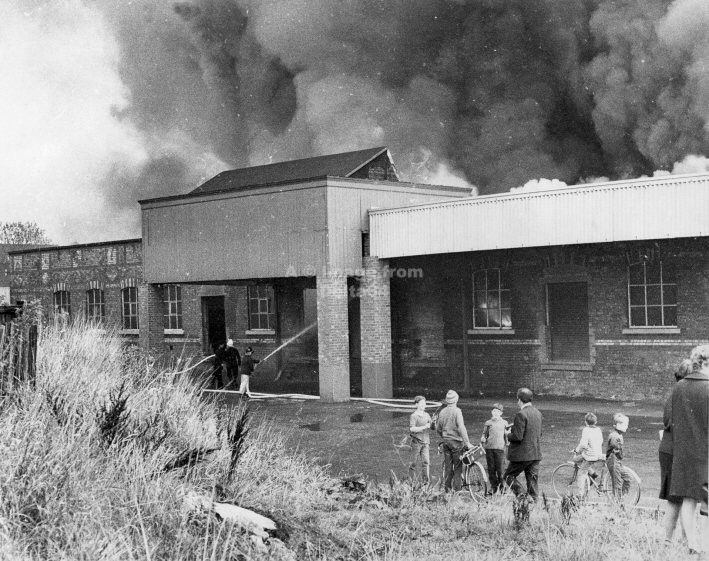 The intensity of the fire is evident in this picture.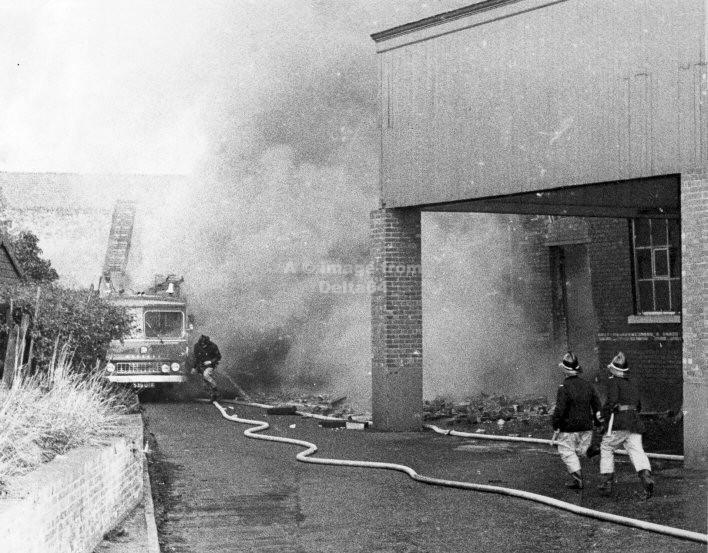 This dramatic picture was taken as the explosion occured.
It is not clear whether the fireman by the appliance was running or whether he was being blown off his feet.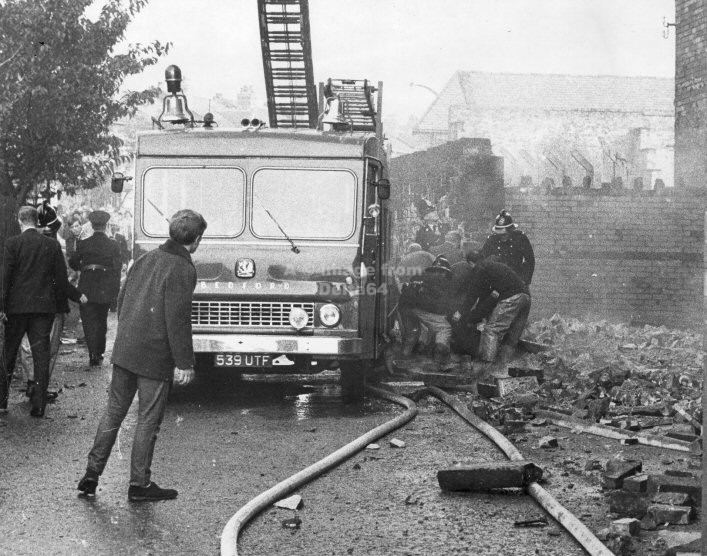 Having escpaed from the building, Sub-Officer Chadwick was buried under the rubble visible in this picture.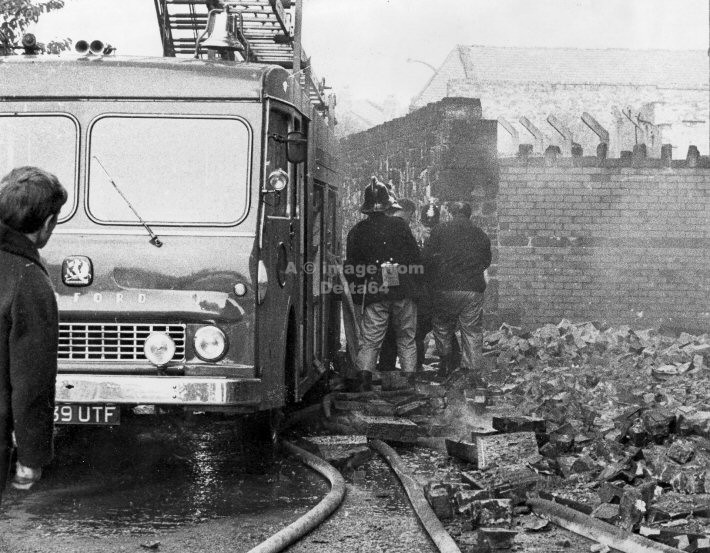 Here Sub-Officer Chadwick has been removed from the rubble.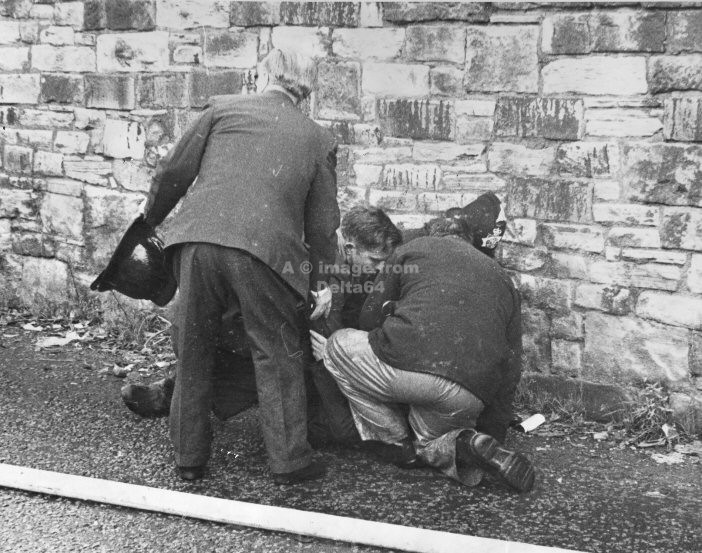 Having been moved to a safer location, Sub-Officer Chadwick was tended by colleagues.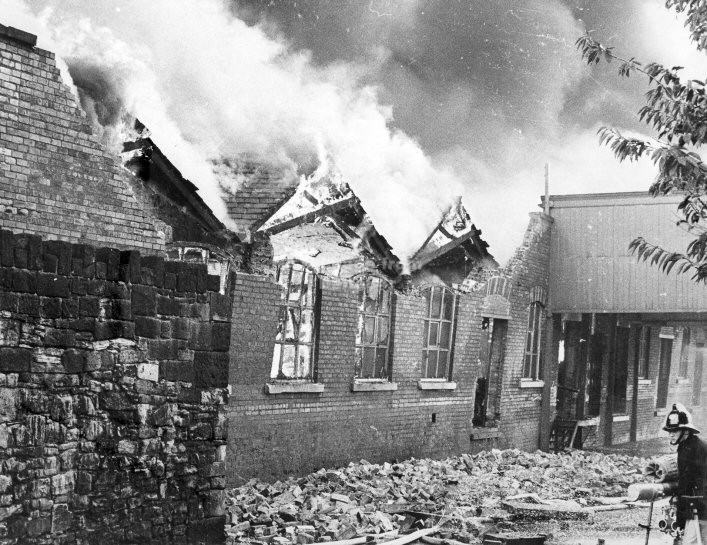 Heavy stonework had fallen on to Sub-Officer Chadwick, virtually burying him.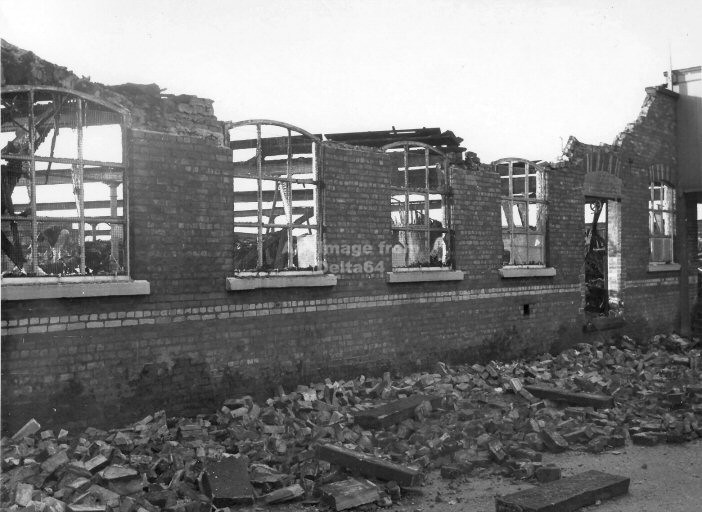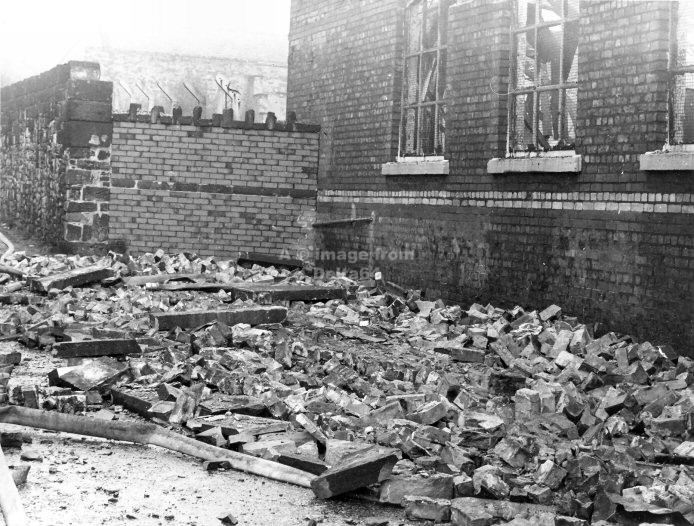 The size and amount of debris is more evident in the above two pictures.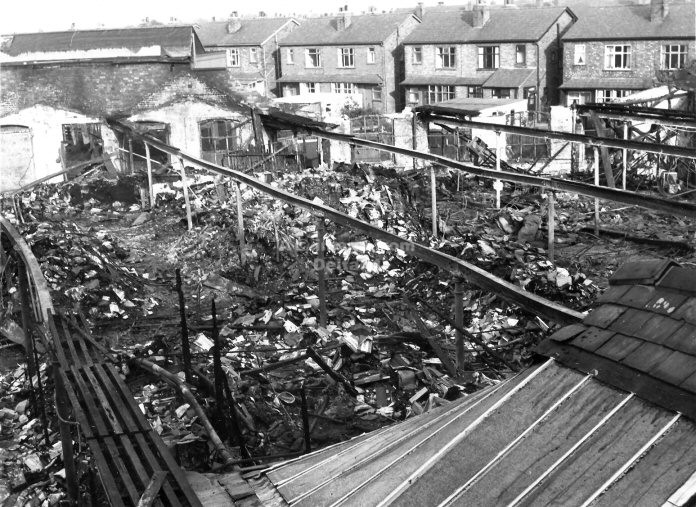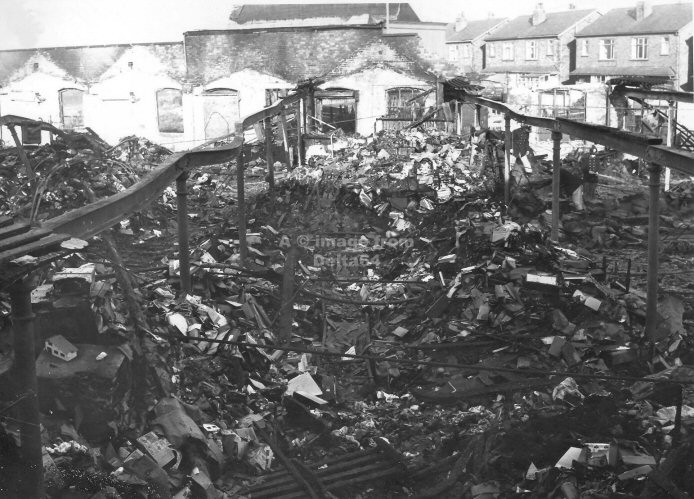 The final two pictures show the aftermath of where Sub-Officer Chadwick and his colleagues
had been working prior to the explosion and collapse.