C36/E36 BURY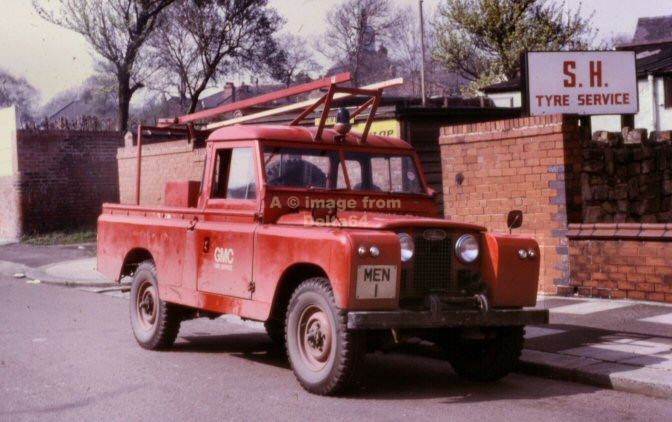 Land Rover MEN1 was seen in Walkden a year after passing into GMC, 23 April 1975.
[Copyright picture ~ K. Howarth and reproduced with permission.]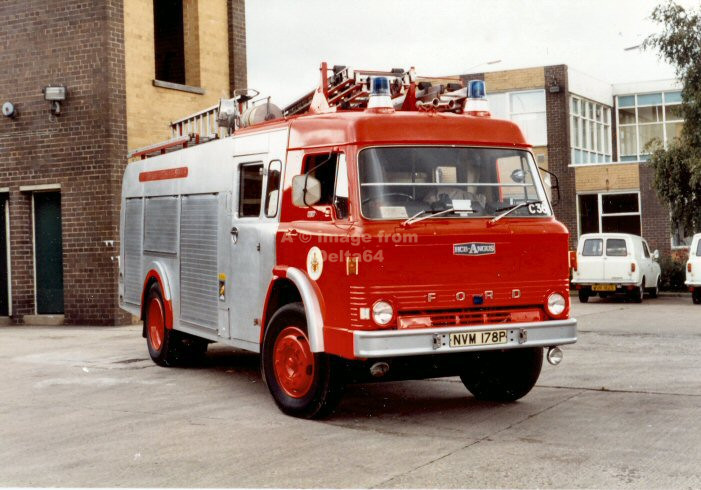 Going back to the early days of GMC, HCB-Angus bodied Ford NVM178P was on the run here.
[Copyright picture ~ the late Alan Gartside and reproduced with permission.]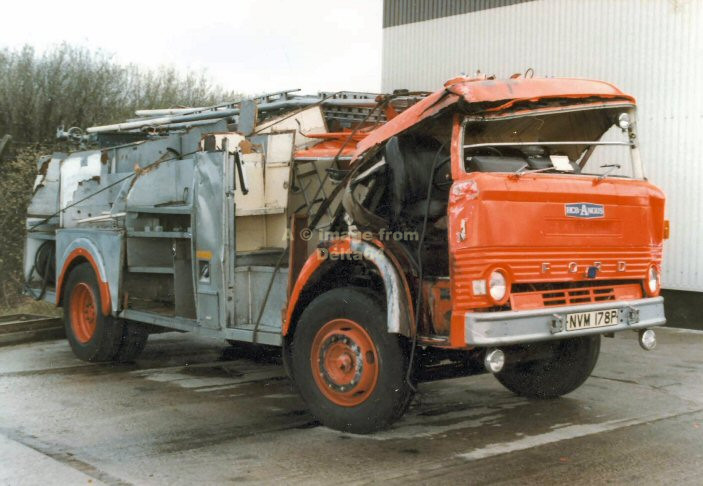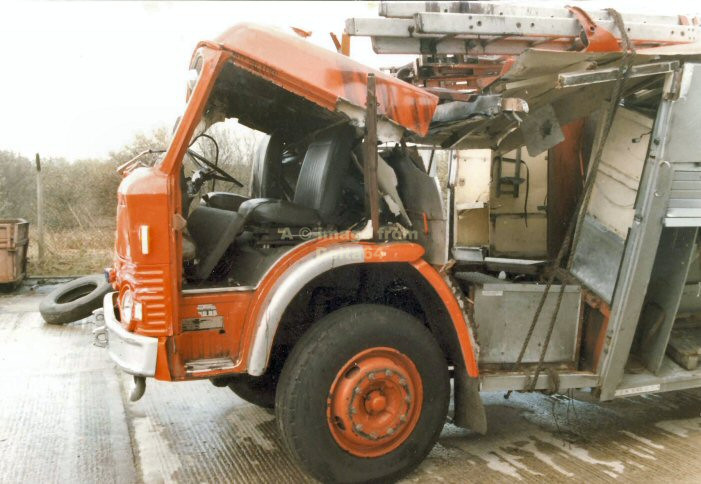 Sadly NVM178P was written off following an accident in 1984.
The appliance was actually in the reserve fleet at the time and is only included on this page for easier reference.
It was allocated to Salford and turned over on Blackfriars Bridge in Manchester.
[Copyright pictures ~ A. Collier and reproduced with permission.]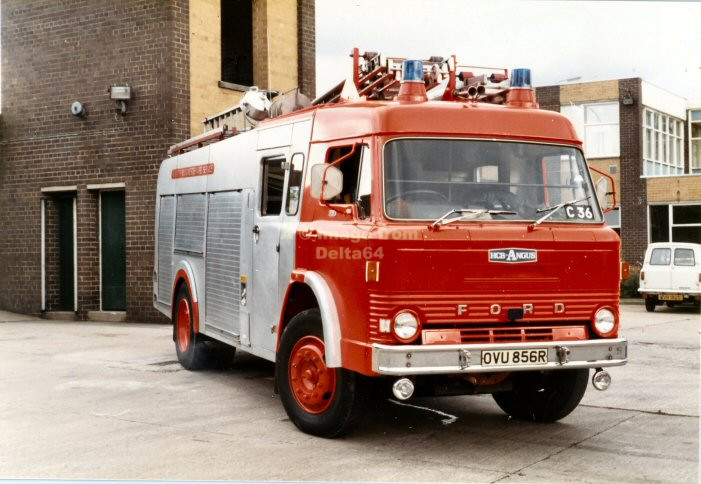 Working alongside the Ford above was OVU856R.
[Copyright picture ~ the late Alan Gartside and reproduced with permission.]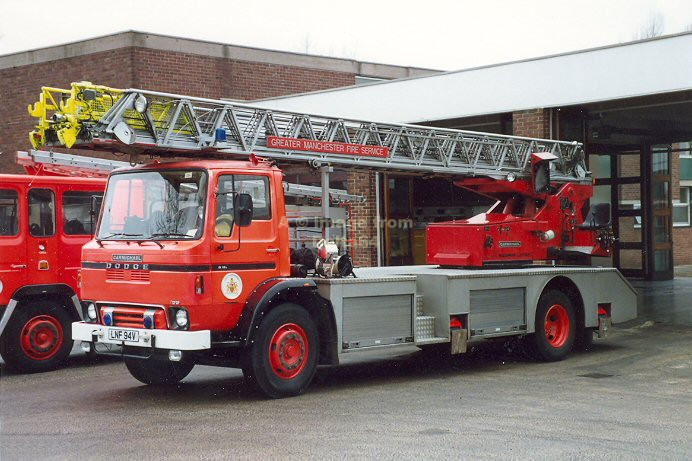 Dodge TL LNF94V was originally allocated here, before moving to Whitehill where this picture was taken.
[Copyright photograph Iain Kitchen and reproduced with permission.]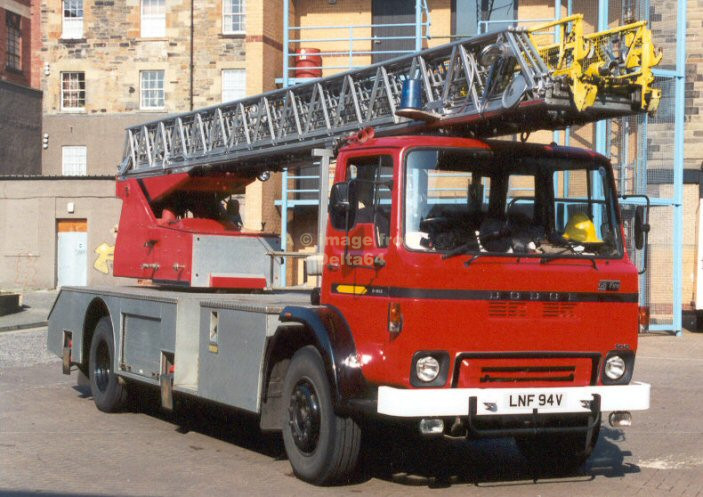 After service with GMC, LNF94V was loaned by GB Fire to Lothian & Borders. It was seen at Tollcross, Edinburgh in the late 90s.
[Copyright picture ~ D. Cruickshank and reproduced with permission.]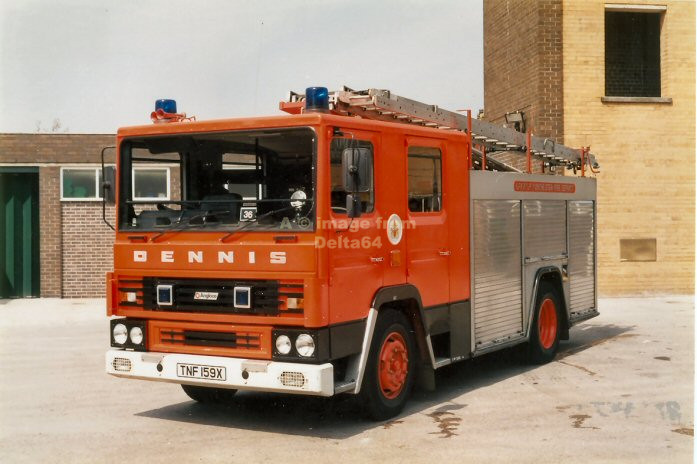 Dennis RS TNF159X with the less common Angloco bodywork.
[Copyright picture ~ the late Alan Gartside and reproduced with permission.]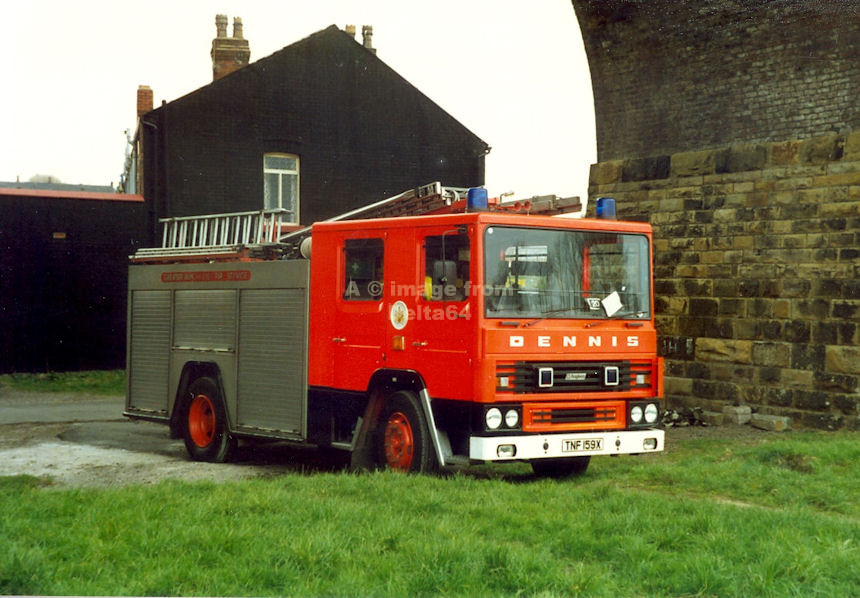 In this picture, Dennis TNF159X was operating out of Bolton Fire Station.
[Copyright picture ~ Aidan Anderson and reproduced with permission.]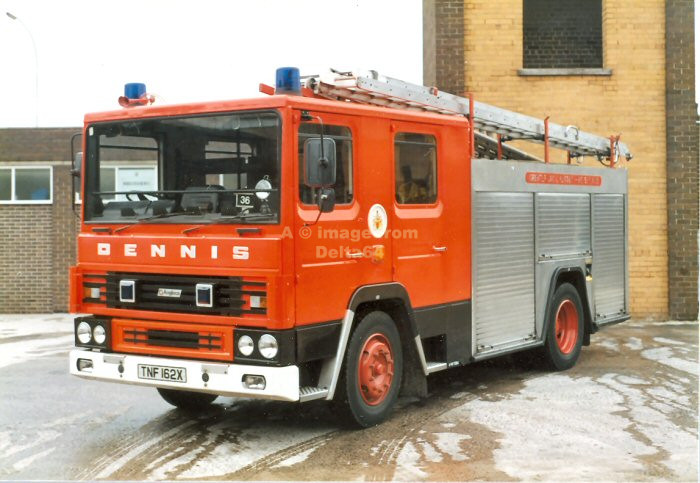 There was a second Angloco bodied Dennis RS TNF162X based here.
[Copyright picture ~ the late Alan Gartside and reproduced with permission.]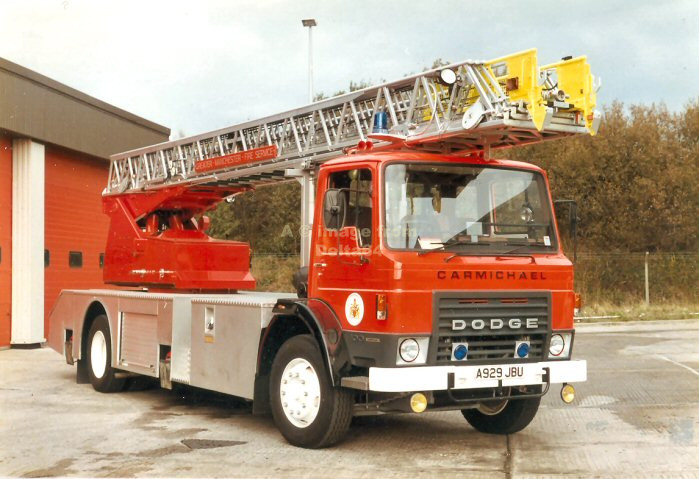 Dodge TL A929JBU was seen at the rear of Worsley Workshops.
[NP collection ~ courtesy A. Collier]
Dodge TL A929JBU seen here in the station yard, clearly shows the modified livery it received.
[Copyright picture ~ K. Reid MBE and reproduced with permission.]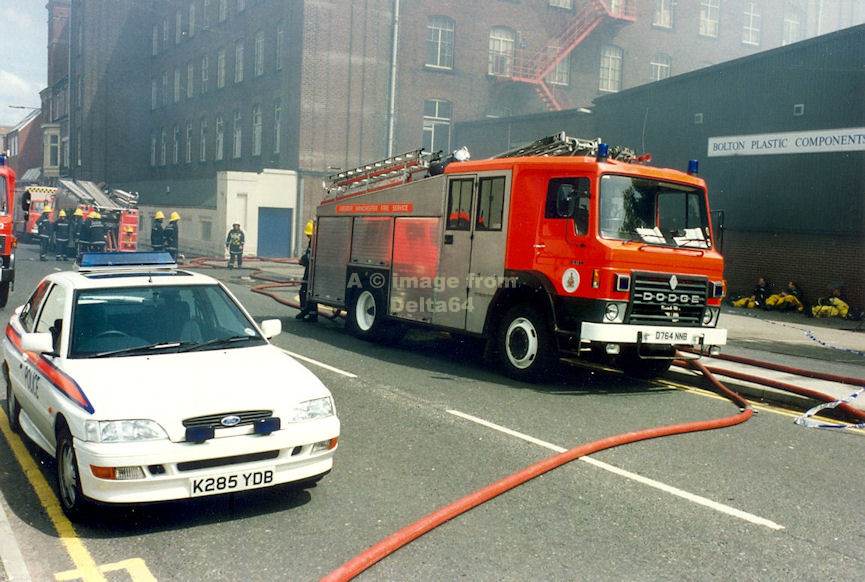 Dodges replaced the Dennis RSs in 1987 as typified by D764NNB seen at an incident in Bolton.
[Copyright picture ~ Aidan Anderson and reproduced with permission.]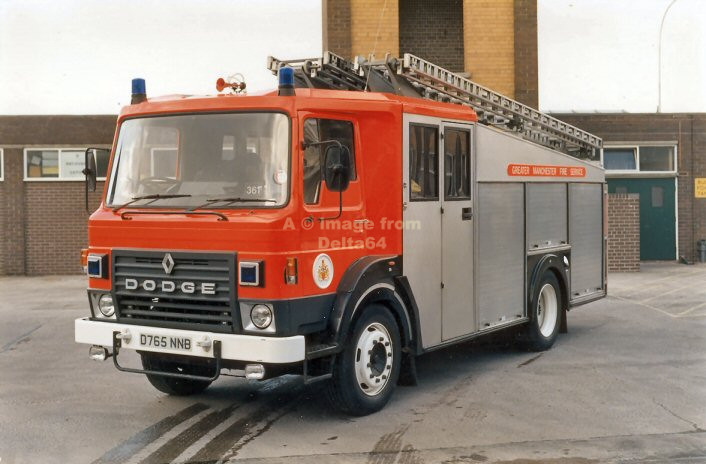 As was often the case, appliances were allocated in pairs, as noted with D765NNB in the station yard.
[Copyright picture ~ the late Alan Gartside and reproduced with permission.]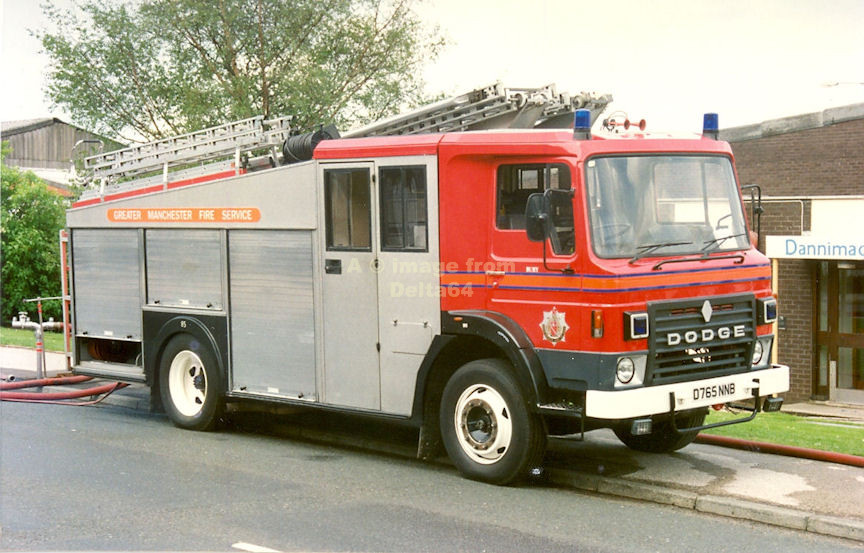 Dodge D765NNB seen after it receive the later livery.
[Copyright picture ~ Aidan Anderson and reproduced with permission.]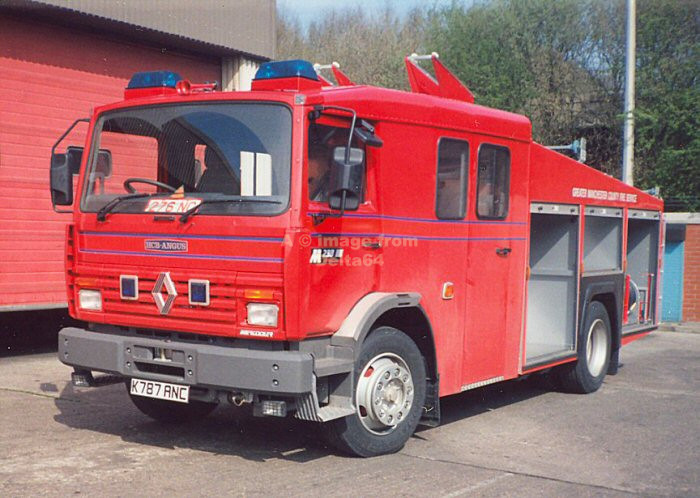 Renault K787ANC was photographed at workshops shortly after delivery.
[NP collection ~ courtesy A Collier]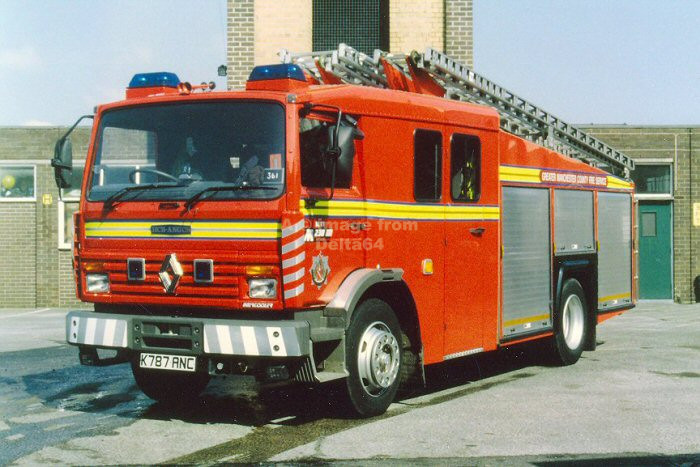 Another shot of K787ANC in modified livery
[NP collection ~ courtesy A Collier]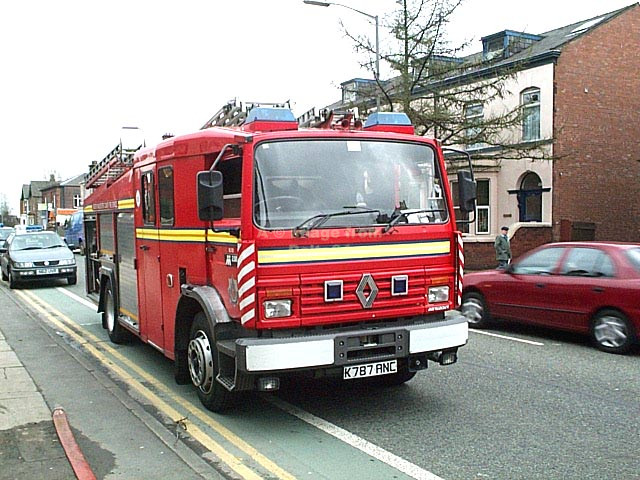 This picture (details below) shows yet another livery variation.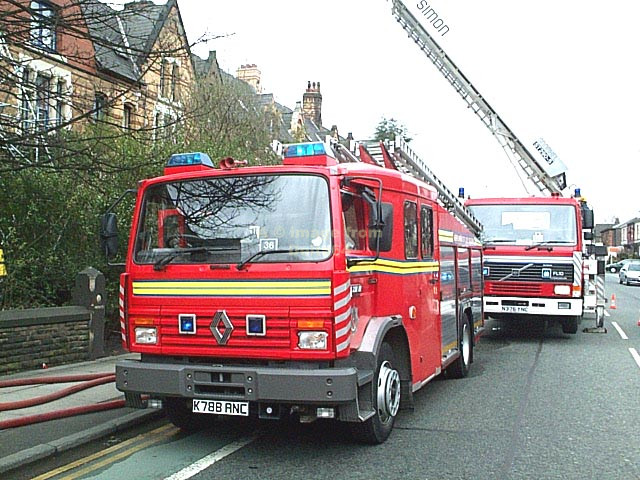 Both Renault Midliners, K787ANC & K788ANC were seen at a house fire
on Walmersly Road, Bury, 14 April 2001.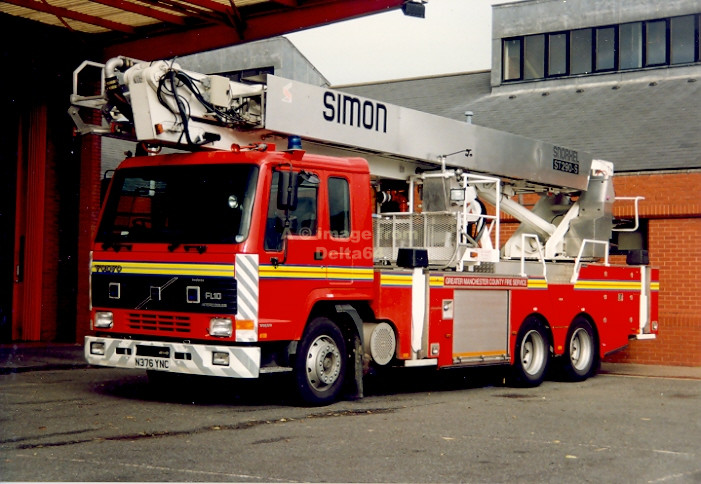 Volvo FL10 ALP N376YNC was seen when almost new.
[Copyright picture ~ the late Alan Gartside and reproduced with permission.]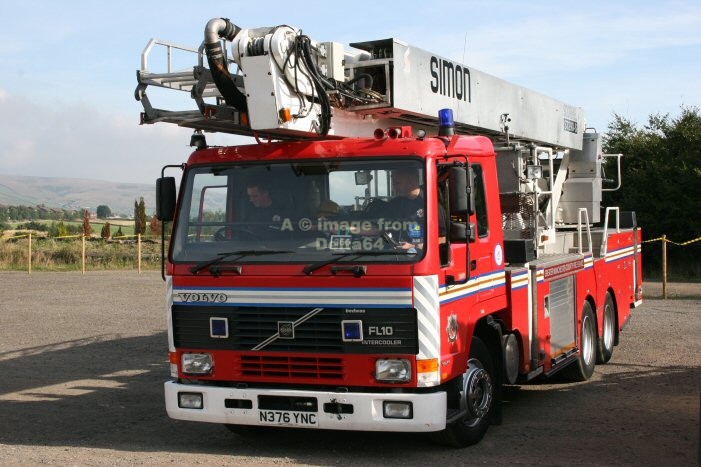 Nearing the end of service, Volvo ALP N376YNC was seen arriving at Milnrow for the Fire Extravaganza, 3 September 2005.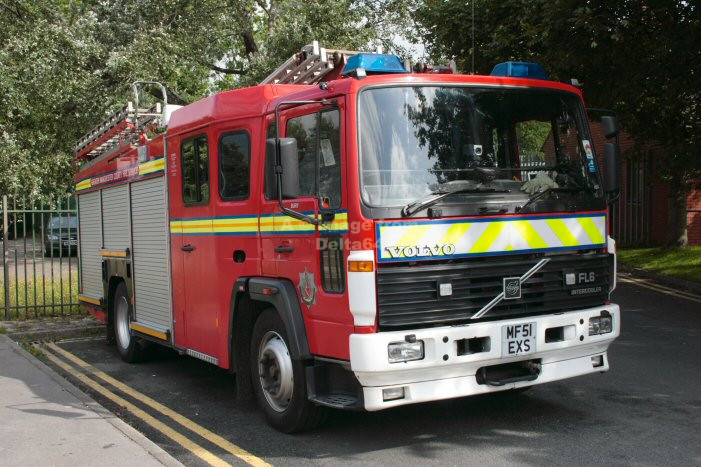 Volvo appliance MF51EXS was seen adjacent to Bolton Fire Station, 16 August 2008.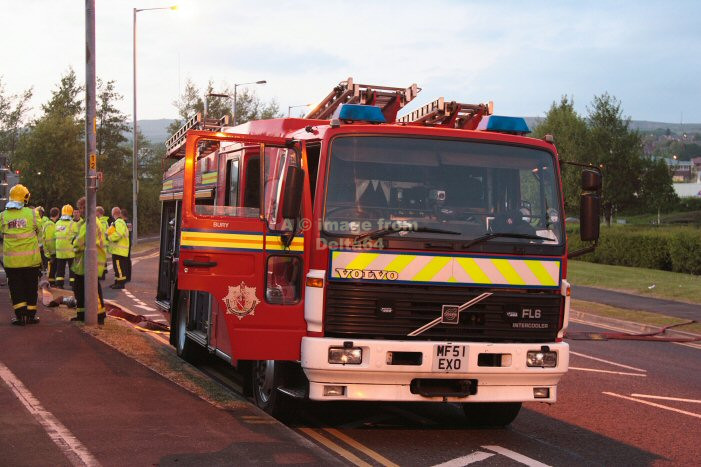 Various pictures of MF51EXO in service appeared on this site, yet none were ever taken on Bury's station ground!
Here it was pictured in the late evening outside Red Moss Nature Reserve, Horwich, 24 May 2010.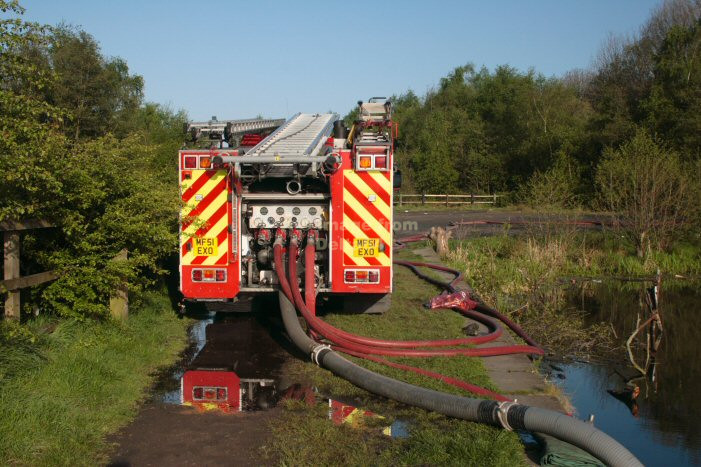 Another shot of MF51EXO when it was in use as base pump in the water relay for a large fire in Little Lever, 2 May 2009.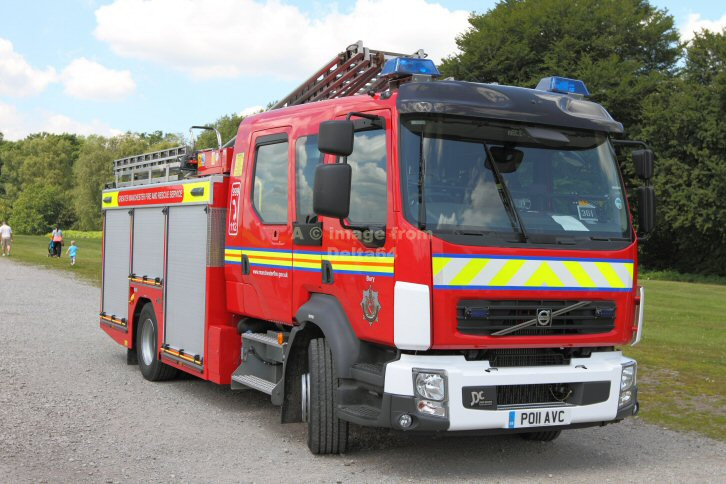 Volvo PO11AVC was seen at the Blackley Fire Station Open Day, Heaton Park, 2 July 2011.
Another picture of this appliance appears on the Cheadle page.