D40/S20 WHITEHILL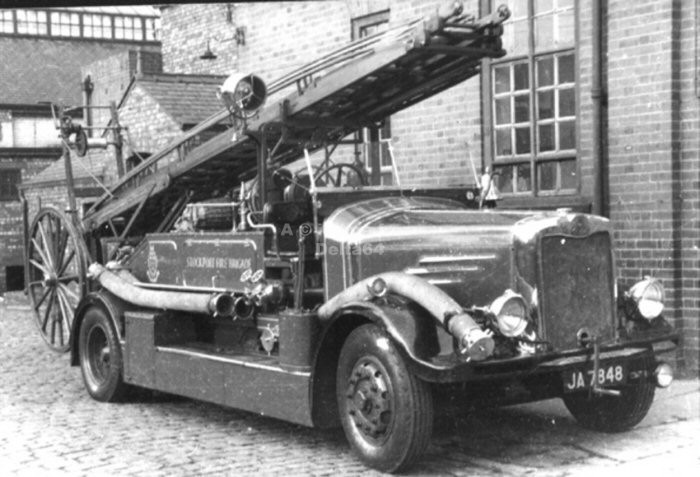 Dennis Big 6 Pump Escape JA7848
[Copyrright picture ~ the late J. Hain and reproduced with permission.]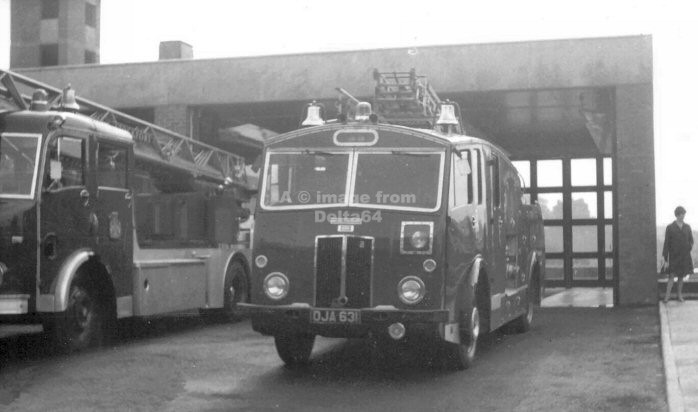 Dennis F7 Pump Ladder DJA631
[Picture courtesy MF&RS and reproduced with permission.]
Dennis F7 Pump Escape EDB688
[Copyright picture ~ R. Simpson and reproduced with permission.]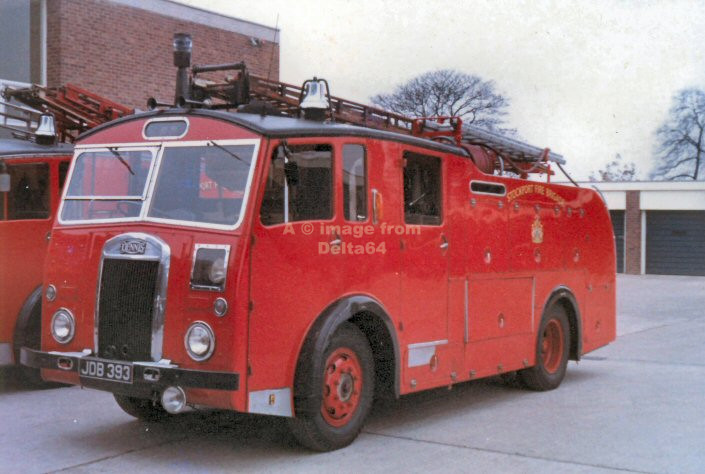 Dennis F15 Water Tender JDB393
[Copyright picture ~ R. Simpson and reproduced with permission.]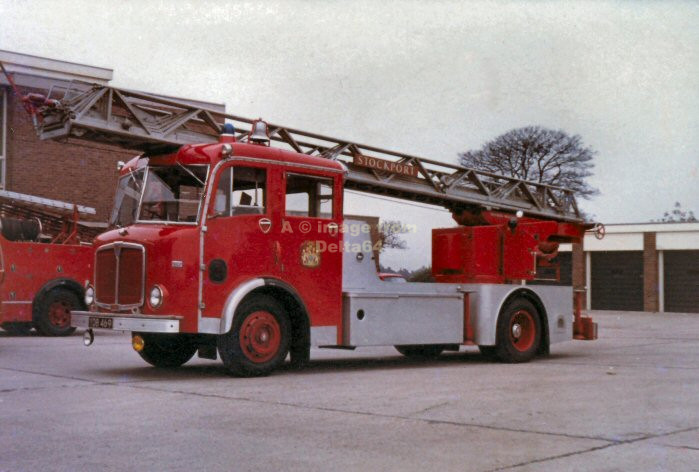 AEC Turntable Ladder YDB469
[Copyright picture ~ R. Simpson and reproduced with permission.]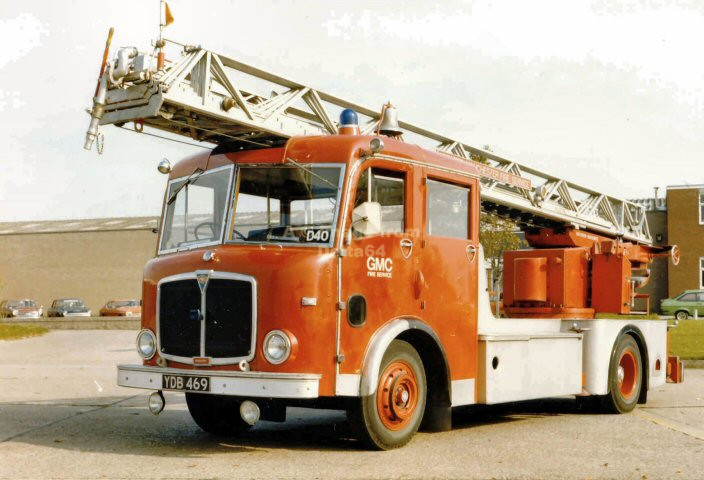 AEC Turntable Ladder YDB469 seen again but in service with Greater Manchester Fire Service.
[NP collection ~ courtesy A Collier]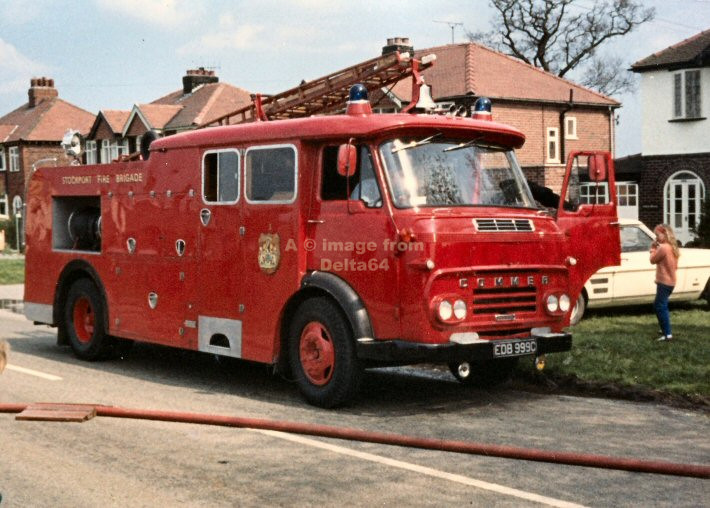 Commer Water Ladder EDB999C with bodywork by Kerbell.
[Copyright picture ~ R. Simpson and reproduced with permission.]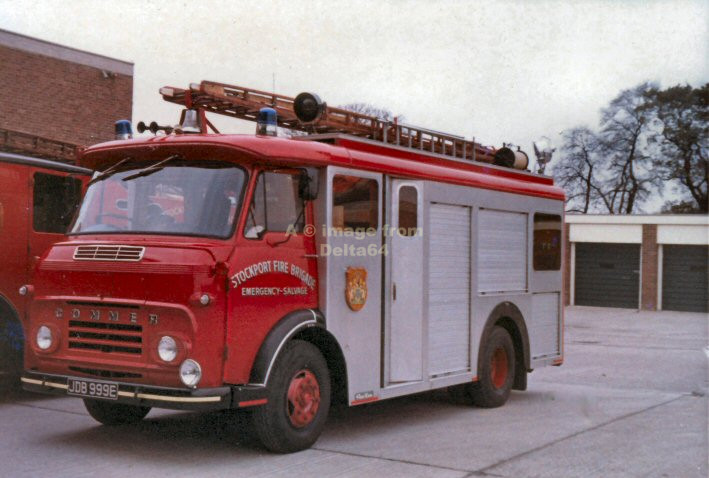 Commer Emergency Salvage Tender JDB99E also carried Kerbell bodywork.
[Copyright picture ~ R. Simpson and reproduced with permission.]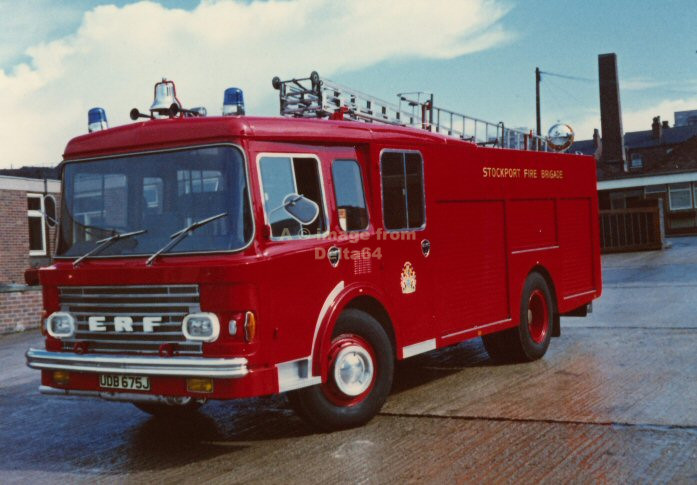 ERF Water Ladder UDB675J was the third of four appliances bodied by Kerbell.
[Copyright picture ~ R. Simpson and reproduced with permission.]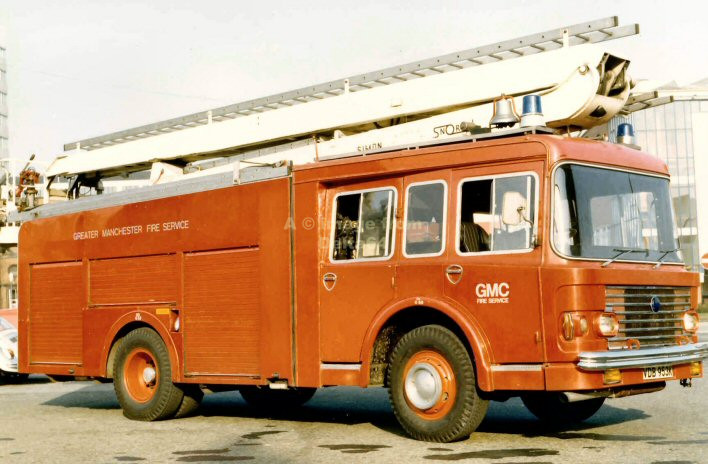 A product of County Borough days, EP VDB953K was seen when owned by GMC.
[NP collection ~ courtesy A Collier]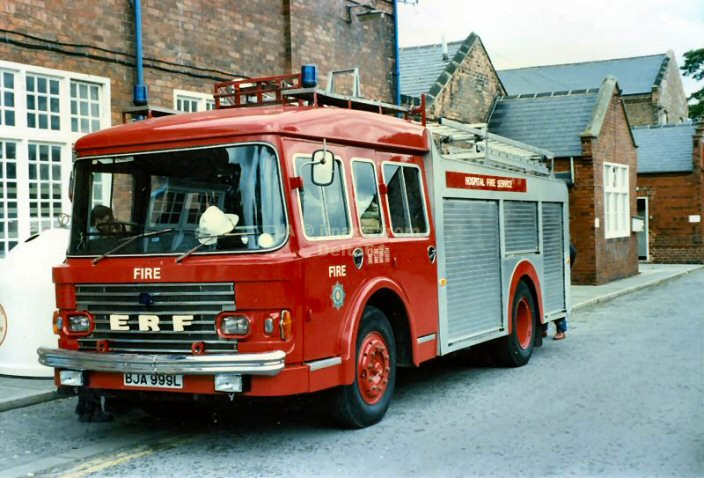 After withdrawal ERF BJA999L saw further service at Winterton Mental Hospital, Sedgefield, County Durham.
[Copyright picture ~ Ian Moore and reproduced with permission.]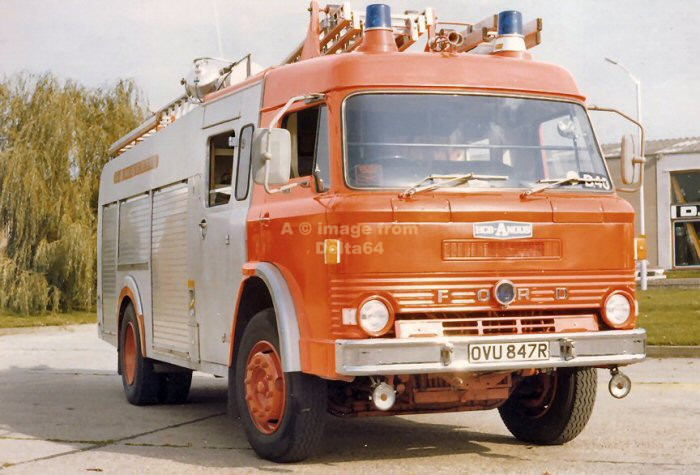 Ford D1617s abounded in both the GMC and Lancashire Fleets as illustrated by OVU847R
[NP collection ~ courtesy A Collier]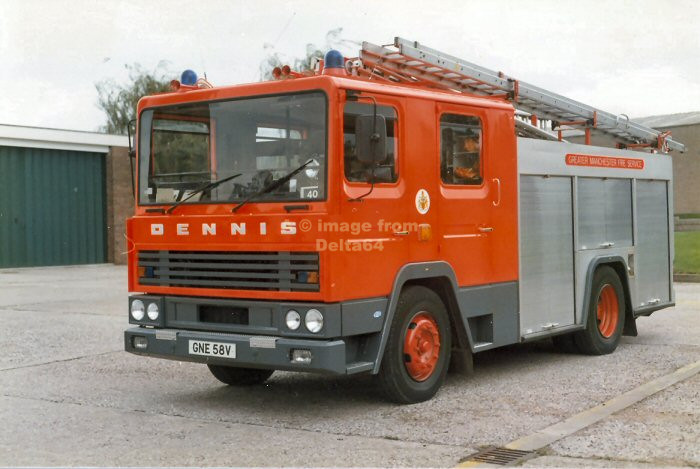 One of a batch of three, the fleet number suggests that this appliance was intended to be EVM951T but acquired the later GNE58V.
[Copyright picture ~ the late Alan Gartside and reproduced with permission.]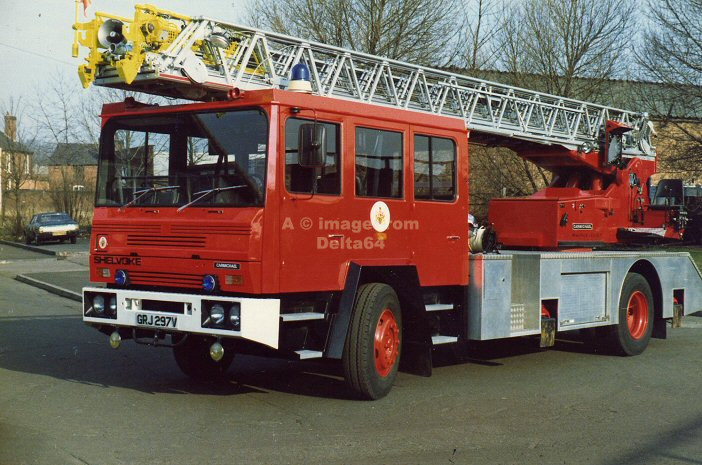 Shelvoke & Drury TL GRJ297V was initially allocated to Whitehill.
[Copyright picture ~ P. Warnock and reproduced with permission.]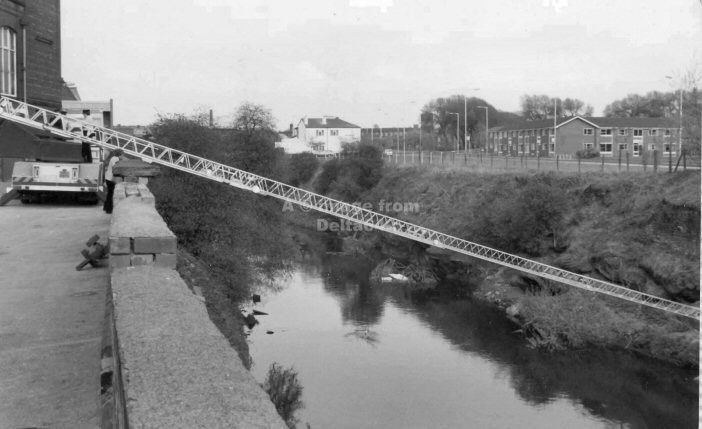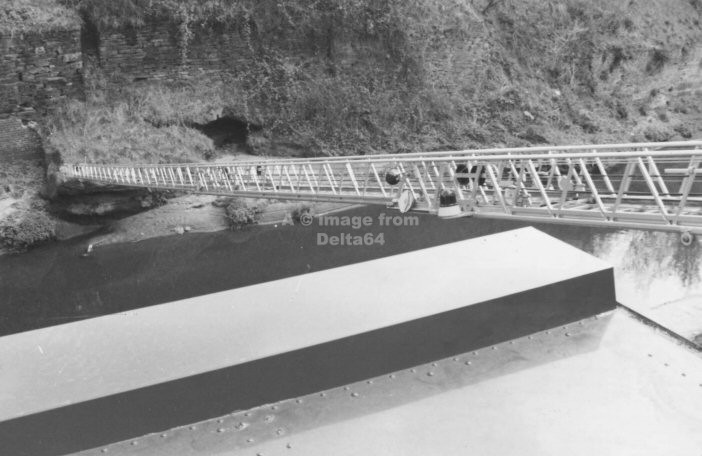 Definitely not for the faint-hearted! The ladder of GRJ297V spans the River Mersey at Stockport.
[Copyright pictures ~ A. Collier and reproduced with permission.]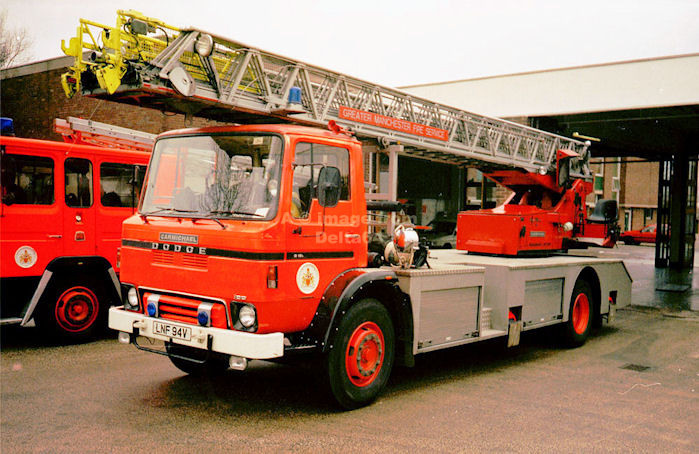 Originally allocated to Bury, Dodge TL LNF94V was seen on the forecourt at Whiehill.
[Copyright picture ~ K. Reid MBE and reproduced with permission.]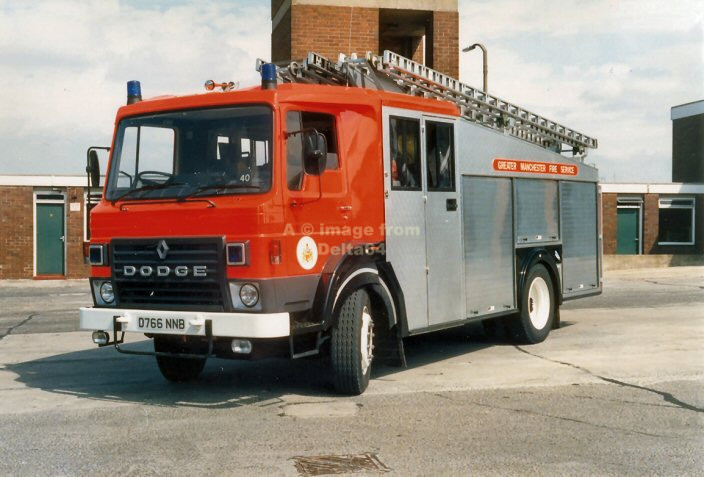 Dodge G13C D766NNB was the first such appliance allocated to this station.
[Copyright picture ~ the late Alan Gartside and reproduced with permission.]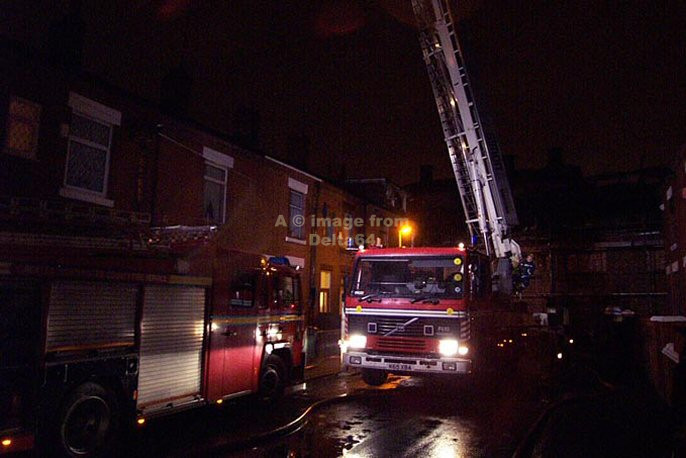 Bedwas bodied Volvo ALP K65XBA seen at an incident in Middleton, 22 January 2003.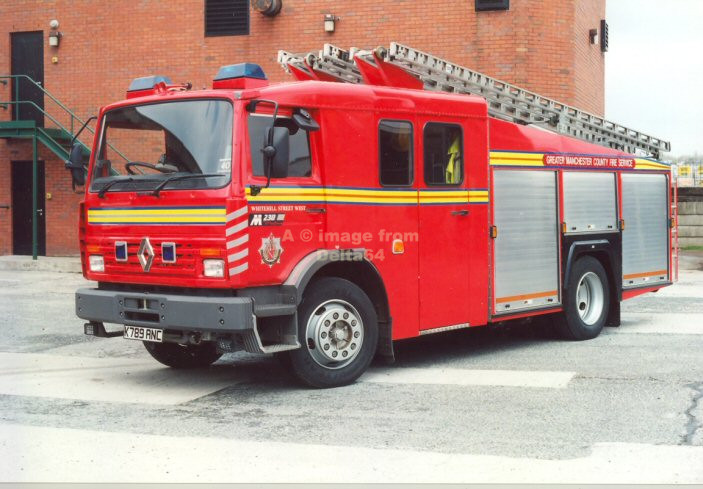 Renault K789ANC bearing the station name WHITEHILL STREET WEST
[Copyright picture ~ A. Kent and reproduced with permission.]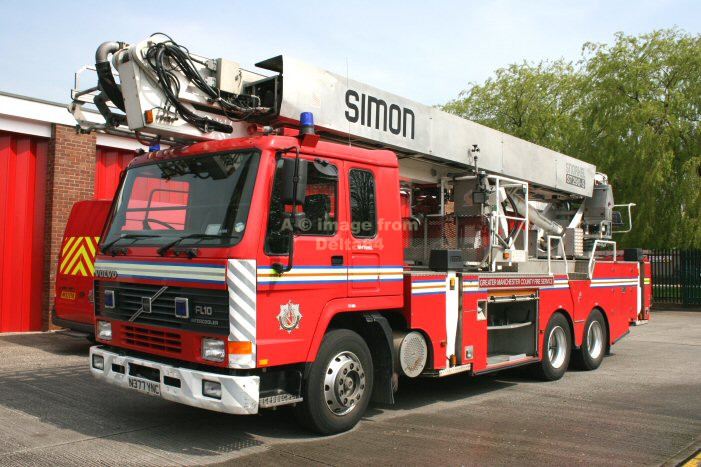 ALP N377YNC was photographed in the station yard, 22 April 2005.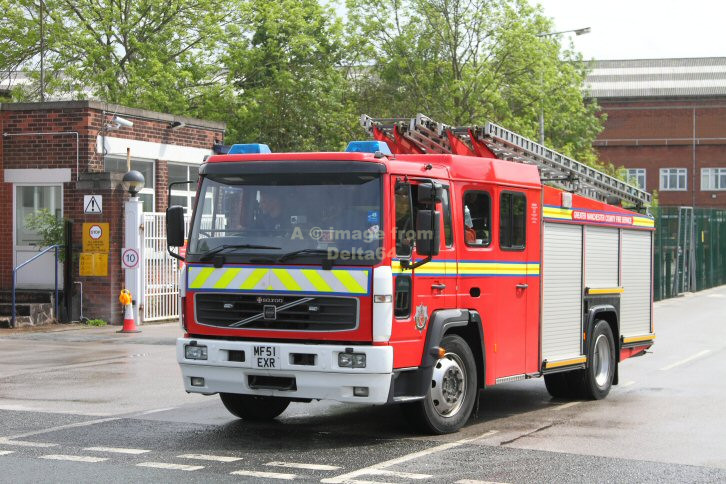 MF51EXR was the first Volvo FLH in the fleet. It was seen in Woodford, 18 May 2011.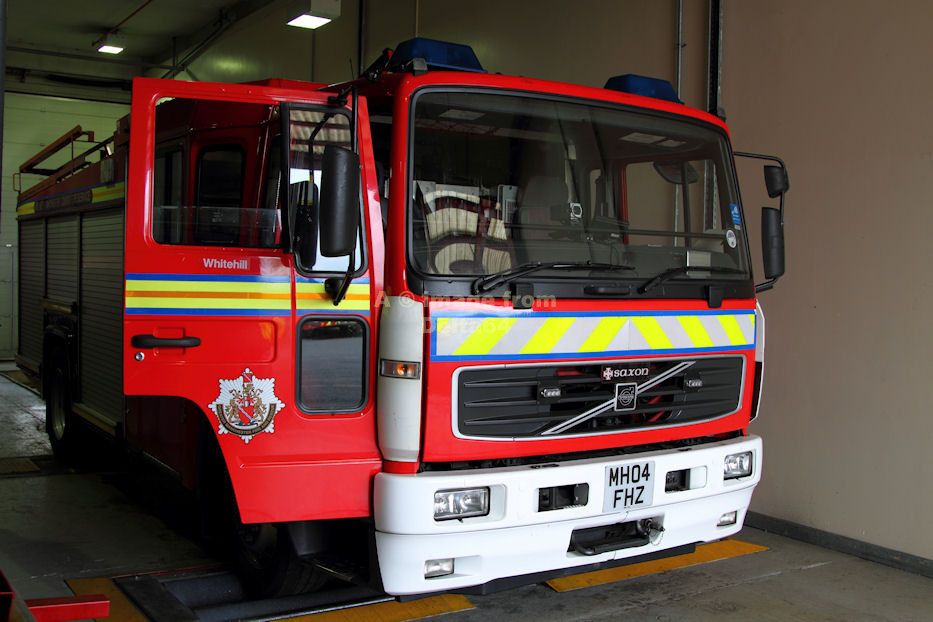 Volvo FLH MH04FHZ was seen at Leigh T.S.C., 1 May 2013.