21/16 HORNBY
The village of Hornby, approx 8 miles east of Lancaster, is close to the border of the vast County of North Yorkshire. Like Silverdale, the most northerly station in Lancashire, it is one of the quieter stations in the brigade.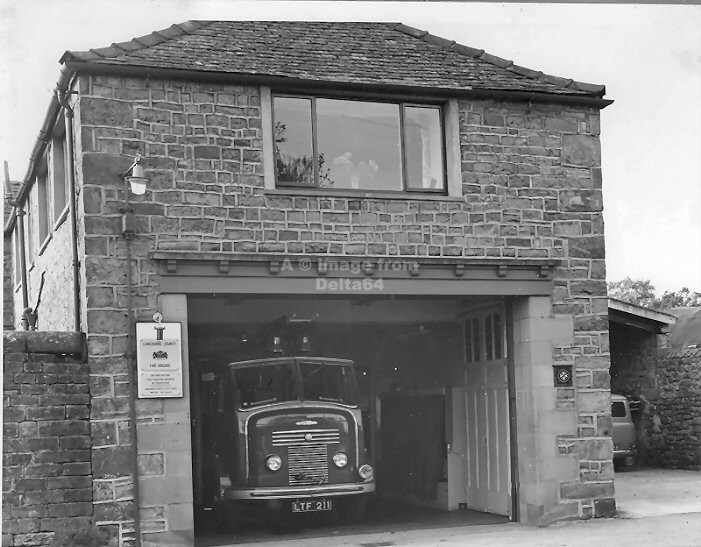 The very first of the 'modern' Commers, LTF211 dates back to 1950 and is seen at the old Fire Station.
[Photo courtesy Hornby Fire Station and reproduced with thanks.]
This additional picture of LTF211 clearly illustrates the appearance of an "A" type Water Tender.
[From the Arthur Collier collection and reproduced with permission.]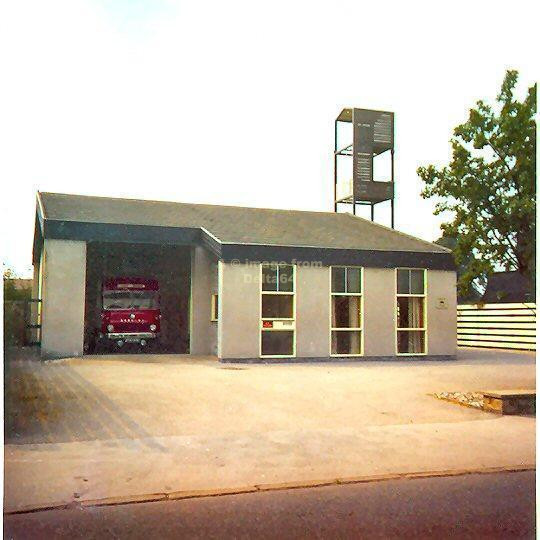 This picture of the station was taken c.1971.
[Thanks to Brian Baxendale for restoring this picture.]
In the 1960's it was common for crews to travel vast distances on relief duties after large fires. The picture below, taken around 1967/68 shows Hornby's water tender on relief duties in Royton, an area now in Greater Manchester and a couple of miles from Oldham but 67 miles from Hornby.
[SEE BELOW]
Water Tender RTE133C seen at the 'other end' of the county
after a 30 pump mill fire in .
NOTE Due to the large number of mill fires which occurred in this area around this time, I cannot be 100% sure that all the incident details are correct. I believe the incident to have been at Park Mill, Royton, and if my memory serves me rightly it was at least 'Make Pumps 30' or possibly 'Make Pumps 35'. Despite this number of appliance attending, this and many other mills in the locality which also had 30 pumps fires are all still standing.
Does any from the Hornby area have any recollection of this incident please? If so please contact me with details golfsierra999@aol.com

UPDATE ~ 02.06.05.
I have received an email from Chris Wood, watch manager at HORNBY.
I am slightly out with my dates. The actual date of the incident was 7 August 1970, and Hornby went on relief on Sunday 9th August, the date the above picture was taken. The time of call there was 0630 and the appliance was 'off station' for approximately 12 hours! Four of the crew members who attended that incident are stilll around today. Sadly, two have passed away.
This particular appliances operated out of Hornby from December 1966 until August 1978. Because of its size, it wouldn't fit in the old fire station and so the new fire station was brought into use two months earlier than expected. The machine was subsequently used by the UKAEA at Risley, near Warrington as illustrated below.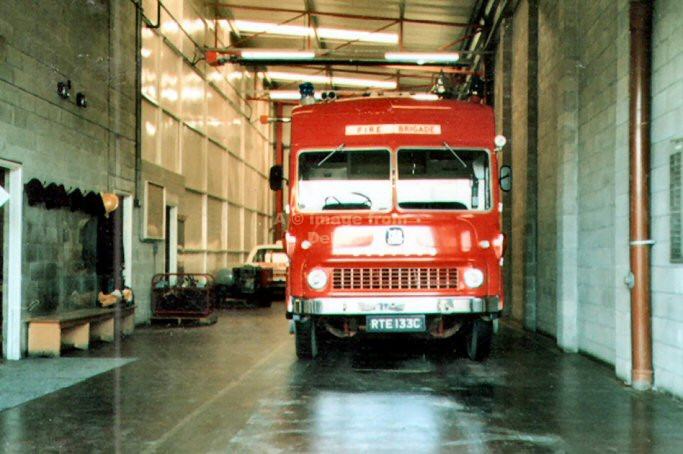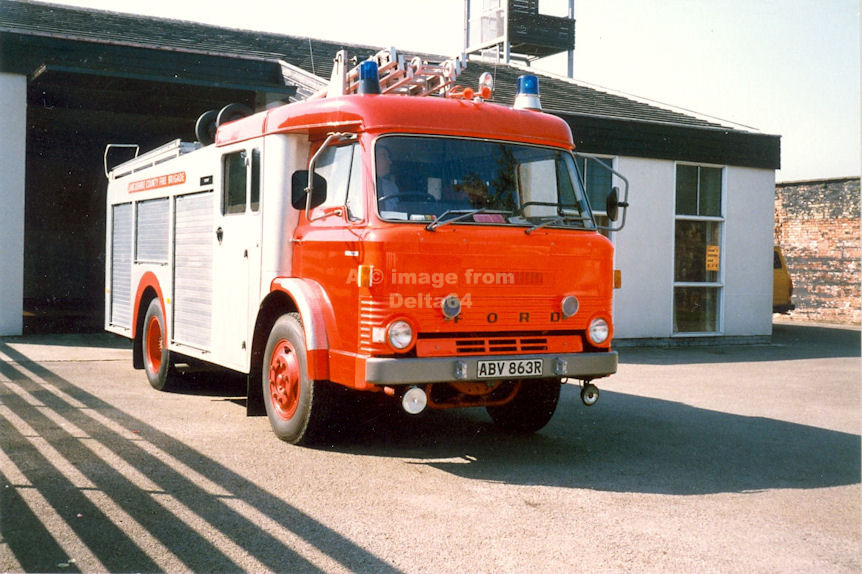 Ford D ABV863R was the replacement for the Bedford, entering service in July 1978 until November 1993.
[Copyright picture ~ D. Barker-Brown and reproduced with permission.]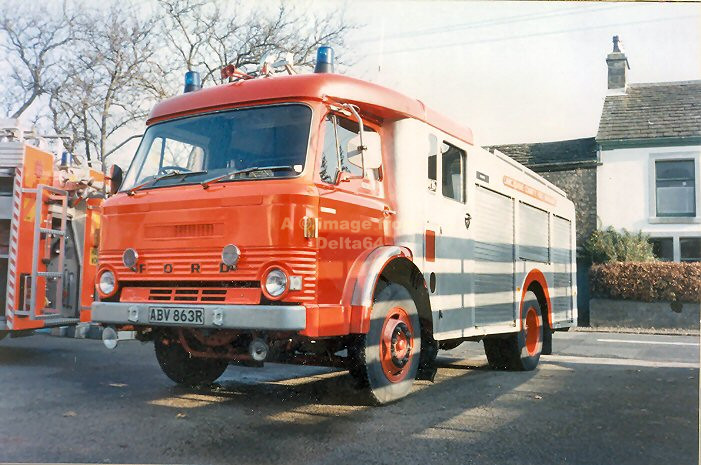 This picture shows ABV863R on what was probably its last 'official' day at Hornby.
The replacement Leyland can be seen on the left hand side.
[Photo courtesy Hornby Fire Station and reproduced with thanks.]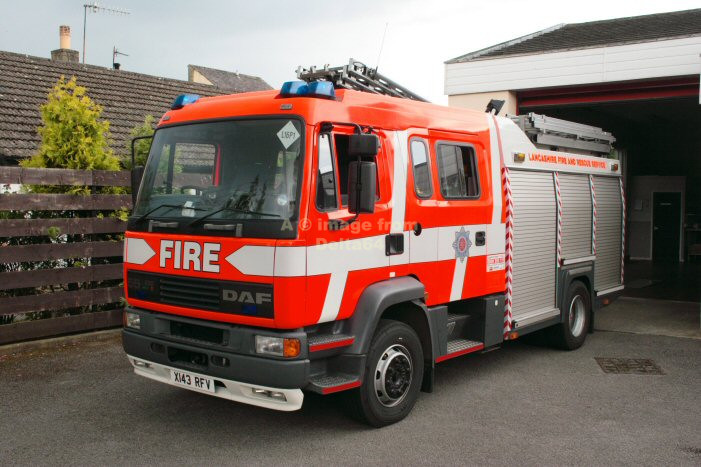 Daf55 X143RFV was seen on the station forecourt, 6 July 2009.