41/32 FLEETWOOD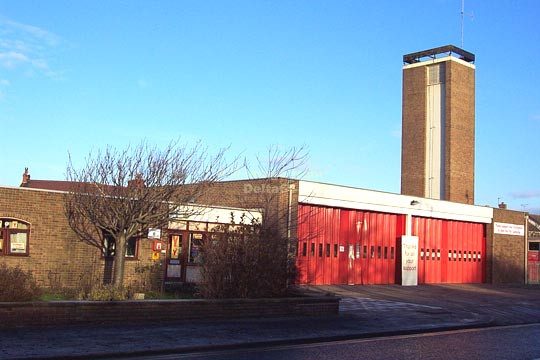 The previous fire station on the same site as the current station.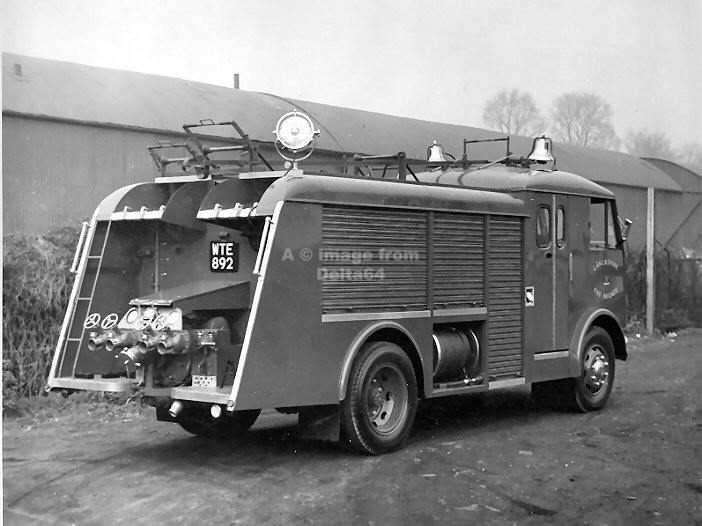 One of the earliest Karriers, WTE892 dates back to 1955.
[NP collection ~ courtesy A Collier]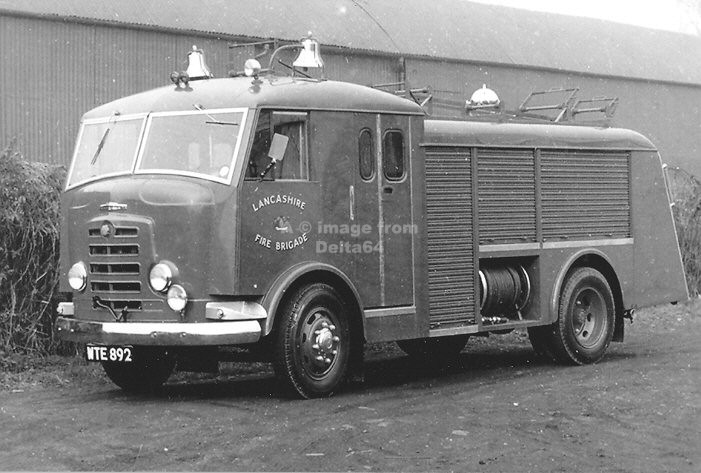 I am delighted to add this additional picture of WTE892, again with thanks to Mr. A. Collier.
It was originally believed that this appliance was allocated to Lytham Fire Station.
However, official records show it was at Fleetwood and subsequently at Leyland.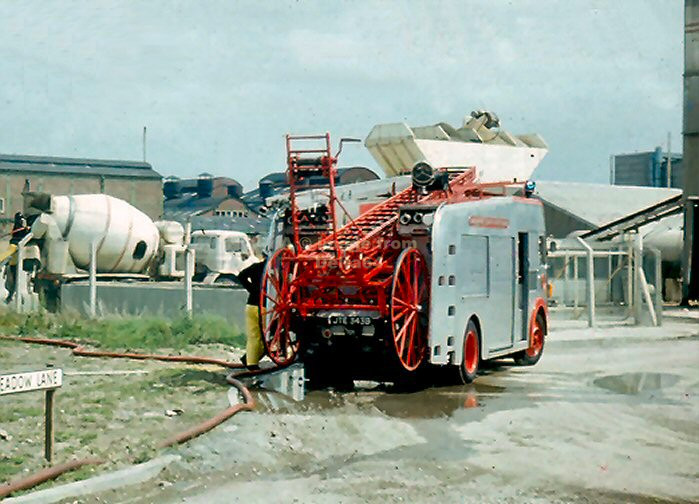 Bedford TK JTE343B had probably joined the reserve fleet when seen here in Heysham.
[Copyright picture ~ N. Glover and reproduced with permission.]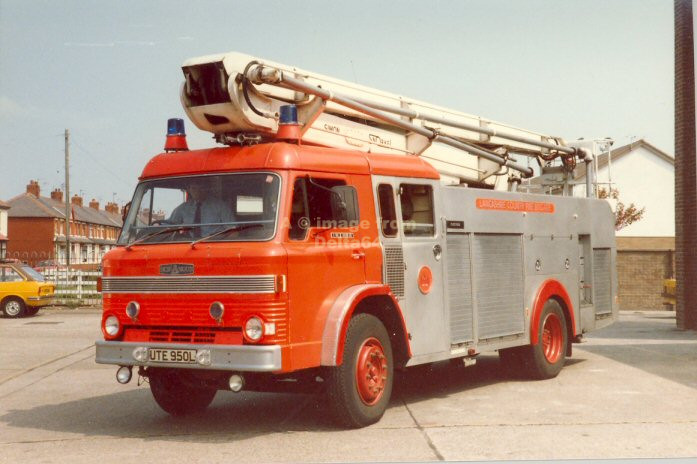 On the run from the early 70's was Pump Snorkel appliance UTE 950L and photographed 12 May 1985.
[Copyright picture ~ K Howarth and reproduced with permission.]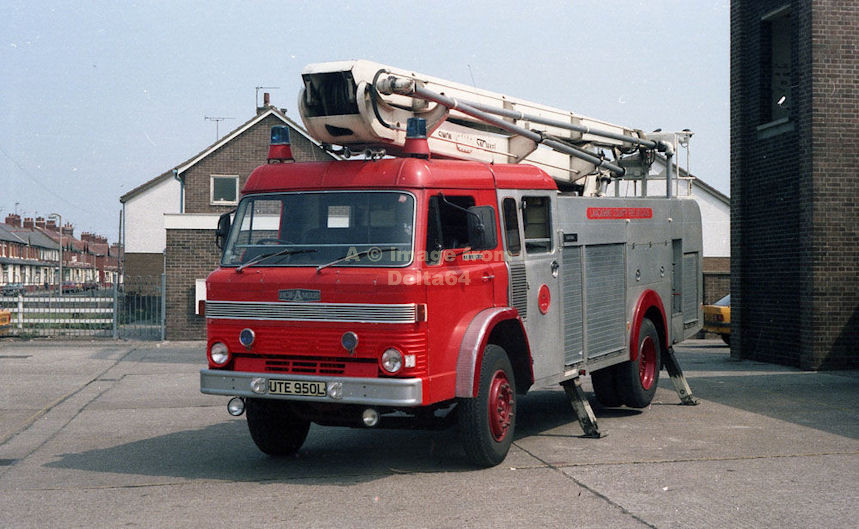 Another picture of UTE950L showing the jacks in position.
[Copyright picture ~ K.F.Reid MBE and reproduced with permission.]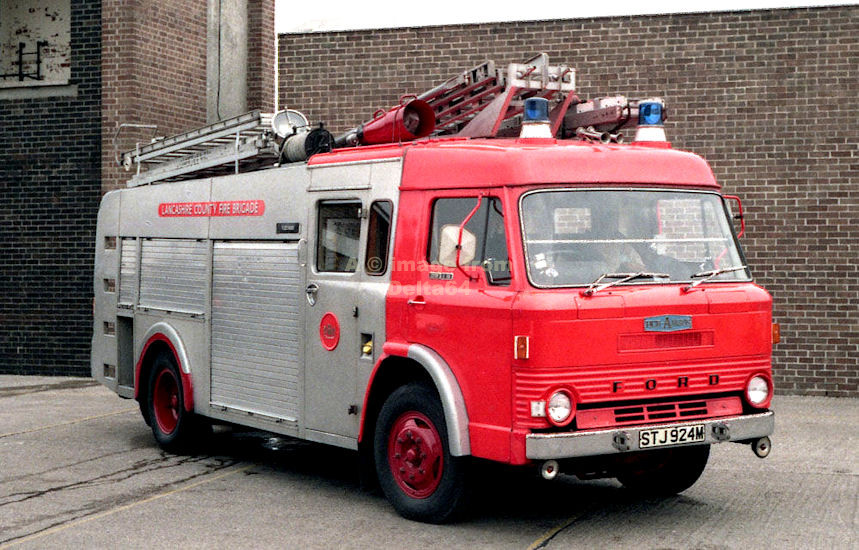 Ford D1114 moved to Fleetwood from Bispham.
[Copyright picture ~ K. F. Reid MBE and reproduced with permission.]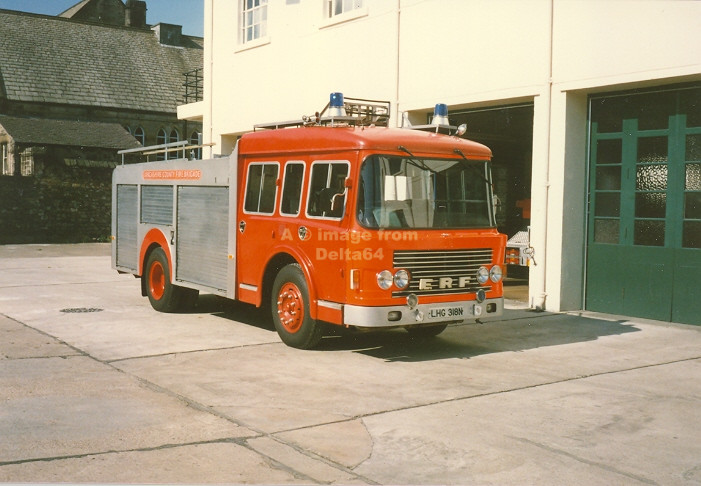 ERF84PF LHG318N was seen at the rear of Morecambe Fire Station in this picture.
(NP collection ~ courtesy DBB)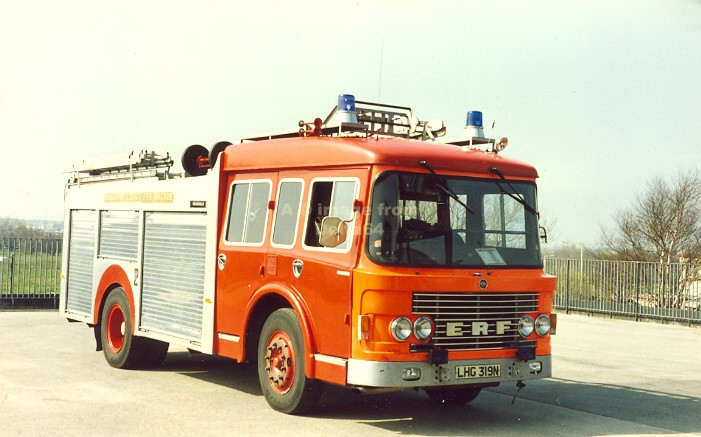 Sister appliance LHG319N had moved to Skelmersdale when this picture was taken.
It was probably the only Lancashire ERF to work 'deep' in GMC territory.
I remember seeing it at a 30 pump incident in Farnworth near Bolton, 29 September 1979.
(NP collection ~ courtesy DBB)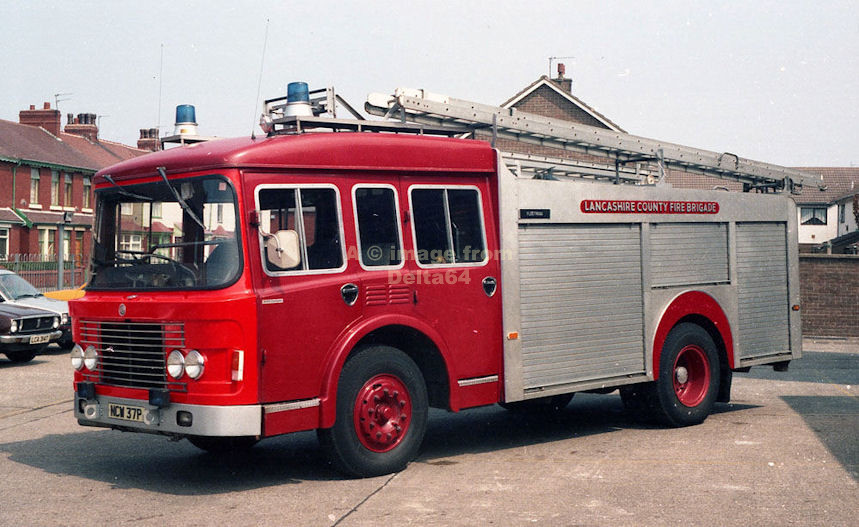 Having been allocated initially to Bispham, NCW37P sibsequently moved to Fleetwood where it was seen, 12 May 1985.
[Copyright picture ~ K.F.Reid MBE and reproduced with permission.]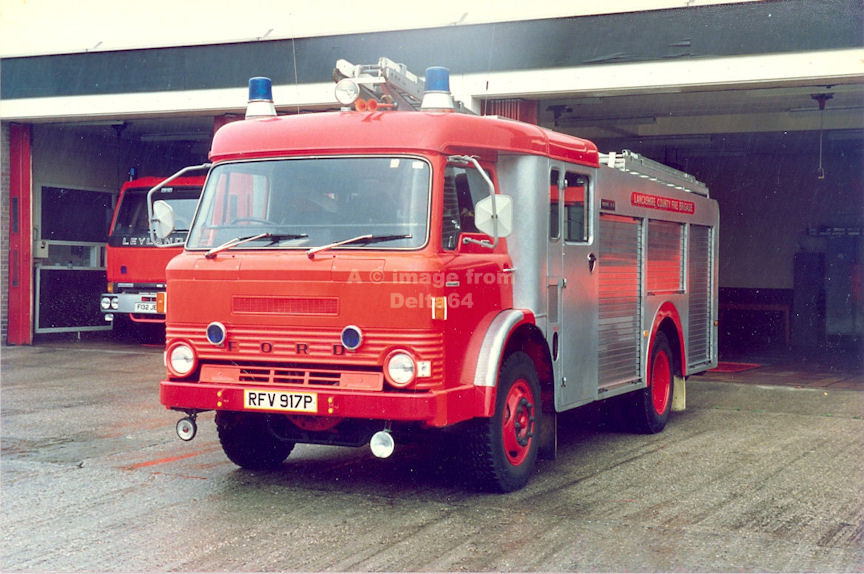 Ford D1114 RFV917P was seen here as part of the Reserve Fleet.
[Copyright picture ~ D. Barker-Brown and reproduced with permission.]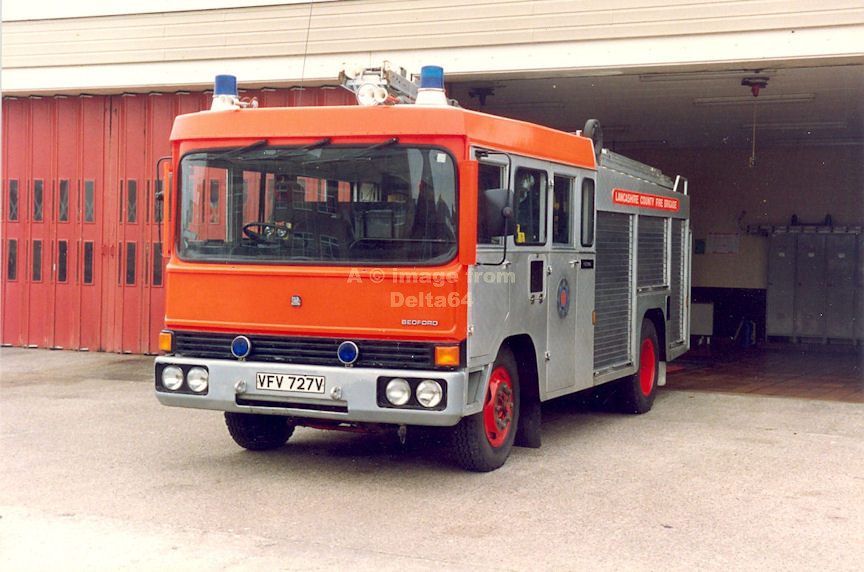 The first Bedford KG numerically VFV727V went to Preston then Ormskirk, and eventually to Fleetwood where this picture was taken.
[Copyright picture ~ D. Barker-Brown and reproduced with permission.]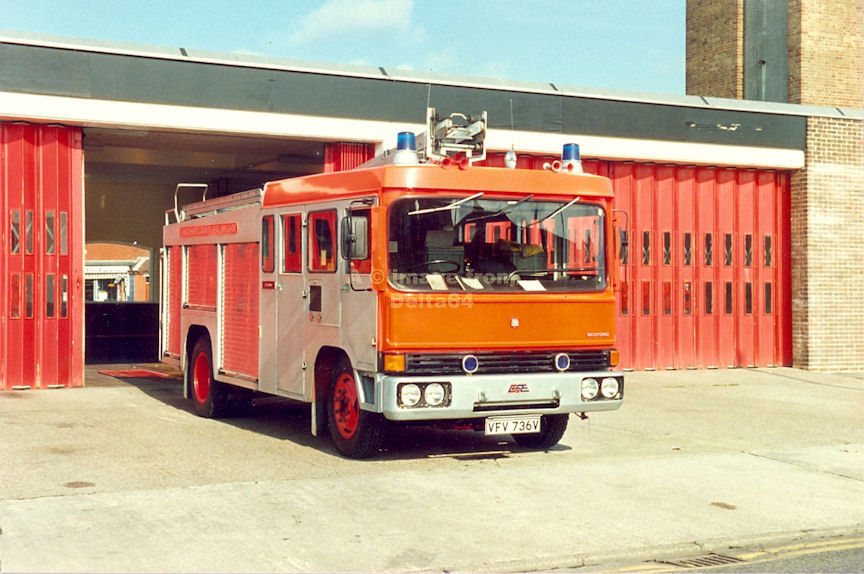 After serving at Bispham, Bedford KG VFV736V became third pump at Fleetwood where it was pictured on the station forecourt.
[Copyright picture ~ D. Barker-Brown and reproduced with permission.]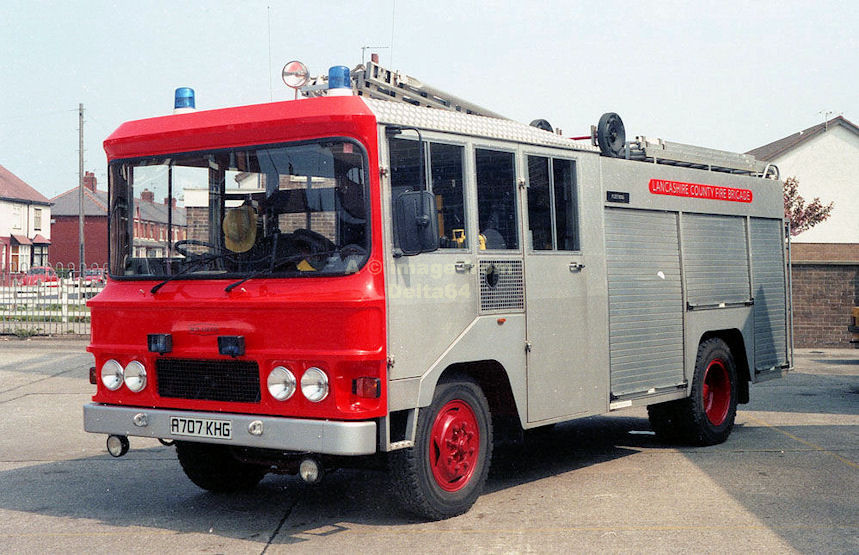 Bedford KG A707KHG was seen in the station yard, 12 May 1985.
[Copyright picture ~ K.F.Reid MBE and reproduced with permission.]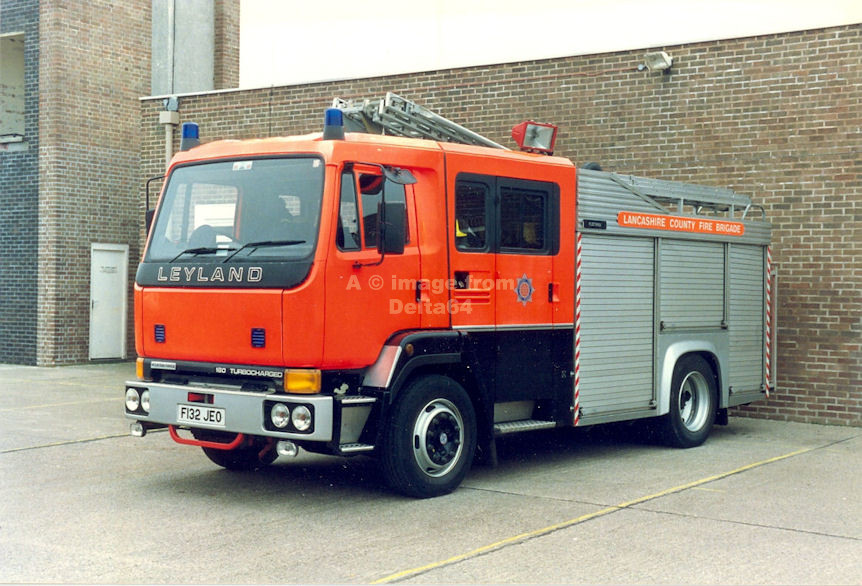 Mountain Range bodied Leyland Freighter F132JEO was seen in the station yard.
[Copyright picture ~ D. Barker-Brown and reproduced with permission.]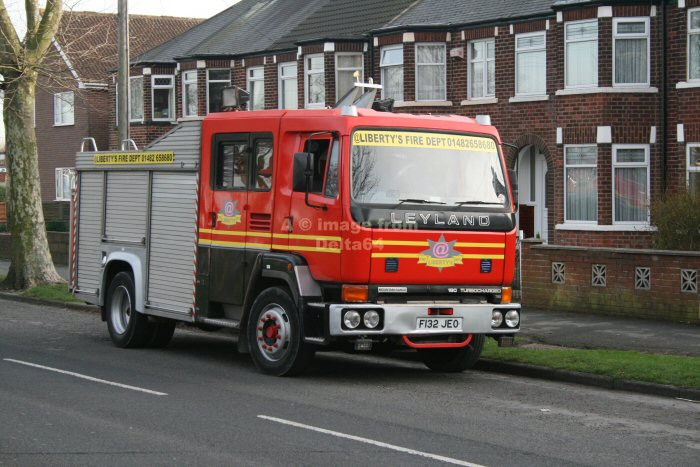 In its latest guise, F132JEO was seen on Willerby Road, Kingston-upon-Hull, 9 February 2008.
[Copyright picture ~ P. Warnock and reproduced with permission.]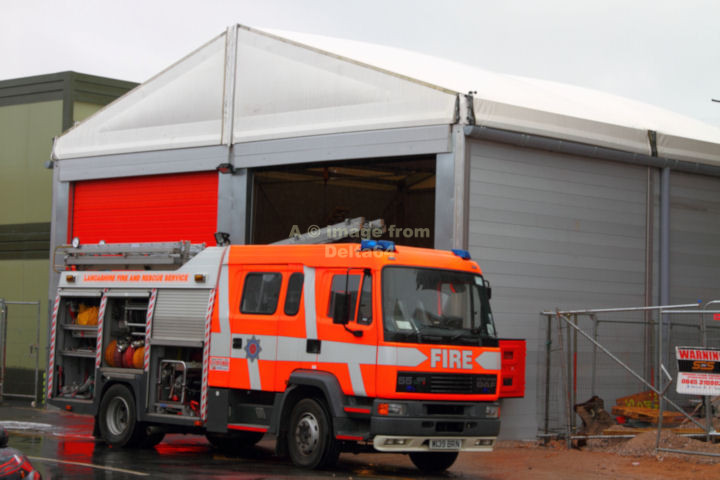 Daf55 W139BRN was seen outside the temporary fire station on a very wet 3 April 2012.
[When new, this appliance was exhibited in Germany and still carries a GB sticker on the rear.]