C1 CREWE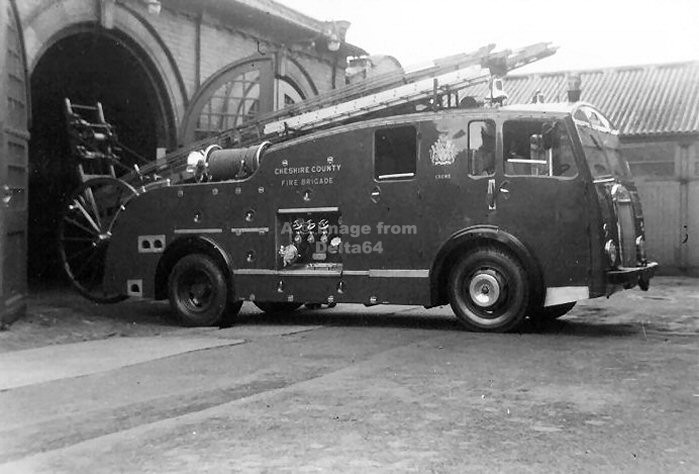 This picture of Dennis F12 NTU930 was taken outside the old fire station in Crewe.
[Picture courtesy MF&RS and reproduced with permission.]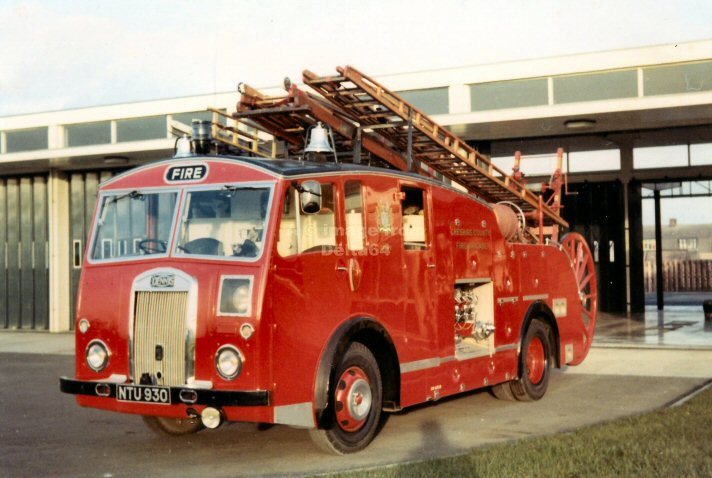 F12 NTU930 seen again, this time outside the current fire station.
[Copyright picture ~ R. Simpson and reproduced with permission.]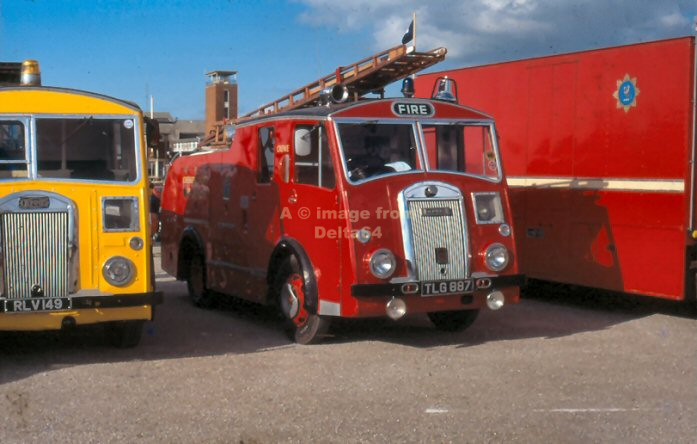 Dennis F8 TLG887 began life at Crewe before being sold to Birkenhead County Borough in 1968.
Note the former Liverppol Dennis F12 RLV149 when in use as a recovery vehicle.
[Copyright picture ~ N. Glover and reproduced with permission.]
This picture shows Dennis F8 TLG887 on the run at Crewe.
[Copyright picture ~ R. Simpson and reproduced with permission.]
Land Rover L4V YMA815 was seen in front of the station.
[Copyright picture ~ R. Simpson and reproduced with permission.]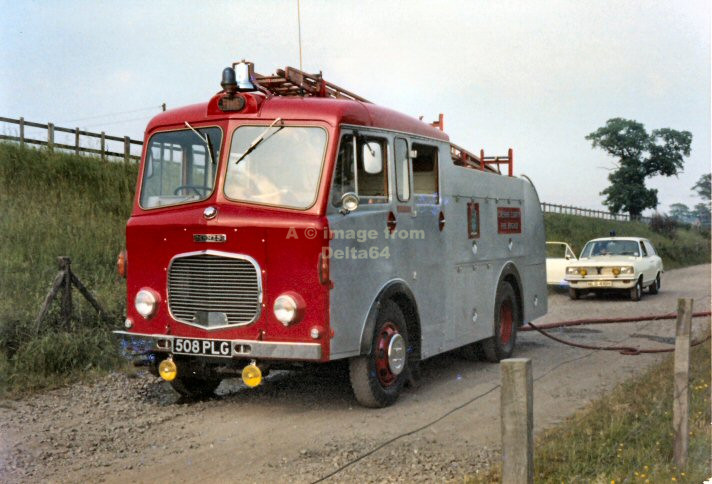 Dennis F28 508PLG had moved from Winsford to Crewe when this picture was taken.
[Copyright picture ~ R. Simpson and reproduced with permission.]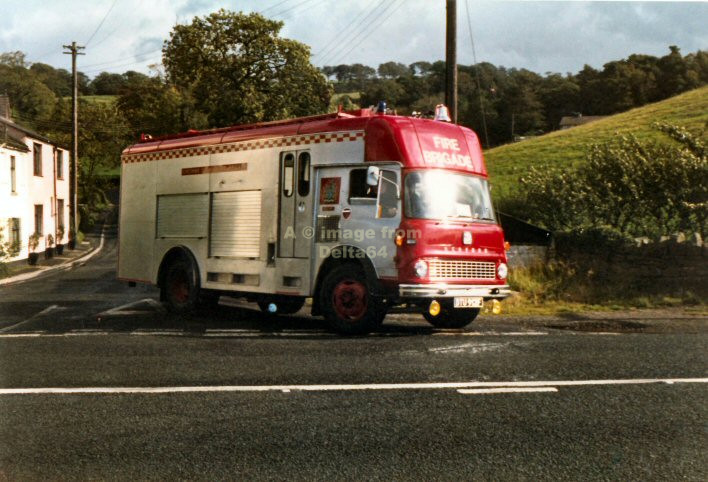 Bedford Emergency Tender DTU912F
[Copyright picture ~ R. Simpson and reproduced with permission.]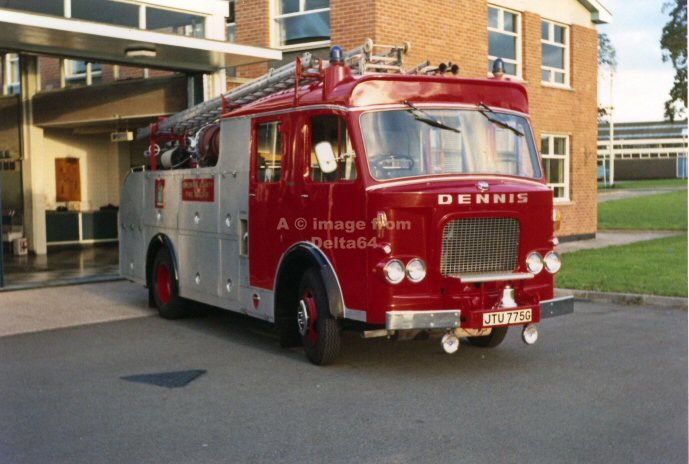 Dennis F45 JTU775G was seen against the familiar backdrop of the station.
[Copyright picture ~ R. Simpson and reproduced with permission.]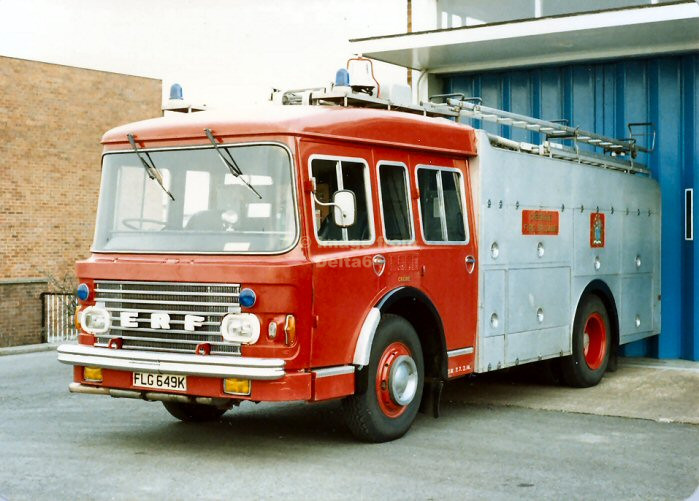 ERF FLG649K was one of the early ERFs to be allocated here, and was seen 23 January 1983.
[Copyright picture ~ K. Howarth and reproduced with permission.]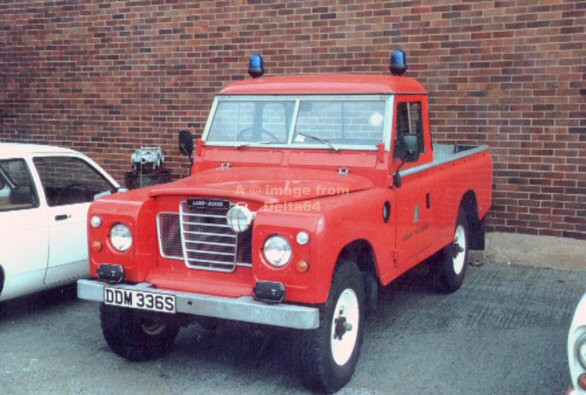 Land Rover L4P ~ DDM336S
(NP collection ~ courtesy Adey Allison)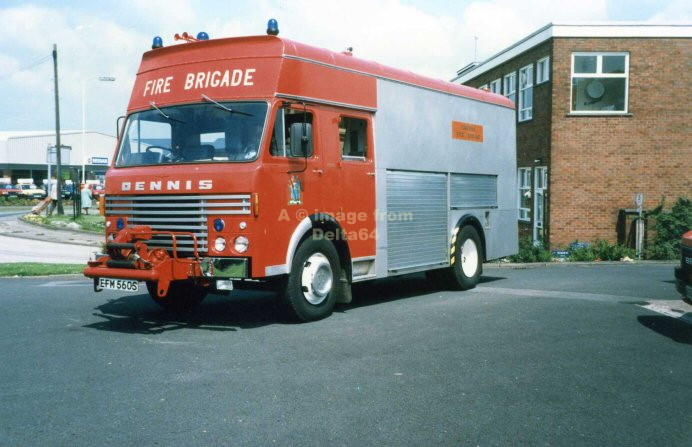 Dennis F61 Emergency Tender EFM560S
[Copyright picture ~ A. Kent and reproduced with permission.]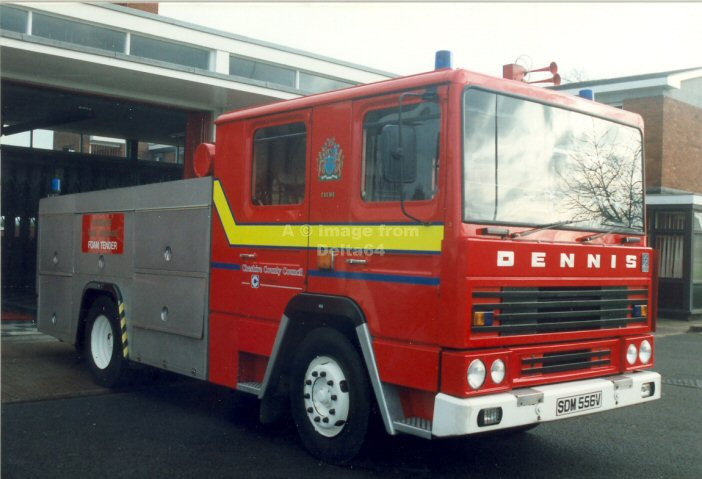 Dennis RS133 SDM556V has had a variety of uses. It began life as a Water Ladder before conversion to Foam Tender.
It may also have been used as a Heavy Rescue Unit until its current use as a low-loader for the steam appliance.
[Copyright picture ~ W. Jopson and reproduced with permission.]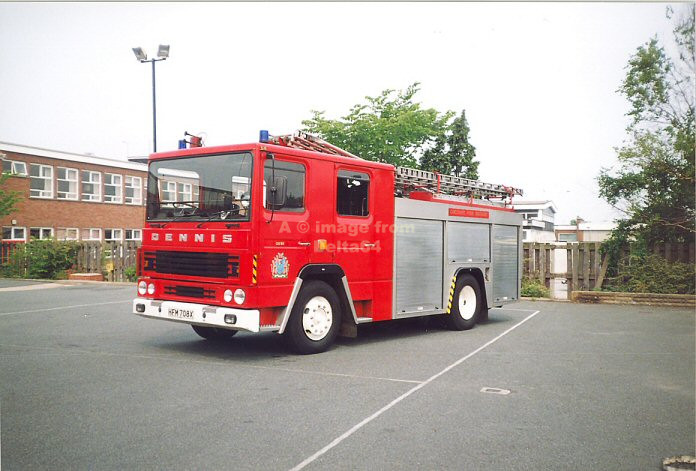 Dennis RS133 HFM708X was seen at the rear of the station.
[Copyright photograph ~ W. Jopson and reproduced with permission.]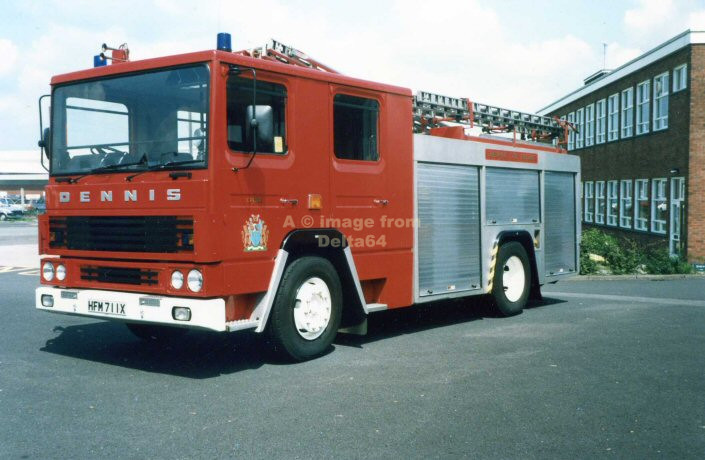 Another Dennis RS133 based here was HFM711X
[Copyright picture ~ A. Kent and reproduced with permission.]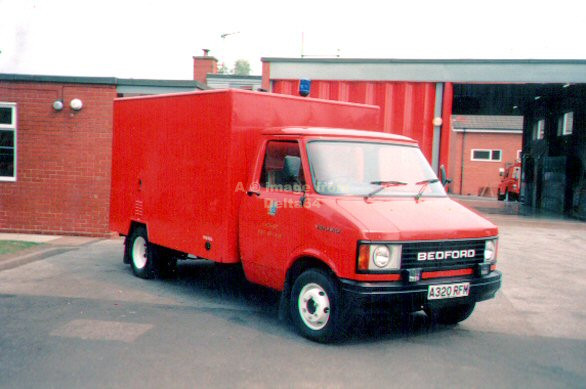 Bedford Cf A320RFM worked from both Crewe and Middlewich as a Pet/C
before moving to Warrington as a SIU
(NP collection ~ courtesy Adey Allison)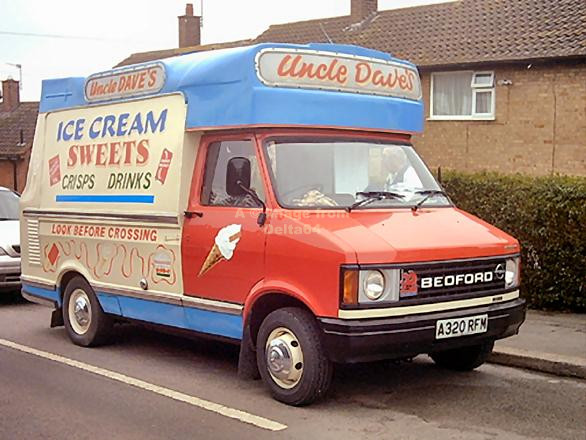 Its subsequent use, as seen in this picture, is perhaps one of the more obscure uses of a former fire appliance.
(NP collection ~ courtesy Adey Allison)
Dennis SS133 E459XLG was seen in original livery in the station yard.
[Copyright photograph ~ W. Jopson and reproduced with permission.]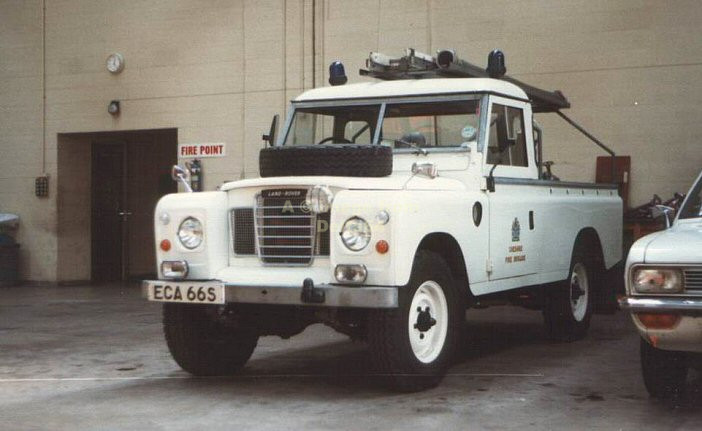 Crewe Land Rover L4P ECA66S seen in all-over white livery
(NP collection ~ courtesy Adey Allison)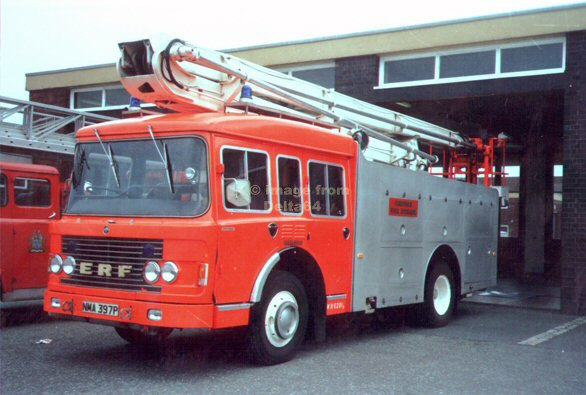 The PHP looks ready to make a comeback in the 21st century! This is ERF NMA397P
(NP collection ~ courtesy Adey Allison)
ERFs such as TCA861R were very much the local product being built just up the road at Sandbach
(NP collection ~ courtesy Adey Allison)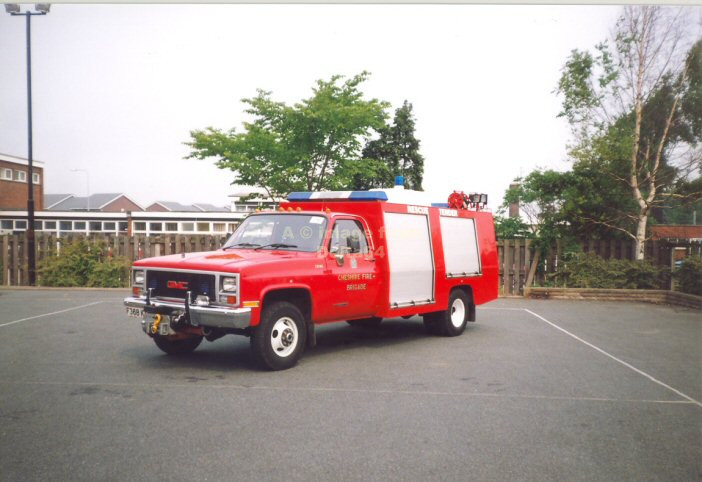 GMC 4x4 F368KTU was used here as a Rescue Tender. During its life it had a number of different roles.
[Copyright photograph ~ W. Jopson and reproduced with permission.]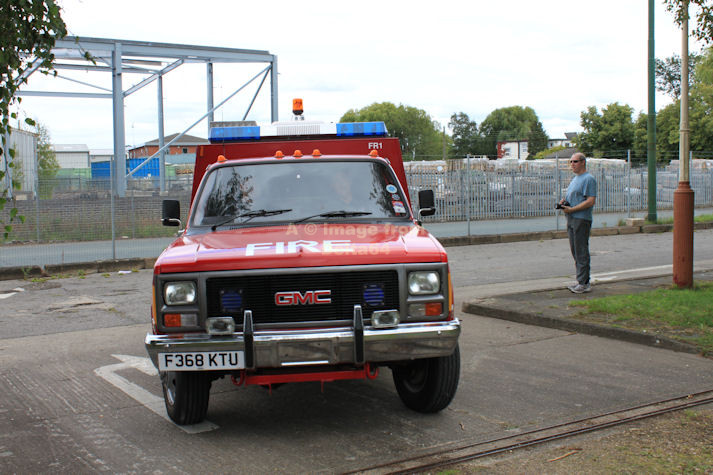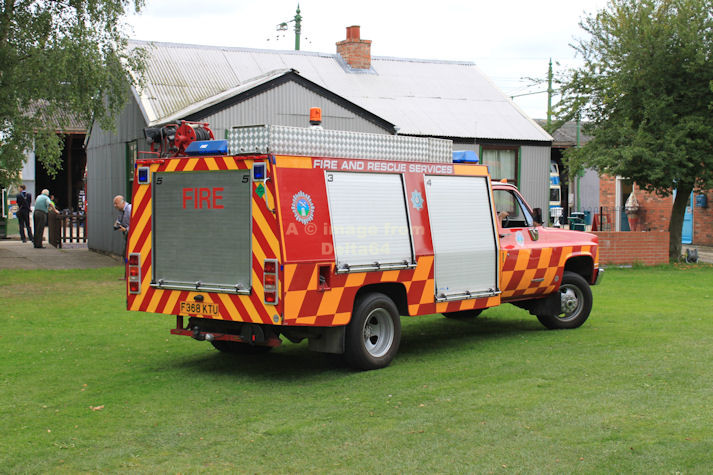 A couple of shots of F368KTU at the Sandtoft Blues & Twos event, 13 August 2011.
[Copyright picutres ~ D. Eccles and reproduced with permission.]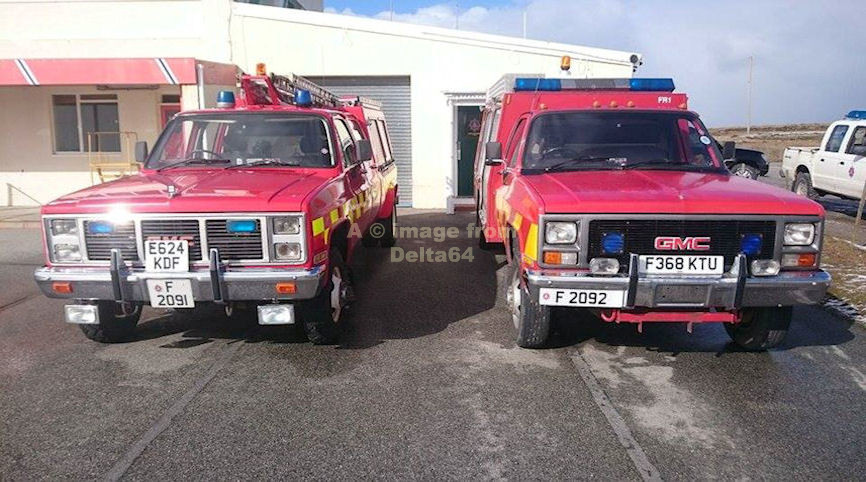 On the right, F368KTU is now used [2015] as a RIV at Falklands International Airport.
[Copyright ~ I France and reproduced with permission.]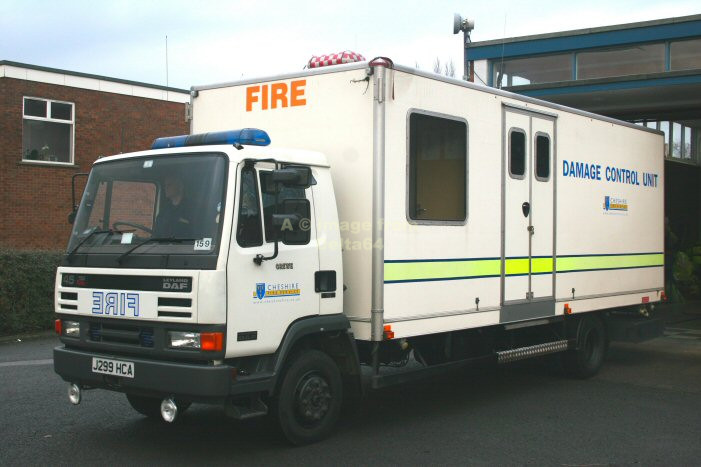 Leyland-Daf DCU J299HCA seen on the forecourt, 2 Janaury 2006.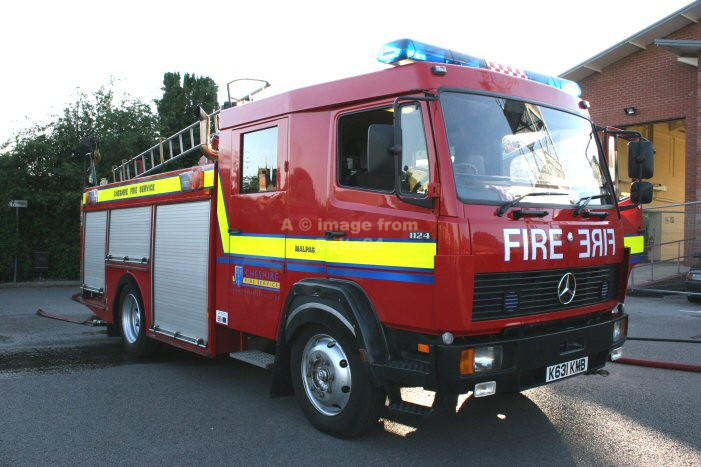 Originally based at Crewe Mercedes, K631KMB was on the run at Malpas when seen, 23 June 2005.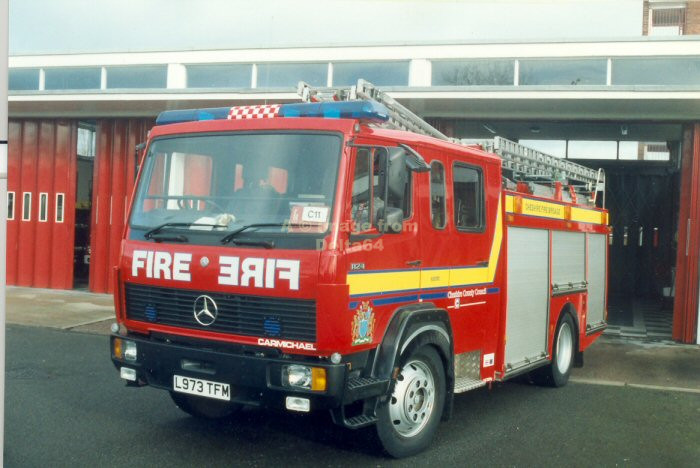 Mercedes L973TFM first entered service at Crewe where it was seen in the above picture.
[Copyright picture ~ W. Jopson and reproduced with permission.]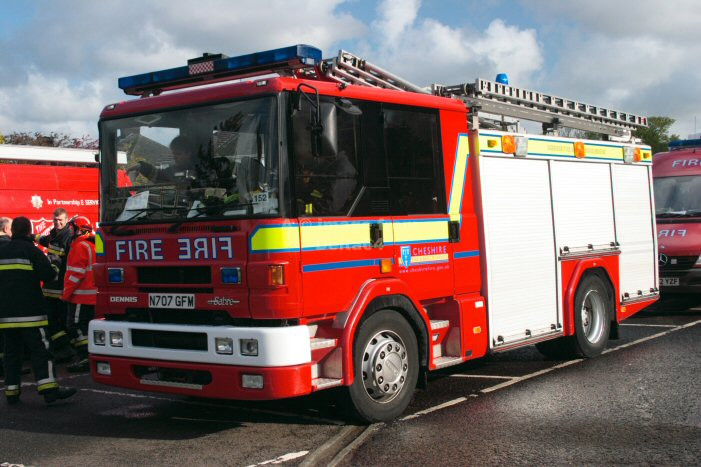 Dennis Sabre N707GFM was seen at a major fire in Runcorn, 3 May 2009.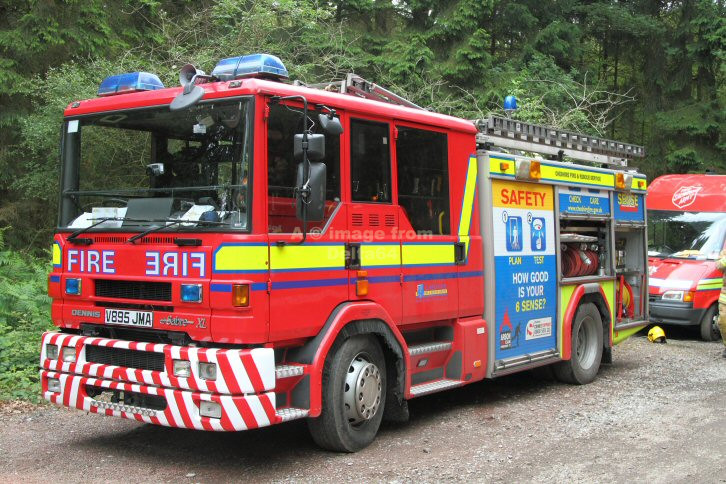 Dennis Sabre V895JMA was seen at Peckforton Castle, 19 June 2011.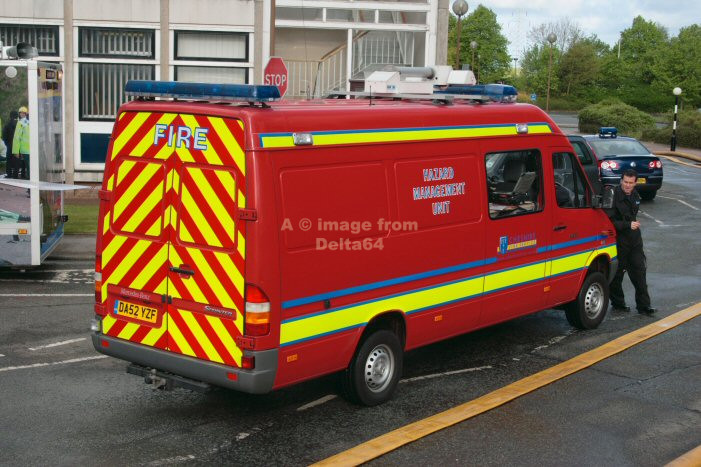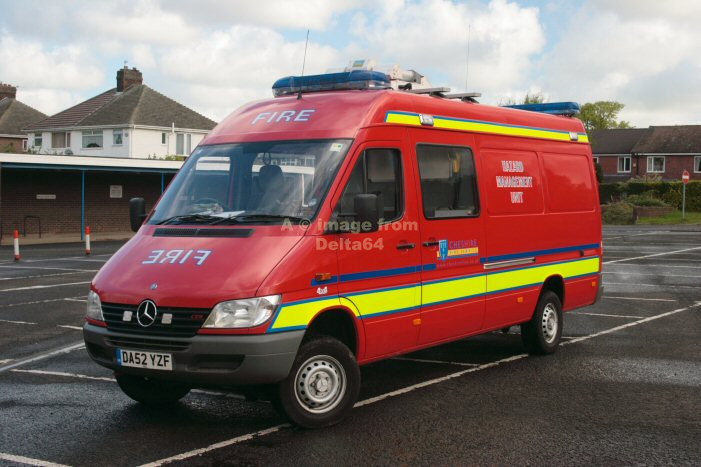 Hazardous Management Unit, DA52YZF was seen at a 15 pump incident in Runcorn, 3 May 2009.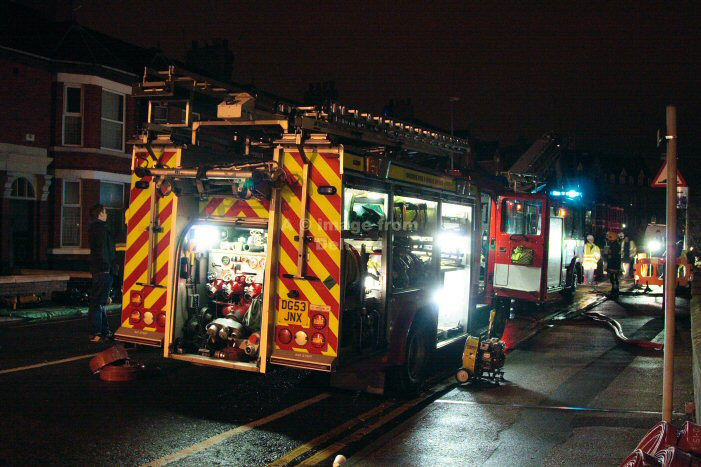 Atego DG53JNX was seen just before 0500 at an 8 pump fire in the town, 24 March 2010.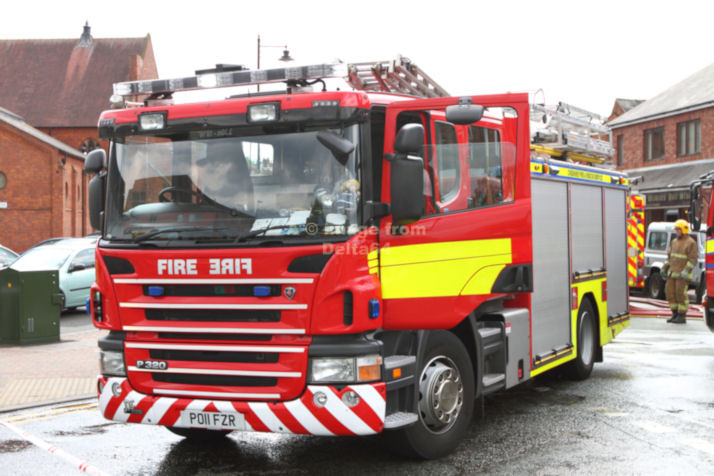 Scania P320 PO11FZR was seen at an incident in Sandbach, 20 June 2012.